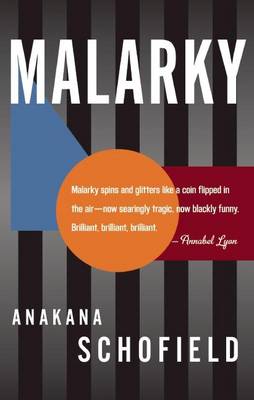 Paperback
225

Pages / Published: 19/04/2012
WINNER OF THE AMAZON.CA FIRST NOVEL AWARD, 2013WINNER OF THE DEBUT-LITZER PRIZE, 2013
SHORTLISTED FOR THE ETHEL WILSON FICTION PRIZE
A
NEW STATESMAN
READ-ALL-ABOUT-IT SELECTION FOR 2012
A BARNES & NOBLE DISCOVER GREAT NEW WRITERS PICK, 2012
A SALON.COM WHAT-TO-READ AWARD-WINNER, 2012
A TOP FIVE BOOK PICK, CHATELAINE
AN iTUNES CANADA BEST OF 2012 FICTION PICK
AN AMAZON.CA BEST BOOK OF 2012 EDITOR'S PICK
A
LARGEHEARTED BOY
FAVORITE NOVEL OF 2012
A NEXT BEST BOOK BLOG TOP 3, 2012
"A caustic, funny and moving fantasia of an Irish mammy going round the bend."
--Emma Donoghue, author of ROOM
Our Woman will not be sunk by what life's about to serve her. She's caught her son doing unmentionable things out by the barn. She's been accosted by Red the Twit, who claims to have done things with Our Woman's husband that could frankly have gone without mentioning. And now her son's gone and joined the army, and Our Woman has found a young fella to do unmentionable things with herself, just so she might understand it all...
Malarky is the story of an Irish mother forced to look grief in the eye, and of a wife come face-to-face with the mad agony of longing. Comic, moving, eccentric, and spare, Anakana Schofield's debut novel introduces a brilliant new voice in contemporary fiction.
Further Praise for Malarky
AN EDMONTON JOURNAL FAVOURITE FOR 2012
A THREE-TIME BEST-OF-THE-YEAR GEORGIA STRAIGHT SELECTION
"Anakana Schofield is part of a new wave of wonderful Irish fiction--international in scope and electrically alive."--Colum McCann
"Malarky is a terrific read, a brilliant collision of heartbreak and hilarity written in a voice that somehow seems both feral and perfectly controlled. Anakana Schofield's Our Woman takes a cool nod at Joyce, then goes her own way in one of the most moving and lyrical debut novels I've read."--Jess Walter, author of Beautiful Ruins
"We become comfortable saying that there's nothing new, and then something like Malarky comes along, which is new and old and different and familiar, but ultimately itself, comfortable in its own skin, wise and smart and crazy-sexy or maybe sexy-crazy--well, you just have to read it to understand. It's a novel that sets its own course, sure and steady, even when it seems like it might be about to go over the edge of the world."--Laura Lippman
"This is the story of Anakana Schofield's teapot-wielding 'Our Woman': fretful mother, disgruntled farmwife, and--surprisingly late in life--sexual outlaw/anthropologist. Everything about this primly raunchy, uproarious novel is unexpected--each draught poured from the teapot marks another moment of pure literary audacity."
--Lynn Coady, author of The Antagonist
"Anyone bold enough to name her book after a word so loaded deserves our attention. In Malarky Schofield pulls her long line tight--and lets go when we least expect it."--Michael Turner, author of Hard Core Logo
"Malarky spins and glitters like a coin flipped in the air--now searingly tragic, now blackly funny. The language is joyful and exuberant, the characters thoughtful and deeply felt. Brilliant, brilliant, brilliant."--Annabel Lyon
"Good writing and dark wit always excite me and they come together thrillingly in this book. It has a quiet grip on the strangeness of the interior and exterior worlds of love and politics. I delighted in the writing and the scope."--Jenny Diski
Anakana Schofield is an Irish Canadian writer of fiction, drama, essays, and criticism. She contributes to the London Review of Books and The Globe and Mail (among others). She has lived in London, Dublin, and Vancouver; Malarky is her first novel.

Publisher: Biblioasis
ISBN: 9781926845388
Number of pages: 225
Weight: 269 g
Dimensions: 184 x 133 mm
---
MEDIA REVIEWS
"This is a remarkably different novel. It is laugh out loud funny and sadly real. It is perceptive and revealing. It is raunchy. It is literate with no shades of gray. The protagonist, cleverly named "Our Woman," is sui generis; you will not find her ilk anywhere. Hers is a voice we have not heard before and may not hear again."--
About.com
"One of the delights of this novel is the language in which it is written. The tender inflections of everyday Irish speech ... seem to break into a jig, dancing to and fro ... I found in Malarky a refreshing rejection of the escapist fantasy that dominates much of our cultural life: it is boldly not fifty shades of anything. I admire Schofield's ability to pull off something so difficult with charm and brio."--The Guardian
"Schofield's portrait of a woman whose personality is beginning to fragment after a lifetime in an emotional vacuum is both blackly comic and deeply felt. There is something heroic about the desperate resilience of Our Woman, and the originality of her depiction by Schofield, that leaves an indelible trace on the reader's mind."--The Telegraph
"The best writers ... manage to balance comedy and tragedy, to combine the verbal virtuosity and high jinks of the comic vision with intelligent and sensitive insight into people's lives and hearts. And Anakana Schofield is in the ranks of the best. She weaves her words well and demonstrates many of the gifts that the novelist has to own. This novel is deeper and more thoughtful than it seems. Clever, witty, imaginative and intriguing, Malarky is a stunning debut from an exceptionally good writer."--The Irish Times
"Brilliant ... laced with dark wit and quirky lyricism, this is a striking portrait of a society in flux and a woman on the edge."--The Sunday Mail
"The Irish-Canadian author's episodic, deeply idiosyncratic work is not only eminently readable but also an absolute hoot ... told with such chuckle-inducing black humour and deep-seated intelligence it's akin to being button-holed by a fascinating, blithely imprudent stranger."--Metro Herald
"The novel's poignancy is matched by its regular comic brilliance ... Schofield overturns stereotypes partly by embracing them first, toppling traditional domestic imagery in order to fully capture Philomena's internal and external worlds ... Her writing's distinctiveness and comic energy invokes Patrick McCabe as well as Anne Enright's early work."--Sunday Business Post
"Malarky is a bold first novel from an author whose prose hums with electric wit and linguistic daring. The novel traverses darkly comic territory with intelligence and poise, relating the story of an unnamed narrator whose resilience in the face of life's disappointments will stay with readers long after the verbal pyrotechnics have dissipated. Anakana Schofield is a true original, and her novel is a delight."--Stuart Woods, Amazon.ca First Novel Award Judge
"One of the season's best reads."--The National Post
"Quirky, raucous and utterly unconventional."--Reader's Digest
"A miracle ... move over, Molly Bloom."--Ann Kjellberg, Little Star
"This book got a lot of attention on my Twitter feed this year from many women I admire greatly. It's about Our Woman, an Irish housewife surrounded by people she can't understand, doing unmentionable things to each other. What is a woman to do? Well, just maybe try some unmentionable things herself."--Laurie Grassi, Chatelaine
"Malarky becomes truly compelling when Our Woman embodies an existential strangeness. In certain moments, we are not so far from Beckett's Molloy - Our Woman comes close to enlivening not only the political and the personal but also the human. Schofield has true promise for this kind of writing, and it is there that I hope she next turns her sizable gifts, in the book that will surely follow this resoundingly successful first novel"--San Francisco Chronicle
"Malarky is a book deeply rooted in the consciousness of a middle-aged Irish farmer's wife and mother, Philomena, or 'Our Woman', who is grieving the loss of both her husband and son. Philomena's story is remarkable for the way in which it immerses a reader in the extreme disorientation and overpowering sorrow of loss. The narrative is fractured and discursive; it loops and soars and doubles back. But if this sounds overly complicated or esoteric, it isn't, mostly because Philomena is so brave and flawed and strange a character and her means of dealing with her losses so, well, human. This is a funny, raunchy, moving read, written in beautiful, brave prose."--Heather Birrell, The Next Best Book Blog
"A fascinating voyage into the mind of a woman embattled ... absolutely beautiful."--Toronto Star
"The immensely gifted Anakana Schofield's vivid study of a middle-aged Irish housewife's nervous breakdown has a huge heart and a fierce brain; Malarky is, by a wide margin, the most memorable fiction I've read this year."--Brian Lynch, The Georgia Straight
"A glorious, breathless romp through the mind of an immensely likeable woman"--Slightly Bookist
"One of the most vivid fictional creations to come along in years... Schofield starts at a pitch of inspiration most novels are lucky to reach at any point and remarkably sustains that level all the way through."--The Montreal Gazette
"This is a brilliant book. Finely drawn, deceptively muscular, and pulsing with warm intelligence and wit"--The Rover
"Schofield's brilliant storytelling in Malarky is among the most engaging I've ever encountered."--The Longest Chapter
"Malarky is an exemplary read ... I look forward to the next of Anakana Schofield's novels."--Scott Esposito, Conversational Reading
"Irish-Canadian literary critic Anakana Schofield's first novel is a tumultuous ride. Malarky asks questions without providing answers, chronicling the emotional, mental, and occasionally menial anxieties of Our Woman as she struggles with her own agency and desire. Set in contemporary Ireland, the book overflows with subtle and sometimes subversive allusions to James Joyce's Ulysses, Thomas Hardy's Tess of the d'Urbervilles, site-specific contemporary Irish art, and Catholic history. Yet Schofield's strong prose style and inventive approach to structure will likely reward readers unfamiliar with these cultural references."--Quill & Quire
"Delightfully offbeat ... Schofield shows a deft - and altogether welcome - comic touch."--The National Post
"The love of a mother for her son is the central theme of this novel. But the book has much to ask and much to say about many other topics as well, among them empowerment through sex, loneliness in marriage, the futility of war, the strains of immigration and the margins of mental health. Schofield's ability to tie all these together in such an original, quirky, tender and eloquent way is to be commended ... Malarky is an alternately beautiful, brilliant, profound, poignant and comedic work of literary fiction." --The Winnipeg Free Press
"I loved this book Malarky ... I was gobsmacked."--Sheryl MacKay, CBC Radio, North by Northwest
""Malarky is like nothing else, and what everything should be ... This is a book that will leave you demanding more of everything else you read."--Pickle Me This
"Malarky is a wacky, dead serious book, and what stands out more than anything is its freshness in a sea of same-old, same-old novels."--The Telegraph Journal
"A challenging but rewarding look at what happens to a mother when the bottom drops out."--The Vancouver Sun
"Head and shoulders above many of its peers."--The Georgia Straight
"I loved this book from its opening lines ... Schofield's strong beautiful prose is compelling."--Freefall Magazine
"Mordantly funny ... Malarky, a recent and notable addition to the growing field of mad studies--the exploration of oppressive practices directed against those deemed 'mad'--explores the uses of humour to unveil and counteract that oppression."--Canadian Literature
You may also be interested in...
Simply reserve online and pay at the counter when you collect. Available in shop from just two hours, subject to availability.
Thank you for your reservation
Your order is now being processed and we have sent a confirmation email to you at
When will my order be ready to collect?
Following the initial email, you will be contacted by the shop to confirm that your item is available for collection.
Call us on or send us an email at
Unfortunately there has been a problem with your order
Please try again or alternatively you can contact your chosen shop on or send us an email at