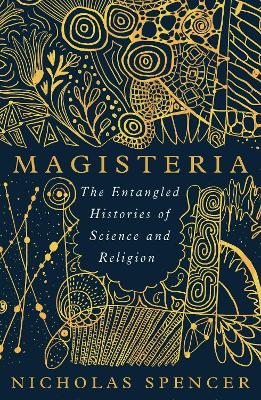 Magisteria: The Entangled Histories of Science & Religion (Hardback)
Nicholas Spencer
(author)
Hardback
Published: 02/03/2023
Most things you 'know' about science and religion are myths or half-truths that grew up in the last years of the nineteenth century and remain widespread today.
The true history of science and religion is a human one. It's about the role of religion in inspiring, and strangling, science before the scientific revolution. It's about the sincere but eccentric faith and the quiet, creeping doubts of the most brilliant scientists in history – Galileo, Newton, Faraday, Darwin, Maxwell, Einstein. Above all it's about the question of what it means to be human and who gets to say – a question that is more urgent in the twenty-first century than ever before.
From eighth-century Baghdad to the frontiers of AI today, via medieval Europe, nineteenth-century India and Soviet Russia, Magisteria sheds new light on this complex historical landscape. Rejecting the thesis that science and religion are inevitably at war, Nicholas Spencer illuminates a compelling and troubled relationship that has definitively shaped human history.
Publisher: Oneworld Publications
ISBN: 9780861544615
Dimensions: 234 x 153 mm
---
MEDIA REVIEWS
'This book, though, is surely [Spencer's] magnum opus. It is astonishingly wide-ranging… and richly informed… So much complex history, theology and science could be heavy. What lightens the book is its clarity and the effervescent writing.' —The Sunday Times
'With patience, balance and deep learning, Spencer… dismantles the myths that have accumulated around Galileo Galilei, Charles Darwin and other scientific figures… Filled with wit and wisdom.' —Philip Ball, TLS
'Fascinating… prepare to read something genuinely fresh in what can be an extremely hackneyed debate.' —New Scientist
'Magisterial and brilliant.' —Professor John Milbank
'Easily the best exploration of the complex relation between science and religion I have ever read. As exemplary in his even-handedness as in his patient research… I suspect it will become the classic work on its subject.' —Iain McGilchrist, author of The Master and his Emissary
'Spencer knows his history of science. He recounts the set pieces of any such story – the trial of Galileo, Huxley vs Wilberforce, the Scopes monkey trial – with bravura.' —Spectator
'A must-read for anyone interested in this vital topic, and outstanding for its destruction of old myths about "the war between religion and science", and for showing how complex, and various, and often positive relations have actually been.' —Church Times, BEST BOOKS OF THE YEAR
'[Spencer] has a lot of interesting things to say about how exactly the often fraught relationship between science and faith has fared over the centuries… Mr. Spencer carefully reconstructs what actually happened. It's interesting to read how the stories have become simplified and exaggerated over time… Mr. Spencer's most important corrective is to show that Galileo's theory raised scientific and theological questions that had not been answered at the time… a fascinating tour through a history of a difficult relationship, the fate of which is still unclear.' —Wall Street Journal
'This page-turner of a book compellingly tracks the relation between science and religion, eternally bickering siblings, across two millennia. The ironies of the collaborations and oppositions between the two are brilliantly set out. You don't have to have religious belief to recognise that science doesn't always have the right answers. The real question: who has the authority to make statements about the natural world? Nicholas Spencer well shows that this authority – formerly in the hands of religious authorities, now usually scientific ones – has been effortfully constructed and disagreed over across time.' —Chris Wickham, author of The Inheritance of Rome
'This sweeping and comprehensive look at the "war" between religion and science lays it bare as a nineteenth-century myth. Studying God's Works – what we call "science" – was historically as important to Christianity as studying his Word. The battles we've mythologised – from the ancient mathematician Hypatia's murder by a Christian mob, to Galileo kneeling before the Inquisition, to the 1925 Scopes "monkey" trial – were not about ideology, but authority. A compelling act of myth-busting.' —Nancy Marie Brown, author of The Abacus and the Cross
'Illuminating… Even (or especially) those readers inclined to disagree with him will find his narrative refreshing… [Spencer] is one of Britain's most astute observers of religious affairs… He offers an engaging tour of the intersection of religious and scientific history… Mr Spencer insightfully revisits the dust-ups involving Galileo, Darwin and John Scopes (prosecuted in Tennessee in 1925 for teaching evolution). He traces the interaction of the two disciplines in often fascinating detail.' —Economist
'Highly readable... Spencer convincingly shows how, until the modern period, religion largely supported the sciences of the day.' —Financial Times
'Tremendous… [Spencer's] survey of more than two millennia to the present day is consistently well-informed, witty and merciless to those wanting easy headlines. Every journalist would benefit from reading this substantial but very useful text, but all its readers will emerge better informed—and perhaps even saner.' —Diarmaid Macculloch, Prospect
'Books that attempt to encompass the whole history of science and religion within a single volume are rare. This is one of them, and it is a good one… clearly written, with plenty of humour... this superb volume... is likely to become the standard work on the subject for the general reader for many years to come, and deservedly so.' —Tablet
'Nicholas Spencer is always worth reading. In this new book he brilliantly synthesises a mass of scholarly research to provide an authoritative, lucid and, at times, surprising account of the historical relations between Western science and religion. This is easily the most comprehensive and accessible history of these two "magisteria" presently available.' —Peter Harrison, author of The Territories of Science and Religion
 'Spencer's historical portrait is erudite and wide-ranging…[a] necessary [book].' —Literary Review
You may also be interested in...
×
Download the Waterstones App
Would you like to proceed to the App store to download the Waterstones App?
Reserve online, pay on collection


Thank you for your reservation
Your order is now being processed and we have sent a confirmation email to you at
When will my order be ready to collect?
Following the initial email, you will be contacted by the shop to confirm that your item is available for collection.
Call us on or send us an email at
Unfortunately there has been a problem with your order
Please try again or alternatively you can contact your chosen shop on or send us an email at