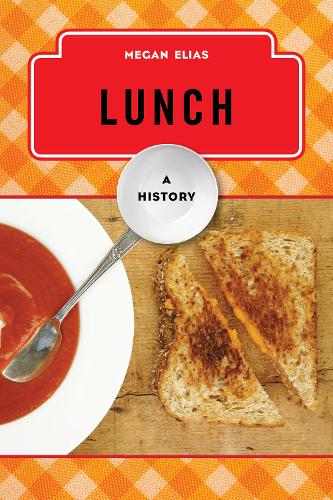 Lunch: A History - The Meals Series (Hardback)
Megan J. Elias
(author)
Hardback
204

Pages / Published: 06/03/2014
Lunch has never been just a meal; the meal most often eaten in public, lunch has a long tradition of establishing social status and cementing alliances. From the ploughman's lunch in the field to the power lunch at the Four Seasons, the particulars of lunch decisions-where, with whom, and what we eat-often mark our place in the world. Lunch itself has galvanized political movements and been at the center of efforts to address poverty and malnutrition; the American School Lunch Act of 1946 enforced the notion that lunch could represent the very health of the nation, and sit-ins and protests at lunch counters in the 1960s thrust this space into moral territory. Issues of who cooks lunch, who eats what, and how and when we eat in public institutions continue to spur activists. Exploring the rich history and culture of this most-observed and versatile meal, Lunch draws on a wide range of sources: *Letters and memoirs *Fiction *Cookbooks *Institutional records *Art and popular media *Tea room menus *Lunch truck Twitter feeds, and more Elias considers the history of lunch not only in America, but around the world to reveal the rich traditions and considerable changes this meal has influenced over the years.
Publisher: Rowman & Littlefield
ISBN: 9781442227460
Number of pages: 204
Weight: 449 g
Dimensions: 234 x 163 x 20 mm
---
MEDIA REVIEWS
In five chapters plus a brief introduction, historian Elias offers this compendium of food customs from around the world and across the centuries, with a focus on the midday meal. Starting with the historical development of the idea of lunch and the division of the day by distinct meals, the initial chapter provides insights on meals from the archaeological past through different eras to modern lunch ways. Subsequent chapters describe classic lunches, lunches eaten at home and away, and lunch in visual arts, literature, poetry, and popular media. Chapters are divided topically (e.g., Sunday lunches, wedding lunches, midnight lunches, institutional lunches). . . .Most of the book focuses on the US and Europe; however, Elias includes lunch customs from other world areas. The book is best suited for general readers, though undergraduates could be enticed by the myriad cases cited, or use the volume to suggest further research and readings. Summing Up: Recommended. Public, general, undergraduate collections. * CHOICE *
For too many Americans, lunch is a meal one 'grabs,' almost an afterthought, something to quickly restore energy when the day's labor reaches its midpoint. As Elias documents, the noon meal hasn't always been just a fast feed between morning's breakfast and evening's dinner. As soon as agriculture advanced beyond subsistence, lunch became the day's main, if not only, meal. Medieval monks in Europe honored the midday meal as the day's primary repast, and in Cairo, merchants and shoppers partook of the first examples of street food. American farmers ate lunch at outdoor groaning boards to save precious harvesting time and yet consume enough calories to fuel strenuous activity. The Industrial Revolution compelled ordinary workers to eat near assembly lines rather than at home with their families, while upper-class managers and financiers downed cocktails and haute cuisine atop the finest napery in what's become notorious as the 'power lunch.' * Booklist *
Elias adds to 'The Meals' series with this history of the midday repast. The author follows the evolution of lunch from its beginnings in the medieval period, when the concept emerged, to the present. Customary times and fare have changed over the years and around the world, affected by factors such as the Industrial Revolution, wars, class, and suburbanization. Readers are given a tour of traditional luncheons around the globe. Elias highlights how the meal taken at home has evolved over the years, as well as the rise of lunchrooms, lunch counters, burger stands, tiffins, and food trucks as a result of people eating out. The book ends with a look at how lunch is depicted in the arts and media, providing insight into the relevant time periods and cultures. Verdict: This wide-ranging, thorough history with extensive citations will appeal to dedicated readers of food history and those interested in social customs. * Library Journal *
Lunch has become the meal most often eaten in public although there are plenty of people who still enjoy eating alone at home in privacy and without distractions. Megan Elias is an associate professor of history at Queensborough Community College and the author of two other books on food. With commendable elan and creativity, she has arranged the material in this overview of lunch into a global feast with insights abounding from different places and cultures. Although lunch is a necessity for most people, there is a world of difference between how it is handled at the family table, in an automat, as a picnic in the park, in a crowded hamburger joint, seated up against the wall in the city, in a pizza place, in a fancy restaurant, or eating out of a lunch-box at work. Whether explaining the lunch bell, the power lunch, the painting 'Luncheon on the Grass' by Edward Manet, or the setting a New York City deli in a famous modern film When Harry Met Sally; Elias proves to be a versatile and clever guide to lunches. This [is a] delightful book. * Spirituality and Practice *
Elias excels at selecting details that encourage readers to consider what food habits reveal about the ethos of individuals as well as of nations. . . .Megan Elias reminds us that even the most quotidian ritual can be decoded to expose social hierarchies: the question is not only 'What's for lunch?', but also who goes hungry, and who does the cooking, serving and cleaning up after it? * Times Literary Supplement *
Lunch: A History is nicely illustrated with black and white photographs primarily from historic collections. While a helpful index and detailed notes are both key to a text of this nature, the extensive bibliography will wet readers' appetites in wanting to know more about lunch and its ongoing history. * Digest: A Journal of Foodways & Culture *
Megan Elias reveals the lunch box to be a capacious cultural container; whether a Japanese bento, an Indian tiffin, or the latest Hollywood tie-in, it packs history as well as nourishment. -- Jeffrey M. Pilcher, author of Planet Taco: A Global History of Mexican Food
Drawing from a wide range of sources, Elias demonstrates how rhythms of work and leisure have shaped meal patterns for the rich, the poor, and the middling sort. Lunch shows us how over time breakfast, luncheon, dinner, supper, tiffin, etc., have mutually elbowed each other into place, producing each repast while sorting the classification system of daily meals. A number of startling yet illuminating analogies such as those between the Ploughman's Lunch and the Mesopotamian worker's meal, and between sushi and the Anglo-American devotion to a cold protein wrapped in a starch, makes the book thought-provoking and immensely readable. -- Krishnendu Ray, Chair, Department of Nutrition, Food Studies & Public Health, New York University; President, Association for the Study of Food & Society
You may also be interested in...
Simply reserve online and pay at the counter when you collect. Available in shop from just two hours, subject to availability.
Thank you for your reservation
Your order is now being processed and we have sent a confirmation email to you at
When will my order be ready to collect?
Following the initial email, you will be contacted by the shop to confirm that your item is available for collection.
Call us on or send us an email at
Unfortunately there has been a problem with your order
Please try again or alternatively you can contact your chosen shop on or send us an email at