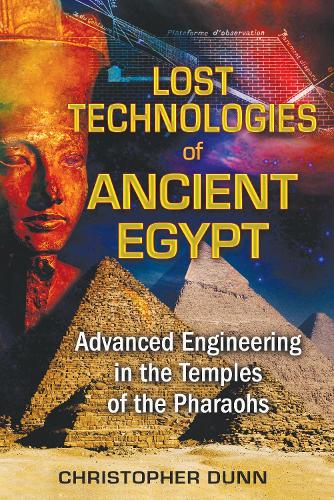 Lost Technologies of Ancient Egypt: Advanced Engineering in the Temples of the Pharaohs (Paperback)
Christopher Dunn
(author)
Paperback
400

Pages
Published: 29/07/2010
From the pyramids in the north to the temples in the south, ancient artisans left their marks all over Egypt, unique marks that reveal craftsmanship we would be hard pressed to duplicate today. Drawing together the results of more than 30 years of research and nine field study journeys to Egypt, Christopher Dunn presents a stunning stone-by-stone analysis of key Egyptian monuments, including the statue of Ramses II at Luxor and the fallen crowns that lay at its feet. His modern-day engineering expertise provides a unique view into the sophisticated technology used to create these famous monuments in prehistoric times. Using modern digital photography, computer-aided design software and metrology instruments, Dunn exposes the extreme precision of these monuments and the type of advanced manufacturing expertise necessary to produce them. His computer analysis of the statues of Ramses II reveals that the left and right sides of the faces are precise mirror images of each other and his examination of the mysterious underground tunnels of the Serapeum illuminates the finest examples of precision engineering on the planet. Providing never-before-seen evidence in the form of more than 280 photographs, Dunn's research shows that while absent from the archaeological record, highly refined tools, techniques and even mega-machines must have been used in ancient Egypt.
Publisher: Inner Traditions Bear and Company
ISBN: 9781591431022
Number of pages: 400
Weight: 1 g
Dimensions: 229 x 153 x 25 mm
---
MEDIA REVIEWS
"I never cease to be astonished by Christopher Dunn's knowledge of ancient Egyptian technology. I believe he knows more of it than any man alive." * Colin Wilson, author of Atlantis and the Kingdom of the Neanderthals, June 2010 *
"This is an extremely important and original book. Christopher Dunn indisputably demonstrates that the ancient Egyptians were much more technologically advanced than the vast majority of modern Egyptologists, archaeologists, and historians ever dared imagine." * Robert M. Schoch, Ph.D., author of Voyages of the Pyramid Builders and Pyramid Quest *
"Christopher Dunn makes a stunningly convincing case that the makers of the ancient Egyptian stone monuments and images possessed sophisticated technologies rivaling our own in terms of their precision and capabilities." * Michael A. Cremo, author of Forbidden Archeology and Human Devolution *
"Christopher Dunn is an expert in his field. He knows a great deal about stone-cutting tools and has spent many years studying the ancient Egyptian monuments, sculptures, and artifacts. His findings are revolutionary. His word carries weight. If he is right, our perception of who the ancient Egyptians were may completely change. Read this book!" * Robert Bauval, author of The Orion Mystery, Message of the Sphinx and The Egypt Code *
"Christopher Dunn's painstaking work, literally, makes the 'stones' of the Egyptian gods speak. He provides profound archaeological evidence that shows an engineering consistency, suggesting an advanced intelligence, which understood the supreme science of sacred geometry. A must-read book for those who wish to understand the advancement of Egyptology in the world of today." * J. J. Hurtak, Ph.D., author of The Book of Knowledge: the Keys of Enoch *
"Utilizing almost 50 years of professional experience in engineering, manufacturing, tool-making, and space-age precision, Chris Dunn has provided an in-depth analysis of ancient Egyptian statuary, temples, and manufactured artifacts that has never been presented previously. This outstanding book, supremely well researched, amply illustrated, and complete with detailed photographs, will be cited as a major paradigm shift and reference source in the field for many years to come." * Stephen S. Mehler, M.A., director of research, Great Pyramid of Giza Research Association *
"Admirers of Egyptian art and architecture are most fortunate that Christopher Dunn directs his experienced engineer's eye toward the Egyptians' ancient stonework. By noticing the most minute details he reveals sophisticated craftsmanship and immense significance for all areas of Egyptology. Mathematicians will appreciate the amazing three-dimensional geometry made manifest in very hard stone. Dunn points the way for geometers to uncover sharper, more accurate analyses of the proportions of Egyptian design. This book is an important contribution to scientific scholarship by showing how archaeology can firmly rest on a measurable foundation." * Michael S. Schneider, author of A Beginner's Guide to Constructing the Universe *
"In this book, Christopher Dunn has brought to the field of Egyptology a new approach, which has been needed for decades. His ability as an engineer and master craftsman has given him the insight to discover ancient technologies and techniques that have been missed by traditional Egyptologists. This book is a paradigm change for the way of thinking about our ancient history and ancestors. I highly recommend this beautiful illustrated book to both academic and alternative researchers and for anyone interested in new ways of thinking about our ancient past." * John DeSalvo, Ph.D., author of The Lost Art of Enochian Magic and director of the Great Pyramid of G *
"As with Newton and the apple, Chris Dunn got a vision when visiting Egypt. His engineering background allowed him to unleash incredible facts, and thanks to this highly detailed book, we can now share the same marvels." * Alain Hubrecht, architect, writer, professor, and founder of the Association Transpersonnelle Belge *
"If you want to see the precise high technologies ancient Egyptians really had, read this book. It is a serious donation to Egyptian legacy and an opus for the future of this planet." * Antoine Gigal, author, researcher, and president of Giza for Humanity *
"I believe, as Chris Dunn superbly details in this book, that ancient Egyptian sculptors and architects were so precise and their works so monumental that they must have used sophisticated technology, probably hidden in their time and now lost to ours." * Mike Leckie, stone sculptor *
"Whether you can fully grasp the intricacies of what he says, he makes it very easy to look at ancient monuments with new eyes, and a greater appreciation for the effort involved in creating them." * Michael Gleason, Reviewer, August 2010 *
". . . Chris Dunn, with over 20 years of investigation, possessing unique technical skills, and showing a keen, perceptive eye for detail, has unlocked the door to knowledge that will eventually overturn established thinking about the civilization we call 'Ancient Egypt'." * Alan Glassman, New Dawn Magazine, January 2011 *
You may also be interested in...
×
Download the Waterstones App
Would you like to proceed to the App store to download the Waterstones App?
Reserve online, pay on collection


Thank you for your reservation
Your order is now being processed and we have sent a confirmation email to you at
When will my order be ready to collect?
Following the initial email, you will be contacted by the shop to confirm that your item is available for collection.
Call us on or send us an email at
Unfortunately there has been a problem with your order
Please try again or alternatively you can contact your chosen shop on or send us an email at