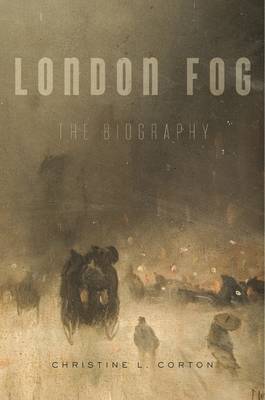 Hardback
400

Pages / Published: 03/11/2015
In stock online

Free UK delivery
The classic London fogs-thick yellow "pea-soupers"-were born in the industrial age and remained a feature of cold, windless winter days until clean air legislation in the 1960s. Christine L. Corton tells the story of these epic London fogs, their dangers and beauty, and the lasting effects on our culture and imagination of these urban spectacles.
Publisher: Harvard University Press
ISBN: 9780674088351
Number of pages: 400
Weight: 816 g
Dimensions: 239 x 165 x 30 mm
---
MEDIA REVIEWS
Brilliant...Corton has a deft historical, literary and visual eye. While tracing the birth, maturity and death of fog, she pays careful attention to the ways it affected everyday lives and locations...But her real interest is in the way fog played in the imagination. For centuries, she shows, novelists, essayists, cartoonists and painters used fog as a metaphor for human relationships and the moral order...Corton's book is an unsentimental and elegant reflection on a world that has passed.--Joanna Bourke"Daily Telegraph" (11/14/2015)
Engrossing and magnificently researched...Corton's book combines meticulous social history with a wealth of eccentric detail. Thus we learn that London's ubiquitous plane trees were chosen for their shiny, fog-resistant foliage. And since Jack the Ripper actually went out to stalk his victims on fog-free nights, filmmakers had to fake the sort of dank, smoke-wreathed London scenes audiences craved. It's discoveries like these that make reading London Fog such an unusual, enthralling and enlightening experience.--Miranda Seymour"New York Times Book Review" (11/01/2015)
Endlessly entertaining... Corton has done a prodigious amount of research into the phenomenon of the 'pea-soup' fogs that enveloped London at regular intervals throughout the Industrial Age... Corton's book is merrily chock-full of illustrations... But the real star attraction in these pages is Corton's exuberant omniscience about her subject. She seems to have read every tenth-rate serialized novel in the whole of the Victorian and Edwardian literary shrubbery, hunting out every mention and dramatization of the great fogs and in the process giving some truly wretched writers what will surely be the most intelligent reading they're ever likely to get. And she's got an equally good ear for reportage, finding piercing quotes from every era of the fog's domination... London Fog has enjoyed a nicely wide critical reception since its appearance, and it deserves every accolade it gets. This is tight-focus popular history at its finest.--Steve Donoghue"Open Letters Monthly" (11/09/2015)
The idea of a biography of fog in London might initially appear a doubtful enterprise, but in Christine Corton's capable hands it works brilliantly. The liveliness of metropolitan fog is beautifully charted here in a long chronology from the Stuart era to the Clean Air Acts of the 1950s to 1990s...[A] most extraordinarily rich collection of material from scientific, journalistic, literary, humorous, artistic and medical sources...She has created a history of fog's material and immaterial culture...The text is interspersed with some astonishing visual material, appropriately placed, making the book a visual feast especially of little-known artworks, caricatures and photographs of great beauty. Corton's use of the perceptions of foreign visitors, especially those from China and Japan, is revelatory...London Fog is not just a literary exercise; it also charts the long trajectory of a deeply serious public health matter that we have yet to confront, as we should, once again...This fine book has real substance, generously shared, and is very timely indeed.--Ruth Richardson"Times Higher Education" (10/29/2015)
[Corton's] fascinating history traces London's unique brand of photochemical smog from its surprisingly early birth in the 13th century, when complaints about the burning of 'sea coal' in London hearths began, through its malign maturity in the 19th, to its death throes in the second half of the 20th...The many well-chosen images in London Fog include works by minor painters of London scenes and by various illustrators, photojournalists and cartoonists playing on the terror, confusion and comedy caused by fog. These add greatly to the interest of Corton's book.--Catherine Peters"Literary Review" (11/01/2015)
Christine Corton's excellent book explores three questions: how people accounted for London fog, what they did about it, and how it became such an enormous, apparently inexhaustible cultural resource and metaphor...Corton has assembled an astonishing display of fog fiction...Corton has written a thoughtful, vivid, very memorable book.--Neal Ascherson"London Review of Books" (10/08/2015)
London Fog: The Biography successfully captures the enormous impact this atmospheric had on a major city's everyday life. Ironically, the result is a portrait that is both well-defined and sharply delineated.--Amy Henderson"Weekly Standard" (10/26/2015)
Corton's wonderfully detailed and original exploration of foggy London ranges from the earliest mists to the last great pea-souper of 1962...Her account is rich in memorable anecdotes and descriptions, gleaned from popular culture, literature, journals and contemporary letters as well as cartoons and art history: the book is also splendidly illustrated.--P. D. Smith"The Guardian" (11/27/2015)
The sheer scale of the pollution described by Corton is hard to grasp...Corton leads the way, like a linklighter of old, through the poisonous clouds of times gone by, and arrives, eventually, at present day Oxford Street, where nitrogen dioxide concentrations are 'worse than they are anywhere on earth.'--Charlie Gilmour"Independent on Sunday" (11/22/2015)
Christine L. Corton's London Fog is an illuminating expedition through the literal and metaphorical meanings of pollution in the company of such artists as Dickens, Conrad, Monet and Hitchcock.--Mark Sanderson"Evening Standard" (12/03/2015)
In London Fog, Christine L. Corton guides us through the history of the 'pea-souper' (the phrase first used in print in 1849 by Herman Melville); from Victorian women, fearful of attack in the impenetrable murk, to the poets, artists and film-makers who thrived on its metaphorical potential; from the political rows over domestic coal fires to the dreadful 1952 Great Smog which claimed thousands of lives and was so thick that, even indoors, office workers could not see to the end of the corridor.--Sinclair McKay"Daily Telegraph" (11/21/2015)
No one, not even the most frenzied fog obsessive, could find fault with Christine Corton's thoroughness. Wherever there's a reference to fog in nature or art, she seems to have tracked it down. But her book is far more than just a glorified laundry list of foggy facts. Rather it's a genuine biography in which she very cleverly treats fog less as an atmospheric phenomenon and more as though it's a real character--sinister, beautiful and elusive, but no less fascinating for that.--John Preston"Mail on Sunday" (01/03/2016)
In Christine L. Corton's beautifully illustrated London Fog: The Biography, the mysterious mist takes center stage in all its noxious, stygian, primeval delicacy...Drawing on novels and poems, paintings and films, Corton's [book] is crammed with thought-provoking elucidations. It sounds hokey to say it, but she has shed a bright light on the fog.--Alexandra Mullen"Wall Street Journal" (12/18/2015)
As Christine L. Corton shows in her lively and engaging cultural history, for more than 100 years London fog did not only creep into people's homes and bodies. It saturated their way of thinking. If fog was an inescapable part of city life--in Dickens's famous opening to Bleak House, the word is repeated so often it sounds more like a curse--it was an equally omnipresent element in the cultural imagination.--Robert Douglas-Fairhurst"The Spectator" (11/07/2015)
London's 'pea-soupers'--opaque, yellowish smogs--were an environmental catastrophe, a cloak for nefarious activities and an artistic inspiration. An odiferous wig of soot from coal fires, sulfur dioxide and mist settled regularly over the city from the 1840s to the 1960s. In this richly nuanced history, scholar Christine Corton takes us from polymath Robert Hooke spotting a pall of smoke over London in 1676 through the killer fogs that felled zoo animals, spurred crime and caused traffic accidents, and that ultimately galvanized scientists and the government to craft the 1956 Clean Air Act.--Barbara Kiser"Nature" (11/26/2015)
What makes Christine Corton's London Fog: The Biography special is that it demystifies the sulphurous yellow mass that once plagued the city. In this nicely written and beautifully illustrated book, fog gets its proper due as the coal-laden, murderous monstrosity it really was, beloved of novelists from Dickens to Stevenson.--Philippa Stockley"Evening Standard" (11/19/2015)
Corton's eye for social history is superb. We are led with wit and intelligence through a London in which clerks in counting-houses are forbidden to leave their books lying open lest the sooty fogs blacken the pages...Corton is excellent on the extent to which, in the twentieth century and since, the close association between Victorian London and Gothic fog has clouded perceptions of Victorian life and art.--Richard Smyth"Times Literary Supplement" (12/09/2015)
Christine Corton's absorbing and handsomely produced book directs a steady beam at both the phenomenon and the place that made [fog] famous: London.--Anthony Quinn"The Observer" (12/13/2015)
Christine L. Corton, clad in an overcoat, with a linklighter before her, takes us into the gloomier, long 19th century, where she revels in its Gothic grasp. Beautifully illustrated, London Fog delves fascinatingly into that swirling miasma.--Philip Hoare"New Statesman" (11/13/2015)
In the history of London, the Fog is a character in its own right. Now along comes a biography to do justice to this mysterious entity. Christine Corton's London Fog is a valuable addition to the London canon.--Catharine Arnold, author of Bedlam London and its Mad
You may also be interested in...
Simply reserve online and pay at the counter when you collect. Available in shop from just two hours, subject to availability.
Thank you for your reservation
Your order is now being processed and we have sent a confirmation email to you at
When will my order be ready to collect?
Following the initial email, you will be contacted by the shop to confirm that your item is available for collection.
Call us on or send us an email at
Unfortunately there has been a problem with your order
Please try again or alternatively you can contact your chosen shop on or send us an email at