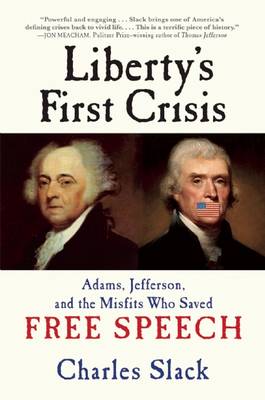 Liberty's First Crisis: Adams, Jefferson, and the Misfits Who Saved Free Speech (Hardback)
Charles Slack
(author)
Hardback
288

Pages / Published: 19/03/2015
When the United States government passed the Bill of Rights in 1791, its uncompromising protection of speech and of the press were unlike anything the world had ever seen before. But by 1798, the once-dazzling young republic of the United States was on the verge of collapse: partisanship gripped the weak federal government, British seizures threatened American goods and men on the high seas, and war with France seemed imminent as its own democratic revolution deteriorated into terror. Suddenly, the First Amendment, which protected harsh commentary of the weak government, no longer seemed as practical. So that July, President John Adams and the Federalists in control of Congress passed an extreme piece of legislation that made criticism of the government and its leaders a crime punishable by heavy fines and jail time. In
Liberty's First Crisis
, writer Charles Slack tells the story of the 1798 Sedition Act, the crucial moment when high ideals met real-world politics and the country's future hung in the balance.
From a loudmouth in a bar to a firebrand politician to Benjamin Franklin's own grandson, those victimized by the Sedition Act were as varied as the country's citizenry. But Americans refused to let their freedoms be so easily dismissed: they penned fiery editorials, signed petitions, and raised "liberty poles," while Vice President Thomas Jefferson and James Madison drew up the infamous Kentucky and Virginia Resolutions, arguing that the Federalist government had gone one step too far. Liberty's First Crisis vividly unfolds these pivotal events in the early life of the republic, as the Founding Fathers struggled to define America off the page and preserve the freedoms they had fought so hard to create.
Publisher: Grove Press / Atlantic Monthly Press
ISBN: 9780802123428
Number of pages: 288
Weight: 576 g
Dimensions: 231 x 155 x 33 mm
---
MEDIA REVIEWS
Praise for Liberty's First Crisis
"Just a few years after the 1791 adoption of the First Amendment . . . the Federalists in the John Adams administration felt sufficiently threatened by their opposition that they passed the so-called Sedition Act of 1798, placing limits on 'scandalous and malicious' writings or utterances against the government. In Liberty's First Crisis author Charles Slack revisits that nearly forgotten episode with storytelling flair and a keen eye for the latter-day implications of this early challenge to one of the country's bedrock principles. . . . In lucid English, Slack mounts a strong case against the contemporary inclination to legislate against speech that might offend."--Boston Globe
"Slack does more than just tell the story of the Sedition Act and the political crisis it created; he recasts the story as a chapter in a larger narrative about the philosophical right to be heard even when the opinion offered proves unpopular or even dangerous. . . . The lesson seems clear from Slack's well-written and well-researched work: Free speech and free expression don't have to be respected by society, but they must always be protected by law."--Dallas Morning News
"Artfully tells the story of the rise and eventual fall of the Sedition Act. . . . Slack's delightful narrative focuses not on Adams and Jefferson but on the vast and eccentric group of printers, orators, politicians, amateur philosophers and visionaries who fought against the Sedition Act. . . . [He] shows us how citizens . . . gave the First Amendment its defining role in American politics."--Minneapolis Star Tribune
"Slack reminds us that the free speech we too often take for granted is in constant jeopardy, most often from those who see the forced silence of others as an acceptable path to equity, tranquility and security."--Richmond Times-Dispatch
"A real gripping thriller . . . Vibrant, exciting."--Ralph Nader, "Ralph Nader Radio Hour"
"Among its other virtues, Liberty's First Crisis presents several healthy reminders that elected officials have always been capable of uncivilized behavior toward their colleagues . . . Slack has written a hearty work of history that is entertaining, educational, and serious about its topic without being so much so in tone."--Arts Fuse
"For those who think that partisan conflict is a cable-driven 21st-century phenomenon, Charles Slack has written a powerful and engaging narrative that puts things in perspective. By plunging back into the 1790s, Slack brings one of America's defining crises back to vivid life, reminding us that democracy has always been the tenderest of flowers. This is a terrific piece of history."--Jon Meacham, Pulitzer Prize-winning author of Thomas Jefferson
"Fantastic characters, vibrant storytelling and a hugely important message for our time. When I reached the last page, I wanted to stand up and applaud. Slack's heroes took up residence in my imagination, where I'm sure they'll remain. I will be recommending this book far and wide."--William Powers, New York Times bestselling author of Hamlet's Blackberry
"Charles Slack has taken a half-forgotten chapter in American history and made it into a legal thriller with profound implications for our own time. With meticulous research and compelling prose, Slack's dramatic narrative, ranging from the halls of Congress to fetid jail cells, reveals how the powerful sought to throttle one of our most cherished freedoms. He also warns that the threat persists. From the Founding to this day, liberty is a fragile thing indeed."--Henry Wiencek, award-winning author of Master of the Mountain: Thomas Jefferson and His Slaves
"Slack engagingly reveals how the Federalist attack on the First Amendment almost brought down the Republic. . . . An illuminating book of American history."--Kirkus Reviews (starred review)
"A lively account of a relatively unknown episode in American history. . . . Slack's book will appeal to history lovers of all kinds."--Library Journal
"Imagine a novel in which a band of hard-drinking, street-fighting, badass rebels take on the rulers of a powerful new empire, risking everything in a struggle that will determine the fate of American freedom. Then imagine that it's not a work of fiction but the history of the early United States and that the villains attempting to impose a tyrannical regime on Americans were some of our greatest national heroes. Present this riveting, little-known, but painfully relevant story in the prose of a master storyteller and you have Charles Slack's Liberty's First Crisis."--Thaddeus Russell, author of A Renegade History of the United State
"This is a story about the true meaning of freedom, how America's founding fathers wrestled over it, and how it nearly slipped through their (and our) grasp. Deeply researched and cogently analyzed, Charles Slack's Liberty's First Crisis molds the dramatic events swirling around the Alien and Sedition Acts of 1798 into a mesmerizing, uniquely American tale--complete with fistfights, insults, canings, and rigged courts. Most importantly, it underscores the high-minded reasoning, the courage, the sacrifice needed to achieve that most fleeting and invaluable of human conditions: freedom. Slack has created an indelible story. To read it is to better understand why America is still a concept worth loving and fighting for. I highly recommend it."--Dean King, nationally bestselling author of Skeletons on the Zahara and The Feud
"Charles Slack plunged me right into the cauldron of the 1790s, when politics was personal, personalities were larger than life, the First Amendment was an untested idea, and no one knew what kind of place the United States might turn out to be. Liberty's First Crisis is like being there, and it makes me marvel anew at the miracle that Americans wrought."--Jonathan Rauch, senior fellow, The Brookings Institution and author of Kindly Inquisitors
"A reminder of the fragility of freedom of speech . . . A rousing testimonial to the virtues of freedom. . . . [Slack] has produced a rollicking story of politics, journalism and what it means to be a free people."--John Bicknell, Roll Call After Dark
"The whole story [of the Sedition Act] is beautifully laid out in Charles Slack's terrific new book, a 'five star' opus that you just can't put down"--Edd Doerr, Secular Perspectives
You may also be interested in...
Simply reserve online and pay at the counter when you collect. Available in shop from just two hours, subject to availability.
Thank you for your reservation
Your order is now being processed and we have sent a confirmation email to you at
When will my order be ready to collect?
Following the initial email, you will be contacted by the shop to confirm that your item is available for collection.
Call us on or send us an email at
Unfortunately there has been a problem with your order
Please try again or alternatively you can contact your chosen shop on or send us an email at