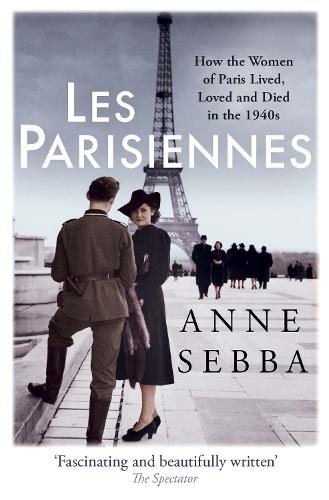 Les Parisiennes: How the Women of Paris Lived, Loved and Died in the 1940s (Paperback)
Anne Sebba
(author)
Paperback
496

Pages / Published: 08/06/2017
Winner of the Franco-British Society Book Prize 2016
Echoes of the past continually resonate in modern-day France, because what happened here in the 1940s has left scars of such depth that many have not yet healed.
June, 1940. German troops enter Paris and hoist the swastika over the Arc de Triomphe. The dark days of Occupation begin.
How would you have survived? By collaborating with the Nazis, or risking the lives of you and your loved ones to resist?
The women of Paris faced this dilemma every day - whether choosing between rations and the black market, or travelling on the Metro, where a German soldier had priority for a seat. Between the extremes of defiance and collusion was a vast moral grey area which all Parisiennes had to navigate in order to survive. Anne Sebba has sought out and interviewed scores of women, and brings us their unforgettable testimonies.
Her fascinating cast includes both native Parisiennes and temporary residents: American women and Nazi wives; spies, mothers, mistresses, artists, fashion designers and aristocrats. The result is an enthralling account of life during the Second World War and in the years of recovery and recrimination that followed the Liberation of Paris in 1944. It is a story of fear, deprivation and secrets - and, as ever in the French capital, glamour and determination.
'To read this book is to admire female bravery and resilience, but also to understand why the scars left by the Second World War still run so deep.' – The Times
A historian, lecturer, journalist and biographer, Anne Sebba's award-winning books include That Woman, a biography of Wallis Simpson, and Les Parisiennes, an investigation into women's lives in Paris during and immediately after the Second World War.
Read more from the author about the unsung heroes of the Parisian resistance on the Waterstones blog.
Publisher: Orion Publishing Co
ISBN: 9781780226613
Number of pages: 496
Weight: 408 g
Dimensions: 198 x 133 x 30 mm
---
MEDIA REVIEWS
Wonderfully researched, this is an important retelling of Les Annees Noires in Paris which puts women's stories, and the complications of their lives under Occupation, centre stage. Sebba reminds us that we should listen and put ourselves in their shoes, before leaping immediately to judgement, and backs this up with testimonies from many women whose voices have remained unheard -- Kate Mosse, author of LABYRINTH and CITADEL
'Anne Sebba's fascinating and beautifully written study gives voice to a myriad of narratives belonging to the Parisian women who resisted, collaborated, flourished, suffered, died or survived through a mixture of defiance and compromise . . . Sebba skilfully weaves the history of 1940s Paris through the remarkable stories of women from all walks of life' -- Clare Mulley * SPECTATOR *
This is a fascinating book I couldn't stop reading. Anne Sebba knows everything about Paris during the war and she relates the end of all the whispered stories I've been hearing all my life. She understands everything about the chic, loathsome collaborators and the Holocaust victims, and their stories are told in an irresistible narrative flood -- Edmund White, author of THE FLANEUR
'As Anne Sebba shows, life for a Parisian woman was a deeply ambiguous affair. Their experiences, like a kaleidoscope can be 'turned any number of ways to produce a different image'. Sebba's book, with its phenomenal amount of detailed research and its vast cast of characters, is rich in stories about the tricks of life under Occupation, the heroism of those who carried out acts of defiance, the slipperiness of collusion and the vast profits made by fixers, contacts, middlemen and entrepreneurs. She is particularly good on the fashion world and the scheming, equivocating social luminaries' -- Caroline Moorehead * LITERARY REVIEW *
Anne Sebba has the nearly miraculous gift of combining the vivid intimacy of the lives of women during the Occupation with the history of the time. This is a remarkable book -- Edmund de Waal, author of THE HARE WITH AMBER EYES
'As Anne Sebba makes clear in her fascinating book Les Parisiennes, there was no Hollywood clarity about life in the City of Light . . . there were very many reasons not to resist ... Sebba has interviewed women who, remarkably, are talking about their experiences for the first time. This is a valuable book . . . Although Sebba salutes the bravery of Les Parisiennes, she is careful not to condemn the ones who chose simply to survive . . . To read this book is to admire female bravery and resilience, but also to understand why the scars left by the Second World War still run so deep' -- Daisy Goodwin * THE TIMES *
The debate over the extent of collaboration versus the extent of resistance during the occupation is not new, but Sebba has found an enthralling way of looking at the story by focusing on how the choice was made by French women, and, in particular, by the women of Paris . . . Sebba doesn't offer an explanation as to why some women chose one course, others another, rightly letting their actions, compelling life stories - and the physiognomy of the wonderful selection of photographs - speak for themselves -- Sarah Helm * OBSERVER *
'One of the distinctive features of Anne Sebba's richly intelligent history is her evocation of sound. Sebba has deliberately eschewed a focus on well-known primary documentation for her history of Parisian women during the Second World War, choosing instead to alert her readers to a 'quieter and frequently less well-known' set of voices. Those voices, belonging to women of all classes, ages and educational backgrounds, weep and sing through this extraordinary book . . . Sebba is adept at explaining the changing political climate of Paris as the war progressed, but she never allows politics to overshadow her subjects' voices. This book does not judge - instead, in the breadth of its humanity, it achieves some of the recognition that the Parisiennes' own heroic modesty often denied them' -- Lisa Hilton * TIMES LITERARY SUPPLEMENT *
'The book takes an unflinching and sympathetic look at the roles women were asked to play in the war, and those they wrote for themselves . . . Sebba interviewed many of the surviving women, and tells their stories here, many for the first time . . . Les Parisiennes insists on the moral incertitude of wartime, 'especially through the eyes of women'. Perhaps because their lives were so complicated and roles so divided, they were more able to perceive, and be at home with, ambiguity . . . I am filled with admiration not only for the women themselves, but for Sebba's heroic research, for her meticulous tracking of these people and their exploits, of their fragility and their strength. This book is an important reminder of the fact that fully half of the story of the second world war is buried in memory and the archive, and has only recently been unearthed' -- Lauren Elkin * GUARDIAN *
'This is an elegant, enthralling and richly illustrated account of how the female residents of the French capital survived the Second World War and its aftermath with Parisian panache' -- Caroline Sanderson * SUNDAY EXPRESS *
'In the inter-war years women, who were yet to win the vote, had been encouraged to remain at home with motherhood vaunted as the ideal of womanhood. The reality of war propelled women into very different and often dangerous roles and it is these roles that Sebba explores in this powerful and moving book . . . Sebba's researches have been exhaustive: she has interviewed survivors and read countless documents' -- Vanessa Berridge * DAILY EXPRESS *
'Anne Sebba's tour de force of research and reflection, Les Parisiennes, is a testament of silk and sacrifice; of choices to resist or collaborate with the Nazis; of dalliance, defiance, and survival that turned on a concierge's random kindness or a stick of gelignite strapped to the chest . . . Sebba sources first-time stories of wartime women and records tales of collaboration horizontale with real sensitivity for the 'moral ambiguity' of those who exchanged sexual favours for privileges - or survival . . . extraordinary and evocative' -- Madeleine Kingsley * JEWISH CHRONICLE *
You may also be interested in...
Simply reserve online and pay at the counter when you collect. Available in shop from just two hours, subject to availability.
Thank you for your reservation
Your order is now being processed and we have sent a confirmation email to you at
When will my order be ready to collect?
Following the initial email, you will be contacted by the shop to confirm that your item is available for collection.
Call us on or send us an email at
Unfortunately there has been a problem with your order
Please try again or alternatively you can contact your chosen shop on or send us an email at