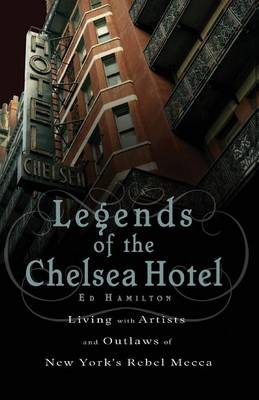 Legends of the Chelsea Hotel: Living with Artists and Outlaws in New York's Rebel Mecca (Paperback)
Ed Hamilton
Paperback
Published: 12/10/2007
There's a current that courses through the old Chelsea Hotel, an electricity that drives people relentlessly to create. It's an energy that longtime resident and creator of "Living with Legends: Hotel Chelsea Blog" Ed Hamilton will tell you often drives inhabitants to madness. In a series of linked cyanide capsules, Legends of the Chelsea Hotel tells the odd, funny, and often tragic truth of the writers, artists, and musicians -- the famous and the obscure alike -- who have fallen prey to the Chelsea. Readers enter one of Dee Dee Ramone's flashbacks; meet the ghost of author Thomas Wolfe; learn of movie star Ethan Hawke's mystical powers over women; see the ungodly acts allegedly being perpetrated in the basement club Serena's; and feel the dark aura of Room 100, where punk rocker Sid Vicious killed his girlfriend Nancy. Other Chelsea residents past and present who will be included: Ryan Adams, club kid/murderer Michael Alig, Sarah Bernhardt, the Warhol Factory's Richard Bernstein, Victor Bockris, Charles Bukowski, Leonard Cohen, Lesbian activist Storme DeLarverie, Bob Dylan, Allen Ginsberg, Herbert Huncke, Janis Joplin, Jack Kerouac, Madonna, Edgar Lee Masters, Arthur Miller, Edie Sedgwick, Sam Shepard, Patti Smith, Dylan Thomas, and Rufus Wainwright.
Publisher: Avalon Publishing Group
ISBN: 9781568583792
You may also be interested in...
We would love to hear what you think of Waterstones. Why not review Waterstones on Trustpilot?