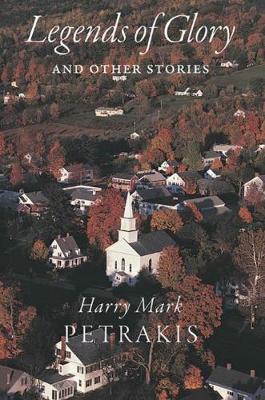 Hardback
176

Pages / Published: 30/03/2007
Legends of Glory and Other Stories contains a novella and eight short stories by award-winning author Harry Mark Petrakis. In a departure from his previous, highly regarded work, Petrakis offers a fresh new perspective in the novella, "Legends of Glory," which Fr. Andrew Greeley has called a "masterpiece." For the first time, Petrakis deals with the traditions and emotions of a small Midwestern town caught in the whirlwind of the Iraq War. In a communal rite of mourning, each character embodies a different voice, a different perspective, in regard to patriotism and pacifism. Although the novella relates to the sacrifice of a young man, the grieving of parents, and the conflicts of a family, it explores human sorrow and anger unchanged from the time of the Trojan War. In a return to his earlier lyrical prose style, Petrakis also treats us to eight beautifully crafted short stories. "Beauty's Daughter" introduces a sullen-spirited Greek bakery owner and his lovely, more amiable wife. "The Birthday" considers the fear that most people have of the emotional and physical decline that the years bring and the reconciliation with death. In "The Wisdom of Solon," Solon, who does not realize that life cannot be neatly categorized within the mysterious relationships between men and women, finds that every action sets in motion a series of often bewildering consequences. The question of a proper marriage match and the struggle to make the right choice mark "The Rousing of Mathon Sarlas." And the longing to believe that something survives our mortal bodies even if reason dictates otherwise is central to "A Dishwasher's Tale." Completing the collection are "Christina's Summer," "Rites of Passage," and "A Tale of Color," which are also presented in an inviting prose style and individualized by engaging characters to provide readers with a cumulative sense of culture, geography, and sensibility.
Publisher: Southern Illinois University Press
ISBN: 9780809327584
Number of pages: 176
Weight: 340 g
Dimensions: 216 x 140 x 17 mm
Edition: 23rd Revised edition
---
MEDIA REVIEWS
" "Legends of Glory" is a masterpiece, a commentary as well as a history of the present era."
-- Fr. Andrew M. Greeley, author of "The Senator and the Priest"""
The new collection of writing by Harry Mark Petrakis, "Legends of Glory and Other Stories," couples eight short stories with a novella. The beautifully crafted stories featuring Chicago Greeks are vintage Petrakis that reaffirm his mastery of this genre. In the novella, "Legends of Glory," Petrakis explores an entirely different social environment. The principals are mainstream Americans living in a small Midwestern town. The fiction of Petrakis always has had a social subtext, but this new work shows heightened attention to some mof the social ills afflicting the specific Greek American community and the United States in general.

Harry Mark Petrakis has authored 20 books, including novels, memoirs and collections of short stories and essays. He first burst into American consciousness in the 1956 when his story "Pericles on 31st Street" was published in the prestigious Atlantic Monthly and then adapted for use in one of the dramatic television shows of that era. With the publication of "A Dream of Kings" 10 years later, Petrakis became a best-selling novelist. That work was the basis of a motion picture of the same name released in 1969 with Anthony Quinn and Irene Papas in the starring roles.

Petrakis likes to speak of himself as a storyteller even though he, knows that is not a fashionable designation these days. I-le likes to write about recognizable people in recognizable settings experiencing recognizable emotions. Some of his characters are able to change: as circumstances change, but he frequently deals with the tragedy of those unable or unwilling to change. He is a firm advocate of the idea that authors should work hard to make the reading of their work as accessible as possible. When one is successful in that endeavor, as Petrakis so often is, there is a danger of the stories being read too quickly. Ernest Hemingway, another advocate of simplicity of style, complained that readers often mistake dense prose for density of thought while assuming that something that is easily read lacks depth. Some critics have made that error regarding Petrakis, categorizing him as an artist whose appeal is largely limited to ethnic or regional audiences. Fellow writers have not been so foolish. His work his been praised by John Cheever, Kurt Vonnegut, Isaac Bashevis Singer, Mark Van Doren and Elie Wiesel, among others. He has twice been nominated for the National Book Award in Fiction.

THE GREEK AMERICANSTORIES

Petrakis prefaces each story in "Legends of Glory and Other Stories" with a few paragraphs that discuss the real-life circumstances that inspired the writing. This anecdotal material enhances the stories by making a vital connection between the real life of Greek America as lived by Petrakis and the Greek America of his fiction. Wisdom does not necessarily accrue with age, but the octogenarian Petrakis writes with enormous compassion for his characters, a sense of the travails of everyday life that has grown keener with his advancing years.

These are traditional stories with a beginning, middle and an end. We want to know what is going to happen. But much of the richness of the writing comes in the sly commentary by Petrakis about our life in America and the vagaries of human mortality. The characters often carry classic names that suggest historical and mythological parallels. But the disciplined Petrakis does not let those echoes disrupt his narrative. They simply offer additional coloring to the events at hand.

Some aspect of sexuality is the theme in many of the tales. The events of "Beauty's Daughter" are told by a daughter whose mother bore the name Aphrodite and was the wife of a baker. Her marriage was not happy, leading to a brief affair with grocer. The story, grounded in the nature and need for physical love, ultimately is about the empowerment of a mother and daughter through the most unlikely of circumstances.

Romance is the main concern of A Tale of Color as well. The lovers in this instance are Denzel, an African American from Chicago, and Sofia, a village girl Denzel meets while serving in Greece as a soldier in the 1950s. They marry and relocate to Chicago. Denzel s parents reject the couple outright and the Greeks are distant. Petrakis shrewdly avoids the use of horrible Ku Klux Klan types. The problem is not this or that unsavory individual, but a society whose social structure was not prepared to accommodate such a couple. The Birthday deals with the trauma of reaching age 75 while Christina s Summer deals with a sexual moment of truth for a 13-year-old boy. What is striking about these tales in which age plays a prominent factor is the rich nuance and context of the telling. Using a straightforward narrative for The Birthday and a retrospective voice for Christina s Summer, Petrakis adroitly captures the impact of the various ages at play.

Rites of Passage take places in a Halstead street restaurant. Sofoula, the owner s daughter, and Panos, a waiter, become attracted to one another. At one point, after some naive talk about sexuality, Sofoula impetuously exposes her breasts to Panos, an action she immediately regrets. Panos, too, is embarrassed by her behavior. How that incident reveals the loneliness and frustration on which their mutual attraction is based is the central focus of the story. Further enriching the tale, however, is the candor Petrakis brings to his discussion of relationships in a Greek restaurant. When Panos decides to change his life entirely, Petrakis informs us: He felt confidant that he d make his way and find another position where he wouldn t be at the beck and call of anyone with a few dollars for a plate of gyros and a Greek salad. He would never again have to flame the platters of saganaki and cry the foolish Oppaaa! again.

A Dishwasher s Tale is told by a dishwasher whose best friend sells hot dogs from a pushcart. The dishwasher is a cynic of sorts, but the hot dog seller feels the events of ancient history as if they were current news. As he explains to the dishwasher, You are an earthbound creature! You don t allow yourself to take wing and dream! The relationship of the hot dog seller with his son is wretched and his life seems barren, yet when he dies and the dishwasher goes to his gravesite, there is a magical moment in which the world of myth asserts itself.

Older men who consider marrying younger women are the subject of "The Wisdom of Solon" and "The Rousing of Mathon Sarlas." In "The Wisdom of Solon" such a marriage takes place with many unforeseen consequences. In the other story, Mathon, aged 55 and a widower for 10 years, wants to marry a younger woman but fears she may come to resent him due to the gap in their ages. He is concerned that such a resentment could become a hatred, causing him a hurt that would be far worse than the loneliness he now feels.

THE LEGENDS OF GLORY

"Legends of Glory" breaks new ground in the work of Harry Mark Petrakis. It .is the longest work he has ever done involving non-Greek characters. More significantly, it is a. novella dealing with the most important political issues of our time. "Legends of Glory" is further distinguished by being one of the first novels by an American about contemporary debates regarding American political morality in the wake of 9-11.

Dan and Molly Scott, moderately liberal Democrats, live in Plainsfield, Indiana, a moderately conservative Republican town. Dan is a high school teacher who frequently uses Greek classics as texts. Noah, their only child, is a typical American teenager. He starred in high school football and worked at Kentucky Fried Chicken to make pocket money. Thomas Joshua Scott, Dan's father, a veteran of World War II, won a Medal of Honor for bravery on Omaha Beach on D-Day.

The Scott family has a proud military tradition. A glass case in the Scott household is filled with medals and ribbons won by generations of Scott warriors who have fought in every American conflict since the civil war of 1861-1865. The only reason Dan never served in the military was that he came of military age during the peaceful decades between the two world wars.

Thomas Joshua lived with Dan and Molly for many years, but due to medical problems moved to a veteran's home while in his 80s. During the years when the family lived under one roof, Noah, like many boys, felt closer to his grandfather than to his father. Noah was particularly entranced by the war stories Thomas Joshua told with considerable flourish. Molly was never pleased with that circumstance. After Thomas told a tale about what napalm does to the human body, Molly commented that his stories were "sickly and unnatural." Dan responded that his father was just a good storyteller.

The narrative of "Legends of Glory," which focuses on the behavior of the Sc Scotts in the aftermath of the attack of 9-11, is not as seamlessly rendered as the narratives in the short stories. Petrakis has not quite figured out how to elegantly work in all the political data needed to drive the story. The names, as-in the Greek stories, often carry echoes. A family of Scots with a warrior tradition reside in a town called Plainfield, and all the men in the family have names with distinctive biblical associations.

At the time of the Gore-Bush election, Molly and Dan, although a bit embarrassed by President Clinton's sexual escapades, are strong Gore supporters. Not surprisingly, Thomas Joshua is a fan of George Bush. As the war in Iraq begins, the positions of all concerned harden. Molly circulates petitions against the war, attends anti-war rallies, and even gets into arguments with neighbors. The more gentle Dan signs petitions and has his students study the "Iliad" and "The Trojan Women." He also ponders the long-term dangers of atomic war and fears a nuclear Armageddon may lie in the near future.

Noah has entered his freshman year of college, but he feels the only honorable option for a true-blue Scott at a time of war is to join the military. His grades go from straight A to an occasional B and even a C. Abruptly, he leaves college and, to his mother s horror, enlists in the Marines. The town is thrilled to have one of their own take such a heroic and patriotic step. Dan is surprised by the depth of their support. Molly thinks this reaction is stupid and intensifies her anti-war activities. Thomas Joshua informs Dan he had counseled Noah not to enlist at this time, but he doubts Molly will believe him.

When Noah is shipped to Iraq, he writes home regularly. Obviously seeking to comfort Molly, the letters are innocuous, and speak of eating well, contain snapshots of fellow soldiers, and refer to cooperative Iraqi civilians. Unknown to Molly, a second group of letters is sent only to his grandfather. These are much more stark and grim. One ends, There is something wrong here, but I m not smart enough to figure out what that is.

The novella moves forward to Noah s eventual fate in Iraq and the ensuing consequences. Along the way, however, the story has moved beyond the four main characters and a particular war. Petrakis has raised issues regarding the nature of military traditions and the responsibilities of the generations to each other. He offers no easy answers to questions that ought to be central to our national discourse but he seems to feel closest to the positions associated with Molly.

Legends of Glory and Other Stories is a remarkable collection from a remarkable author, an example of a writer demonstrating he can still produce the kind of stories for which he is famed, while having the courage to risk taking on new literary challenges. Petrakis is not an author to be read too quickly.

--Dan Georgakas"The National Herald" (02/23/2008)"
You may also be interested in...
Simply reserve online and pay at the counter when you collect. Available in shop from just two hours, subject to availability.
Thank you for your reservation
Your order is now being processed and we have sent a confirmation email to you at
When will my order be ready to collect?
Following the initial email, you will be contacted by the shop to confirm that your item is available for collection.
Call us on or send us an email at
Unfortunately there has been a problem with your order
Please try again or alternatively you can contact your chosen shop on or send us an email at