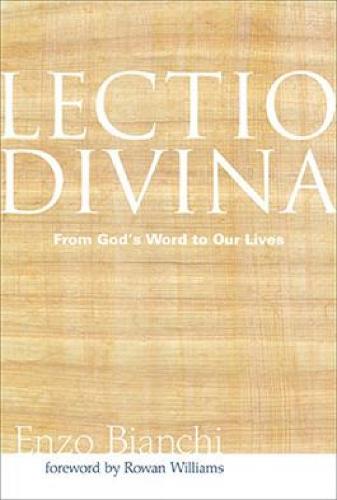 Lectio Divina: From God's Word to Our Lives - Voices from the Monastery (Paperback)
Enzo Bianchi

(author)

,

Rowan Williams

(foreword)
Paperback
128

Pages / Published: 01/04/2015
Discussion around the bestseller The Benedict Option by Rod Dreher has led many people to want to know more about monastic principles. This book by the modern monastic prior Enzo Bianchi (of the Bose Community in Switzerland) explores lectio divia, which is a principle practiced in many monastic houses today.

The Bible is ancient, enigmatic, and from a culture vastly different from our own. That's why most of us find it hard to read. So how can we understand its importance in the church, and how can it enrich our lives? Central to lectio divina is the conviction that to read the Bible faithfully and prayerfully is to learn an ancient art - by entering into dialogue with the God who speaks to each of us through the biblical page. Enzo Bianchi touches on the essentials of the history of lectio, from the brilliant thinker Origen in the third century to the development of historical criticism in the modern era. He explains how to do lectio and how to understand and implement its four "moments" - lectio, meditatio, oratio, contemplatio. This is not simply a book about how to approach the Bible, because Scripture ultimately wants to lead us beyond itself, to the truth and mystery of Christ that can never be captured fully in the written word.
Publisher: Paraclete Press
ISBN: 9781612616421
Number of pages: 128
Weight: 173 g
Dimensions: 203 x 137 x 13 mm
---
MEDIA REVIEWS
An invitation into lectio divina, the reading of the Scriptures.

The author encourages a reconsideration and acceptance of the Origenist fourfold way of interpreting Scripture (literal, allegorical, moral/tropological, and analogical); writes much about encouraging the reading of Scripture both individually but especially communally; and commends lectio divina and its four steps: lectio, meditatio, oratio, and contemplatio. In this perspective one moves through the objective attempt to understand the text in context and then more subjectively to seek to apply it to one's own life and experience. The author also speaks about challenges in terms of reading and understanding Scripture and even just in reading and understanding in and of itself.

The author is Roman Catholic, writes within a Roman Catholic framework, and ostensibly primarily to Roman Catholics. Knowledge of basic Latin, and at least a bit of Greek, proves helpful in understanding him; much is left untranslated.

The book undoubtedly serves its primary purpose, but I was disappointed that very little time was spent in discussing the development of the spiritual discipline of lectio divina; this book is more about discussing issues surrounding lectio divina than lectio divina itself. Nevertheless, it has some good food for thought in terms of our relationship to the Scriptures and what we seek to get out of them.-Ethan Longhenry, Goodreads reviewer

Bianchi's remarkable accomplishment in Lectio Divina is reconciling recent scholarly trends in biblical interpretation with a devotional use of the Bible. As scholarship that draws from pre-critical hermeneutics proliferates, Bianchi shows how the insights of such scholarship can only be fully accessed through Spirit led engagement with the text. Some books that seek to revive ancient spiritual practices get bogged down in technique. Bianchi offers a broad theology of Scripture. He never dictates the minutia of how spiritual reading is to be achieved. Instead, he charts the basics of a path through the Bible that reads along the grain of the text, respecting the unity that the Spirit creates from a diverse set of books. Bianchi's prescription of the lectio divina is sorely needed as a way of bringing coherence to our scattered spiritual lives. -Andrew Stout for The Englewood Review of Books

This is not your ordinary book about lectio divina. For one thing, it does not begin to give indications about the how-tos of the ancient spiritual practice until two-thirds of the way through the book. The reason for that is that the author thinks it is useless to know techniques if you do not understand that the underlying principle, in this case the sacramentality of the Bible as the work of God, a concept which has been underground in the western Church for a long time. Another difference from many contemporary books on lectio divina is that the author does not suggest that just any old text (or new text, for that matter) will do.
Brother Enzo Bianchi, a Roman Catholic, is the founder and still prior of the ecumenical monastic Bose Community of men and women, which he and a few colleagues inaugurated in 1965 in northern Italy. Bianchi's deep understanding of Scripture and the early monastic tradition has made him an important voice of the post-Vatican II era, and his influence in the Church as the founder of a new ecclesial community has dramatically increased under the last two Popes. Pope Benedict XVI invited him to the Synod on the Word of God in 2008 and the Synod on the New Evangelization in 2012, and in 2014 Bianchi was appointed by Pope Francis as a consulter for the Pontifical Council for Promoting Christian Unity. This is a book worth reading and rereading.-Jerome Kodell, O.S.B., Subiaco Abbey, American Benedictine Review
Enzo Bianchi is a gifted scholar known as the founder of a dynamic monastic community and for his ecumenical work. This is not so much a "how-to" manual, rather a "lectio on lectio" kind of book. Bianchi engages both mind and heart, offering a gentle challenge to readers in our contemporary need for transformation.- Sister Laura's Scriptorium, St. Placid Priory
My love of scripture drew me to read Lectio Divina: From God's Words to Our Lives, a book in which Enzo Bianchi examines the meaning of an ancient practice that has recently resurfaced in certain communities of the faithful. This practice, which is called Lectio Divina, is a beautiful spiritual reading and praying of scripture. As I had only limited experience with this specific type of worship before reading Bianchi's work, I was immediately drawn to the subtitle "From God's Words to Our Lives. The original version was written in Italian in 2008. Now I have the privilege of previewing this new English translation.
According to Origen (a third century church father), "There are three senses concealed in the words of scripture-literal, moral and spiritual." We need to draw all of this out of the Bible as we read. The author tells us "The Bible as the heart of the church was rediscovered in Vatican II's conciliar document Dei Verbum." I love the description of scripture itself being God incarnate, not only as Christ (The Word) as he descends into flesh as a baby in the manger, but also as the written human words of the bible.
Lectio Divina begins with the history of how the bible has been interpreted, which has changed over time. Following this summary, Bianchi analyzes the importance of scripture in the church with the liturgy of the word.... Bianchi depicts The Bible as a call to an encounter with God. My favorite part of the work is the description of the four parts of lectio divina: lectio, meditatio, oratio, and contemplatio. Lectio is the literal historical part. Meditatio is about discovered revelation. Oratio is prayer and dialogue with God. Contemplatio is applying what we have read to our lives. There are several examples of how to integrate this breakdown and analysis into readings in the bible. Through my reading of Binachi's work, I have developed a new reverence for the bible as a relationship, a relationship I can use to spend time with God in his word.
...I would highly recommend this book not only to those who are already experienced readers of scriptures, but also to those who are new to bible reading. While the Lectio Divina is a Catholic approach to bible study and prayer, all Christians will enjoy learning about a process of divine reading that was practiced by the early church fathers in the beginning years of Christianity. -Patricia McKenna, The Catholic Bookshelf

You may also be interested in...
Simply reserve online and pay at the counter when you collect. Available in shop from just two hours, subject to availability.
Thank you for your reservation
Your order is now being processed and we have sent a confirmation email to you at
When will my order be ready to collect?
Following the initial email, you will be contacted by the shop to confirm that your item is available for collection.
Call us on or send us an email at
Unfortunately there has been a problem with your order
Please try again or alternatively you can contact your chosen shop on or send us an email at