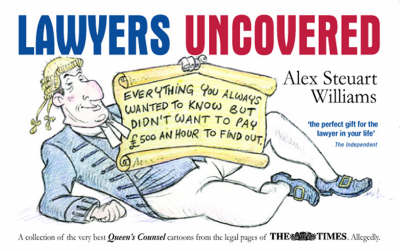 Lawyers Uncovered: Everything You Always Wanted to Know, But Didn't Want to Pay £500 an Hour to Find Out (Paperback)
Alex Steuart Williams
Paperback
Published: 01/09/2007
The funny and subversive 'Queen's Counsel' cartoon strip has appeared on the law pages of "The Times" since 1993, delighting the legal profession and general readers alike with its accurate and biting send-up of the profession and its practices. Here - allegedly! - is the best of them. In these pages, readers will delight in Geoffrey Bentwood QC, who specialises in boring his clients to death, while not-so-secretly longing to be promoted to the bench; his sidekick, Edward Longwind, who takes lessons in pomposity from Sir Geoffrey; Richard Loophole of Loophole and Fillibuster who does his best to bankrupt his clients, while working his associates to death and pretending to remember some of the law he learned at school; and at the mercy of all of them is the luckless Mr Sprocket, the endlessly unsuccessful litigant whose lawyers will not rest until they have spent all of his money. This work features the best of the 'Queen's Counsel' cartoon strip from "The Times".
Publisher: JR Books Ltd
ISBN: 9781906217082
You may also be interested in...
We would love to hear what you think of Waterstones. Why not review Waterstones on Trustpilot?