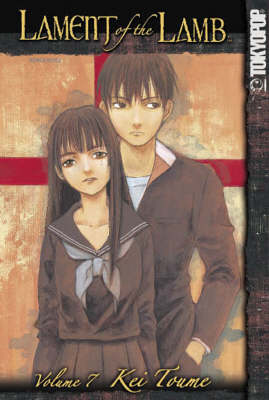 Lament of the Lamb: v. 7 (Paperback)
Kei Toume
(artist)
Paperback
Published: 01/08/2006
Chizuna is hit with another attack in her new friend, Sasaki's, presence. The school nurse recommends that she stay away from school 'til she feels better. Meanwhile, Kazuna and Kinoshita strike up their friendship again, as the sullen Yaegashi feels increasingly alienated from Kazuna. But, while at school, Kazuna falls prey to another attack. He dashes away, but Yaegashi, wanting to make sure he isn't discovered, goes after him. During their encounter, Kazuna lashes out Yaegashi. As terrified as he is of this attack, he rails at Yaegashi for even attempting to get involved in his troubles. He feels guilty about hurting her, but he insists she distance herself. Yaegashi responds by confessing to Kazuna how strongly she feels about him, and it grieves her to know that he only wants to distance himself from her. On the contrary, Kazuna finally breaks down, remembering how much he's grown to pine for Yaegashi over the years. He grabs and devours her blood. She wants it. Kazuna goes home, repentant of his act, but accepting that Yaegashi's blood calmed his attack. Chizuna, in the meantime, has tracked down Shinobi (Kazami), and asks what she knows about her family. Shinobi reveals her knowledge of the Takeshiro illness, but can't understand how it could've led Chizuna's father to kill himself. Chizuna tells him it was the disease itself - its draining demands - that finally weakened and overpowered him. That and his yearning for his dead wife did him in. Chizuna explains that the disease that Shinobi researched was similar to their family illness except for one detail: the Takeshiro illness causes violent urges, and a potential for victims to harm others. She lets Shinobi in on the dark secret behind her father's delusions and his overwhelming love for his dead wife. Shinobi asks why Chizuna's mother is not buried at the Takashiro gravesite. Chizuna concedes she does not know. Thoughts of Mother stir up deep and troubling memories for Chizuna, enough so that Shinobi must help quell another of her attacks. As Chizuna walks home, she wonders why memories of her mother's death arouse her symptoms. why does she feel terrified and doubtful of what she remembers? Could Mother really be alive? Later that night, Chizuna collapses and is taken to the hospital where, under sedation, she experiences flashbacks to a moment when her mother tried to kill Chizuna and, hence, keep from suffering her own fate. What actually happened was that Chizuna, in a bizarre act of self-defense, killed her mother. Her father then convinced the traumatized child that her mother had actually committed suicide. Eventually, her father - broken and demoralized by his daughter's illness - committed suicide himself. In the hospital, the truth of her mother's death comes raging back to the surface of Chizuna's mind. Eventually, Chizuna demands Minase to release her from the hospital. She wants to make her peace with the home where so much of her hellish past took place. He grudgingly agrees. Back at home, Chizuna's health slips rapidly. She's made her peace with death, though Kazuna is confused and unsure of where life will lead him after her sister's passing. He determines to follow in her footsteps and, upon her death, he takes the suicide tablet that Chizuna had once given him. When the year-end exams finish and the school year ends, The Eda's, Yaegashi and Kinoshito wonder what's happened to Chizuna - they're all in the dark. Kazuna, luckily, survives the effects of the suicide tablet, but he's hospitalized under intense observation. Meanwhile, the new school year has started for Yaegashi and Kinoshito. Yaegashi goes to see Kazuna in the hospital. Kazuna's memories of his terrifying past year have been wiped clean from the effects of the tablet. In a conversation with Aunt Natsuko, Yaegashi learns that Eda's wish to stave off those ugly memories as long as they can so Kazuna can live a healthy life. Yaegashi picks up Kazuna from the hospital. Kazuna is primed for a new year at an all-boys' academy where he'll make up his lost school year and for being officially adopted by the Eda's. A new name, a new school and a new girlfriend. It's a fresh start for Kazuna, vampire-disease survivor and happy-go-lucky amnesiac.
Publisher: Tokyopop Press Inc
ISBN: 9781595320063
Weight: 254 g
Dimensions: 189 x 127 x 20 mm
You may also be interested in...
Simply reserve online and pay at the counter when you collect. Available in shop from just two hours, subject to availability.
Thank you for your reservation
Your order is now being processed and we have sent a confirmation email to you at
When will my order be ready to collect?
Following the initial email, you will be contacted by the shop to confirm that your item is available for collection.
Call us on or send us an email at
Unfortunately there has been a problem with your order
Please try again or alternatively you can contact your chosen shop on or send us an email at