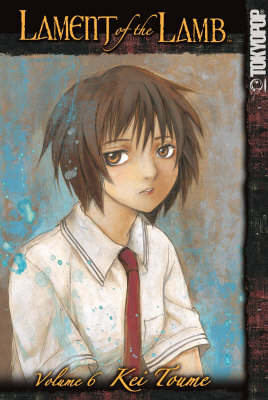 Lament of the Lamb: v. 6 (Paperback)
Kei Toume
(artist)
Paperback
Published: 01/08/2006
Shinobu, one of Dr. Takashiro's nurses, appears at the house. She's heard about his suicide and wants to know why he did it. Chizuna turns her away brusquely, saying she doesn't know anything. Kazuna wonders privately why Chizuna is behaving so quick-tempered, what happened between her and Minase. Shinobu continues her search at the Buddhist cemetery where Chizuna told her their father was buried. The priest points out a grave marked "Shizuna" (Takashiro's first name). Shinobu wonders if that's the correct grave, then where is his wife buried? Next, Shinobu gets in touch with Aunt Natsuko and asks what she knows about Dr. Takashiro's death. Shinobu explains how he rushed her to shut down the clinic before he killed himself. Natsuko guesses that Shinobu was in love with Dr. Takashiro, but she tells nothing of his family secret. She says his suicide came as a shock and that Kazuna, his son, had lived with them till recently. Natsuko lets on that Shizuna's wife was ailing without mentioning a word about the family's vampire-like illness. Unsatisfied with Natsuko's answers, Shinobu goes to the Takashiro Clinic, now closed and presumably abandoned. She rummages through a bunch of confidential files when Minase barges in. She gathers up files secretly and quickly leaves. Later that night, Shinobu leafs through the reports sneaked out from the clinic. The papers describe the pathology of the Takashiro disease. Shinobu wonders why Dr. Takashiro would've been studying such an odd disease. At the school library, Yaegashi runs into Kinoshita. They wonder what's going on with Kazuna. Yaegashi refrains from telling him what she knows intimately regarding Kazuna's illness. The two express grave concern and distress over Kazuna's disappearance. Shinobu questions a doctor about the vampiric disease mentioned in the confidential reports. The doctor tells her what little he knows, but Shinobu remains confused as to why Dr. Takashiro kept his research so secret. She suspects that his daughter, Chizuna, may be suffering from the disease. Apologizing yet again for her meddlesome ways, Shinobu questions one of Chizuna's neighbors for information. She slows puts the pieces together about the Takashiro family's decline and the disease within. Determined to regain her strength and not follow in the footsteps of her deceased mother, Chizuna ventures back to school. Kazuna consents to go too. There, Chizuna almost collapses, attracting the attention of her classmates while Kazuna reluctantly tells Kinoshita the truth about his illness, why he left the Eda's home, how Yaegashi brings on his worst attacks, etc. Kazuna says he hopes to control his attacks from now. Chizuna's classmate, Sasaki, helps her to the school nurse where Chizuna rests after her attack. Chizuna contemplates how much more she'll last and finds solace in Kazuna's chances for a full recovery. Sasaki tells Chizuna that she suffered from asthma as a child-it kept her out of school, but she's felt better since and revitalized her health through sports. Chizuna enjoys her company. Kazuna resumes his school year and finds himself amazingly suited to his old life. The only obstacle that he must overcome is his relationship with Yaegashi. He avoids Yaegashi at school, something that hurts her but which she tries to come to terms with. Chizuna, meanwhile, strikes up a friendship with the bubbly, sociable Sasaki who doesn't seem fazed by her strange illness. Chizuna, for the first time, actually feels relaxed in the company of a classmate. Minase arrives at the Takashiro house and tells Chizuna about that Shinobu's investigation. He fears she may have discovered confidential data from notes locked up at the clinic. Chizuna tells Minase that she's been having disturbing dreams about Mother-a woman she hardly remembers but whose fate she feels trapped into following. She's frightened about the possibility that the dreams end with something unspeakably horrible.
Publisher: Tokyopop Press Inc
ISBN: 9781595320056
Weight: 218 g
Dimensions: 189 x 127 x 15 mm
You may also be interested in...
Simply reserve online and pay at the counter when you collect. Available in shop from just two hours, subject to availability.
Thank you for your reservation
Your order is now being processed and we have sent a confirmation email to you at
When will my order be ready to collect?
Following the initial email, you will be contacted by the shop to confirm that your item is available for collection.
Call us on or send us an email at
Unfortunately there has been a problem with your order
Please try again or alternatively you can contact your chosen shop on or send us an email at