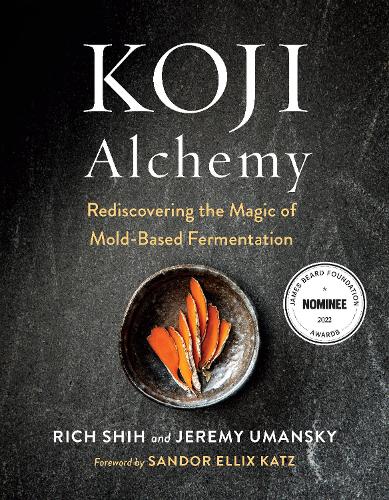 Koji Alchemy: Rediscovering the Magic of Mold-Based Fermentation (Soy Sauce, Miso, Sake, Mirin, Amazake, Charcuterie) (Hardback)
Jeremy Umansky

(author)

,

Rich Shih

(author)

,

Sandor Ellix Katz

(foreword)
Hardback
352

Pages / Published: 04/06/2020
In stock

Free UK delivery
Featured in The Independent's 7 best fermentation books 2020
This book is remarkable. David Zilber, co-author of The Noma Guide to Fermentation
Koji: the next fermentation game changer
Koji Alchemy is the first book devoted to processes, concepts, and recipes for fermenting foods with koji, the microbe behind the delicious umami flavors of soy sauce, miso, mirin, and so many of the ingredients that underpin Japanese cuisine.
Chefs Jeremy Umansky and Rich Shih leaders on the culinary power of this unique ingredient deliver a comprehensive look at modern koji use around the world. Using it to rapidly age charcuterie, cheese, and other ferments, they take the magic of koji to the next level, revolutionising the creation of fermented foods and flavour profiles for both professional and home cooks.
Koji Alchemy includes:
A foreword by best-selling author Sandor Katz (
The Art of Fermentation
)Cutting-edge techniques on koji growing and curingExtensive information on equipment and setting up your kitchenMore than 35 recipes for sauces, pastes, ferments, and alcohol
Publisher: Chelsea Green Publishing Co
ISBN: 9781603588683
Number of pages: 352
Weight: 798 g
Dimensions: 229 x 178 x 26 mm
---
MEDIA REVIEWS
"Koji Alchemy unveils the magical mold that pushes culinary boundaries far beyond Japanese tradition."-Forbes
"[Koji Alchemy] offers next level fermentation fodder. . . . Part biology textbook, part celebration of the fungus, part explanation of flavor, and part recipe book and how-to guide for pastes, sauces, cheeses, brewing, and aging meat."-The Boston Globe
"They say a gram of koji contains millions of spores. Shih and Umansky equal that with insights, bringing scientific understanding to koji's magical powers of transformation (without spoiling any of the magic). Koji Alchemy is an immensely informative read."-Dan Barber, chef/co-owner, Blue Hill and Blue Hill at Stone Barns; author of The Third Plate
"I have always been intrigued by the technical and thoughtful fermentation practices of many cultures. Reading Koji Alchemy has opened my eyes to how simple working with koji can actually be, while remaining incredibly innovative and exciting. This book is not only full of information, it's scientific, and most of all thrilling. It's a great reminder that we all have a lot to learn about the art of fermentation."-Daniel Boulud, chef and restaurateur, Daniel
"Before this book, what Jeremy and Rich have done with food I would've thought impossible. As someone who has always had a deep love for the curing, brining, aging, and smoking of meat, I would have never thought these time-honored processes could be sped up without producing lesser results. Well, was I ever proven wrong. To take an ingredient like koji, which has been available and used for hundreds of years, and use it to speed up processes like pastrami and still maintain its integrity is truly astonishing. In Koji Alchemy, they show you what to me feels like magic, and guide you through every step so you can now make dishes at home or at your restaurants that would have previously taken not only lots of time but also space. They have opened my mind to koji's limitless uses and will do the same for you. Jeremy and Rich, thank you for always pushing culinary boundaries and reminding us all that there is something new to learn and be inspired by every day."-Chef Michael Symon
"Science is a very useful resource for understanding food, and, very importantly, it shows us how to make better food. This book succeeds in 'translating' the language of science and its practical applications to everyday users. Exploiting and harnessing the effects that microorganisms have on food is a great tool that any cook can add to their repertoire, and Koji Alchemy will show you how. I hope Merriam-Webster adds the word 'kojify' to the dictionary soon."-Francisco Migoya, head chef, Modernist Cuisine
"Koji Alchemy is the most in-depth study on the subject that I've ever seen. As someone basically starting at zero, I'm inspired to dig in and learn from the masters."-Jeremy Fox, author of On Vegetables
"Rich and Jeremy have dedicated years to researching and experimenting with both traditional and utterly novel uses for koji. With Koji Alchemy, they open their notebooks to the rest of us, sharing their deep knowledge and infectious enthusiasm for this remarkable mold. This book, at once comprehensive and approachable, will prove invaluable to any curious cook looking to make more flavorful food, reduce kitchen waste, or experiment at the frontier of an exciting world of fermentation."-Dan Souza, editor-in-chief, Cook's Illustrated
"Alchemist, chef, and master charcutier, Jeremy Umansky is the Albert Einstein of koji. Koji Alchemy-his book with Rich Shih, a first-rate koji explorer-is fascinating, hunger-inducing, and the final word on the spore responsible for miso, soy sauce, sake, and so much more."-Steven Raichlen, host, PBS's Project Fire and Project Smoke
"Like a magician revealing their tricks, Koji Alchemy has lifted the veil on the complex nature of some of the world's most beloved foods. The authors brilliantly demystify the 'alchemy,' giving the reader a straightforward view into the world of koji's secrets. Never before has a book broken down the building blocks of koji and its products so completely and in such a useful way in the kitchen."-Kyle Connaughton, chef and owner, SingleThread Farms
"Rich and Jeremy have done an amazing job in creating an indispensable manual for both home cooks and pro chefs. Koji Alchemy offers a fresh set of transformative cooking fundamentals and a master class on fermentation."-Rick Tramonto, executive chef and vice president of culinary operations, Tramonto Cuisine Group
"It's not every day that deeply passionate, creative, and collaborative people take on the demystification of a revered ingredient. But herein lies just that: a truly educational, comprehensive, and delicious exploration of one of the most versatile molds out there. So grateful for this book."-Cortney Burns, chef; author of Nourish Me Home and coauthor of Bar Tartine
"Koji Alchemy will make you want to immediately start experimenting. The fungus behind koji-Aspergillus oryzae-is one of the top three most important transformative organisms in food, and this is the only book devoted to it. Shih and Umansky have put in years of intensive learning and testing of all aspects, both traditional and new, of this magical mold and have generously shared their insights and given us a roadmap to follow."-Dave Arnold, author of Liquid Intelligence; Museum of Food and Drink
"Koji Alchemy is ideally suited to this moment in food history when the nutritive and ecological benefits of fermentation as a means of processing food to greater edibility have become baldly apparent. This is a handbook explaining how the distinctive enzymatic effects of koji, a mold domesticated in Asia in deep antiquity, produce richer flavor (more than just umami), easier digestibility, and more beneficial interactions with gut microbes than other cooking agents. You learn how to grow it, apply it, and think about the possible interactions with different grains and starches. The authors explain how koji performs its transformations in all of the traditional Asian categories of fermented food-the amino pastes, alcohols, meat cures, and pickles-then venture into transformations of eggs and dairy and western foodstuffs. More an invitation to work with koji to blaze creative paths in cooking than orders about how to ferment using Aspergillus oryzae, this book stresses the wonder of this fungus's ability to give rise to subtle fragrances, comforting tastes, and a feeling of wholesome repleteness in food."-David S. Shields, Carolina Distinguished Professor, University of South Carolina; chair, Carolina Gold Rice Foundation
"Koji Alchemy opens up a whole new world of endless gastronomic possibilities. Koji will be the next great wave for fermentation enthusiasts, and these authors are its heralds. I have watched from the sidelines with great anticipation and am now ready to dive in myself with this book as my guide."-Ken Albala, professor of history, University of the Pacific
"In Koji Alchemy, Umansky and Shih have amassed and arranged koji's mystifying powers into an easily digestible reference for the whole world to use! Both seasoned veterans in the field of fermentation, they speak to enchanted newcomers and inquisitive professionals with the certain euphoria that Aspergillus oryzae has long-deserved. Koji Alchemy gives praise to past and present traditions, while bringing modern concepts forward. This book, like koji itself, will turn the confounding into commonplace, blandness into flavorsome, emboldening your appetite for more umami."-Michael Harlan Turkell, author of Acid Trip
"Koji Alchemy is about discovery. It is about collaboration with microbes and humans. It is about cultural exchange, and most importantly, it is about making flavor. Jeremy and Rich gracefully navigate this ancient art and its modern renaissance that breaks from tradition, bringing us a complete look at this versatile domesticated fungus."-Kirsten K. Shockey, coauthor of Miso, Tempeh, Natto and Other Tasty Ferments and Fermented Vegetables
"Koji Alchemy is part science experiment, part history book, part love letter to the art and skill of using koji to elevate food both humble and refined. Shih and Umansky make the world of koji accessible to cooks at every level with this in-depth manual that shares their immense knowledge and passion with readers."-Lee Wolen, chef and partner, Boka and Somerset restaurants
"Rich and Jeremy have dedicated their lives to the art of making koji, and it shows very evidently in their work. Koji Alchemy is one of the most comprehensive pieces of literature regarding this amazing mold in the industry today. This book is a tool every kitchen should be using."-Chef Ryan Poli
"In an ever-evolving culinary world, Koji Alchemy will help define the next generation of cooks and eventually become a timeless resource for both those who are beginning their journey and those looking to add and improve on an existing skill set. An ancient technique broken down for the modern age. Old school flavor, new school style."-Carlo G. Lamagna, chef and owner, Magna Kusina
"When I first met and became friends with Jeremy Umansky in 2014, he exposed me to what he had been working on with regard to koji. It was the kind of culinary awakening that opened my eyes to what is possible with food in order to create deliciousness, and this has carried over into everything that I do in the kitchen to this day. I couldn't be more excited for the knowledge in his and Rich Shih's beautiful book to be widely available. Koji Alchemy will change you."-Kevin Sousa, chef and owner, Superior Motors
"What an extraordinary book Koji Alchemy is. I leapt headfirst into the section on vinegar, but from there couldn't resist discovering all the other ways that Shih and Umansky expound on the flavour impact of koji. It's a book for ingredient geeks, for sure (which I mean as a compliment), but written engagingly enough to appeal to anyone with a serious interest in food. My culinary mind is blown."-Angela Clutton, author of The Vinegar Cupboard
"Koji Alchemy is a great, well-written book that draws you in from the start, equipping readers with the knowledge needed to discover more about this mysterious ingredient. Koji is well-documented as a core ingredient in Japanese cooking, a starting point with plenty more to be discovered. I love that this book demonstrates how its use for imparting and discovering flavour can be continuously explored in all cuisines. Koji Alchemy is the road map that sets you on that journey."-Yuki Gomi, Yuki's Kitchen; author of Sushi at Home
"Koji Alchemy dissolves the boundaries of traditional koji methods, while still heeding the wisdom and power of cultures who have collaborated with these microbes to develop unparalleled flavors. Put koji on it."-Lindsay Whiteaker, Harvest Roots Ferments
"Koji Alchemy is a vital and timely book. Not only does it go deep into the culture of koji and how we can use it to produce amazing misos and charcuteries, it also includes practical advice on how to integrate this knowledge into your existing kitchen system with an HACCP plan. Koji is about flavour through preservation, and this book goes beyond the everyday to demonstrate the beautiful alchemy that arises when you allow koji into your life."-Jp McMahon, chef and culinary director, EatGalway Restaurant Group
You may also be interested in...
×
Download the Waterstones App
Would you like to proceed to the App store to download the Waterstones App?
Reserve online, pay on collection.
Or,
add to basket
, pay online, collect in as little as 2 hours, subject to availability.
Thank you for your reservation
Your order is now being processed and we have sent a confirmation email to you at
When will my order be ready to collect?
Following the initial email, you will be contacted by the shop to confirm that your item is available for collection.
Call us on or send us an email at
Unfortunately there has been a problem with your order
Please try again or alternatively you can contact your chosen shop on or send us an email at