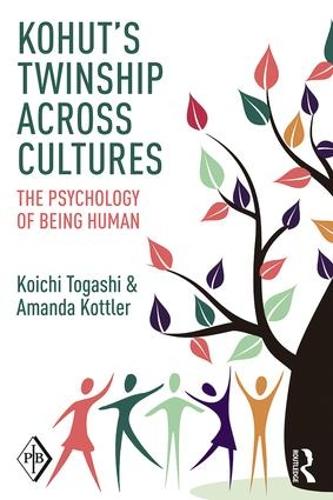 Kohut's Twinship Across Cultures: The Psychology of Being Human - Psychoanalytic Inquiry Book Series (Paperback)
Koichi Togashi

(author)

,

Amanda Kottler

(author)
Paperback
188

Pages / Published: 21/09/2015
Kohut's Twinship Across Cultures: The Psychology of Being Human chronicles a 10-year-voyage in which the authors struggled, initially independently, to make sense of Kohut`s intentions when he radically re-defined the twinship experience to one of "being human among other human beings".
Commencing with an exploration of Kohut's work on twinship and an illustration of the value of what he left for elaboration, Togashi and Kottler proceed to introduce a new and very different sensitivity to understanding particular psychoanalytic relational processes and ideas about human existential anguish, trauma, and the meaning of life. Together they tackle the twinship concept, which has often been misunderstood and about which little has been written. Uniquely, the book expands and elaborates upon Kohut's final definition, "being human among other human beings." It problematizes this apparently simple concept with a wide range of clinical material, demonstrating the complexity of the statement and the intricacies involved in recognizing and working with traumatized patients who have never experienced this feeling. It asks how a sense of being human, as opposed to being described as human, can be generated and how this might help clinicians to better understand and work with trauma.
Written for psychoanalysts and psychoanalytic psychotherapists interested in self-psychological, intersubjective, and relational theories, Twinship Across Cultures will also be invaluable to clinicians working in the broader areas of psychoanalysis, psychotherapy, social work, psychiatry and education. It will enrich their sensitivity and capacity to understand and treat traumatized patients and the alienation they feel among other human beings.
Publisher: Taylor & Francis Ltd
ISBN: 9781138819177
Number of pages: 188
Weight: 318 g
Dimensions: 235 x 159 x 15 mm
---
MEDIA REVIEWS
Original and groundbreaking, this book by Togashi and Kottler constitutes the most important contribution to self psychology's theory in many years, and thus expands also the range of relational psychoanalysis. Their focus on experience of otherness in yearning for connection, for the sense of being human among humans, will make this a classic. A great gift for every clinician. - Donna Orange Institute for the Psychoanalytic Study of Subjectivity, New York, USA
"In a work of superb scholarship, Togashi and Kottler offer an expansion and refinement of Kohut's concept of twinship (which originated in his studies of narcissism) entailing a delicate balance of sameness and difference that constitutes a sense of what I prefer to call existential kinship, of being a human among humans. They show with rich and convincing clinical examples how twinship/existential kinship experiences in the therapeutic relationship can be enormously beneficial for those who suffer from profound feelings of alienation, estrangement, meaninglessness, and existential anguish-feelings that are a ubiquitous legacy of emotional trauma."-Robert D. Stolorow, PhD, author, World, Affectivity, Trauma: Heidegger and Post-Cartesian Psychoanalysis
This is an important book. Too often psychoanalysis is perceived as a universalizing theory that neglects the cultures and contexts of psychological experience. The authors, one from Japan, the other from South Africa, bring their unique perspectives to bear on the question of human relating. They suggest that while the human need to relate is present across cultures, it is shaped by the specific cultural practices in which each person develops. Chapters on the role of culture difference and gendered discourses illustrate the veracity of their perspective. The authors convincingly demonstrate the evolving nature of contemporary self-psychology and its intersection with relational psychoanalysis. Above all this is a study of what it means to be human and how to think about the fundamental issues raised by our relational existence. - Roger Frie, Ph.D. Psy.D. R. Psych Professor, Simon Fraser University and University of British Columbia.
Arguably Heinz Kohut's most central, phenomenologically based concept, the twinship selfobject experience ultimately has its roots in what it means to be human among humans, and to feel at home. Togashi and Kottler masterfully elaborate and expand these fundamental themes in highly original and creative directions-a testament to how cutting edge contemporary psychoanalysis and psychotherapy continue to be. Reflecting a true advance in our field, and with exceptional scholarship, these authors bring into striking relief the dialectical role of sameness and difference, and the role of traumatic dehumanization as the darker side of what it means to be human: that we are relentlessly vulnerable. This seminal work is a must-read for all clinicians wanting to deepen their immersion in and understanding of their patient's humanness, sense of belongingness, and the embedded vulnerability inherent in being a human among humans. - William J. Coburn, Ph.D., Psy.D. Founding Editor Emeritus International Journal of Psychoanalytic Self Psychology
Awakening us to the profound importance of twinship through their penetrating exploration of this complex phenomenon, Togashi and Kottler not only deepen our understanding of what it means to be human, but perhaps, even more importantly, show us what it means to suffer the devastating loss of a sense of being human. They provide new ways of understanding the ethnic, cultural and societal contexts of the human condition through their introduction of such evocative concepts as "the mutual finding of oneself and not oneself in the other," and "self-place experience." Richly detailed clinical vignettes that bring their theoretical innovations into clear focus make this a must-read for clinicians of every persuasion. - Doris Brothers
Koichi Togashi and Amanda Kottler joined forces to rescue the twinship experience from its too oftem neglected place as a bit player on the psychoanalytic stage. In so doing they have given the practicing clinician an enormous gift. These two seasoned therapists, familiar with their own cultures (Japanese and South African) and experienced in western psychotherapy practice have conceptualized detailed and accessible clinical work that bridges the longing for twinship experiences with what it means to be human, in the context of the analyst's intimate participation in the therapeutic process. Their detailed and compelling clinical vignettes and case histories illustrate the widely sought-after twinship experience, the feeling. "I am like you and you are like me" as it appears in carried guises and simultaneously embodies basic human needs. This book will sensitize western clinicians to these subtle but urgent longings. The cultural diversity at the core of this book will be of benefit to all analyst-patient dyads since the twinship experience calls for a joint humanity that is at the heart of psychoanalytic treatment. - Frank M. Lachmann, Ph.D. Founding Faculty Institute for the Psychoanalytic Study of Subjectivity, New York
You may also be interested in...
Simply reserve online and pay at the counter when you collect. Available in shop from just two hours, subject to availability.
Thank you for your reservation
Your order is now being processed and we have sent a confirmation email to you at
When will my order be ready to collect?
Following the initial email, you will be contacted by the shop to confirm that your item is available for collection.
Call us on or send us an email at
Unfortunately there has been a problem with your order
Please try again or alternatively you can contact your chosen shop on or send us an email at