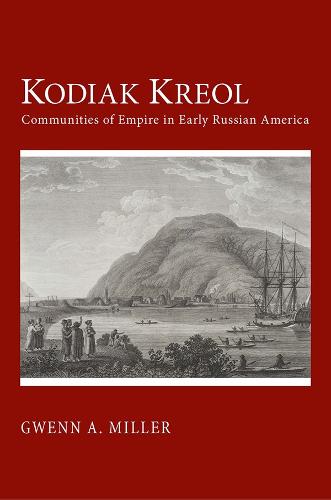 Kodiak Kreol: Communities of Empire in Early Russian America (Paperback)
Gwenn A. Miller
(author)
Paperback
248

Pages / Published: 25/11/2015
From the 1780s to the 1820s, Kodiak Island, the first capital of Imperial Russia's only overseas colony, was inhabited by indigenous Alutiiq people and colonized by Russians. Together, they established an ethnically mixed "kreol" community. Against the backdrop of the fur trade, the missionary work of the Russian Orthodox Church, and competition among Pacific colonial powers, Gwenn A. Miller brings to light the social, political, and economic patterns of life in the settlement, making clear that Russia's modest colonial effort off the Alaskan coast fully depended on the assistance of Alutiiq people.
In this context, Miller argues, the relationships that developed between Alutiiq women and Russian men were critical keys to the initial success of Russia's North Pacific venture. Although Russia's Alaskan enterprise began some two centuries after other European powers-Spain, England, Holland, and France-started to colonize North America, many aspects of the contacts between Russians and Alutiiq people mirror earlier colonial episodes: adaptation to alien environments, the "discovery" and exploitation of natural resources, complicated relations between indigenous peoples and colonizing Europeans, attempts by an imperial state to moderate those relations, and a web of Christianizing practices. Russia's Pacific colony, however, was founded on the cusp of modernity at the intersection of earlier New World forms of colonization and the bureaucratic age of high empire. Miller's attention to the coexisting intimacy and violence of human connections on Kodiak offers new insights into the nature of colonialism in a little-known American outpost of European imperial power.
Publisher: Cornell University Press
ISBN: 9781501700699
Number of pages: 248
Weight: 369 g
Dimensions: 235 x 156 x 14 mm
---
MEDIA REVIEWS
"By focusing on the periphery of a great empire, Miller raises the problem of the dialectic between the periphery and the center. She views this problem through the prism of the Kodiak colony as the link between the two poles, the contact zone where they interacted with each other.Kodiak Kreolis a productive attempt to reconstruct the entire imperial project through the effects it produced on the periphery, using sociological, anthropological, and gender perspectives, and comparing this case with other colonial encounters."
-- Monica Cognolato * Ab Imperio *
"Gwenn A. Miller has constructed a brilliantly conceived and elegantly written book that considerably heightens our understanding of the fur trade in Russian America and how the unique interactions of peoples at Russia's first and only overseas colony, Kodiak, Alaska, matured into a hybrid community distinguished by a complex blending of cultural elements.... Anyone with an interest in the fur trade, indigenous societies, Alaska history, and Russian colonial and missionary history, will find Kodiak Kreol a fascinating and rewarding study."
-- Cary C. Collins * Canadian Journal of History *
"On Kodiak Island, the focus of Gwenn A. Miller's book, the Russian American Company pursued the fur trade and sought the support of church and state for its efforts. In the process, the company's agents disrupted the lives of the indigenous Alutiiq people, not least through forming relationships with local women and creating an ethnically mixed Kreol population. In her exploration of this North Pacific outpost, Miller focuses on how these initially tenuous and later increasingly formalized relationships laid the basis for a distinctive category and community of people within the Russian empire.... Although less well known than other Russian ventures, such as that at Sitka, Kodiak was, Miller argues, important in no small part because it lay at the 'crossroads of early Alaskan colonial contact.'... Peopling the eastward course of empire through Russia's expansion into the North Pacific with figures such as the ambitious fur trader Grigorii Shelikhov and the young Kreol students who traveled to Saint Petersburg, Miller succeeds in illuminating another, very different colonial story."
* William and Mary Quarterly *
"Russian expansion to America over three centuries left many shadows of memory. Among the most elusive of these are the 'kreol' of Kodiak Island, that first center of Russian commerce in Alaska and a location where a small number of persons of Russian fathers and Alutiiq mothers formed a unique society that lay between two worlds. Largely persons without education and having little literary skill, the sons and daughters of these unions left no records of their own.... They form a cluster or class of individuals that stand between the Russian overseers... and the Native societies that they left behind. Alutiiq men seem to have been taken into a rough bondage and used as hunters. The women were drawn to the Russian men and played powerful roles, largely in the domestic sphere. Basing her book on a wide range of sources, some Russian, Miller makes a good case for why the subject deserves to be rescued from obscurity."
* Choice *
"The Pacific World and its impact on the colonial Americas has yet to be as thoroughly explored as the Atlantic, but works such as Gwenn A. Miller's Kodiak Kreol demonstrate the importance of widening the view of colonial American encounters. Miller's book offers a colonial narrative far from the cities of Boston, New York, or Charleston that is both similar and different from the stereotypical westward European expansion model.... What she offers readers is compelling and engaging. Demonstrating how 'kreolization' took place in another colonial American setting amplifies the historical narrative of European and indigenous encounters in the new world; thus, Kodiak Kreol is not to be missed."
* Itinerario *
"Kodiak Kreol offers a nuanced and engaging account of the first years of contact between Russians and native peoples off the Alaskan coast. Miller's portrait of the intimate history of relations on Kodiak Island-between men and women, children and parents, priests and their flocks-is truly original."
-- Willard Sunderland, University of Cincinnati, author of
Taming the Wild Field: Colonization and Empire on the Russian Steppe
"In this fascinating book, Gwenn A. Miller skillfully explores the Russian colonization of Alaska, one of the most neglected stories of the early American past. Using Russian-language sources, Miller focuses on the intimate bonds that formed between Alutiiq people and newcomers. She not only shines light on the complex history of the Pacific Northwest but also offers a much broader analysis of how colonialism shaped family and gender relations."
-- Claudio Saunt, University of Georgia, author of
Black, White, and Indian: Race and the Unmaking of an American Family
"Most Europeans reached the Americas from across the Atlantic Ocean. The Russians, in contrast, approached North America from the west, having already acquired extensive colonial experience in Siberia. Their first-and only-overseas colony was in Alaska. In Kodiak Kreol, Gwenn A. Miller offers a new geographic and imperial perspective on colonial encounters in early America. Specialists in other empires in the early Americas and beyond will find this fascinating work rich in comparative perspectives and insights on a host of subjects, including labor, marriage, religion, sexuality, and, above all, the kreols-the mixed-race children of Russian men and indigenous women-who are the special focus of this book."
-- Alison Games, Georgetown University, author of
The Web of Empire: English Cosmopolitans in an Age of Expansion, 1560-1660
You may also be interested in...
Simply reserve online and pay at the counter when you collect. Available in shop from just two hours, subject to availability.
Thank you for your reservation
Your order is now being processed and we have sent a confirmation email to you at
When will my order be ready to collect?
Following the initial email, you will be contacted by the shop to confirm that your item is available for collection.
Call us on or send us an email at
Unfortunately there has been a problem with your order
Please try again or alternatively you can contact your chosen shop on or send us an email at