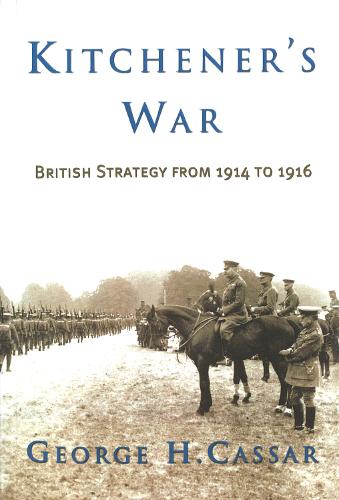 Kitchener'S War: British Strategy from 1914-1916 (Paperback)
George H. Cassar
(author)
Paperback
368

Pages / Published: 31/10/2005
Without the advantage of birth or social connections, Horatio Herbert Kitchener rose rapidly in the Army, from obscure subaltern to the most acclaimed soldier in Britain. In August 1914, in the hour of his country's greatest need, he dutifully responded to the call to serve as secretary for war. George Cassar's study focuses on Kitchener's role in recognizing and framing the larger issues of the war facing his countrymen and the Allies. From the beginning he appreciated the complexities and demands of the global conflict, understanding that it would last at least three years and require the deployment of a mass army. His recruiting campaign, highlighted by the famous poster"Your Country Needs You," brought in nearly three million volunteers, a feat that no other belligerent nation came close to matching. Kitchener's strategy was twofold. First, to defeat Germany and preserve Britain's independ-ence, Kitchener understood that the key to victory was to treat the western and eastern fronts as one. Thus he worked closely with, and supplied armaments to, the Russian army, while pursuing careful attrition in France. His second aim was to enhance the security of Britain and its empire in a postwar world, not just against enemies but also against allies. Drawing upon a variety of unpublished sources, ranging from government documents to the private papers of leading generals and politicians, the author sheds new light on Kitchener's controversial role in the Dardanelles campaign and the munitions crisis, his efforts to organize an Arab revolt against Turkey, his supervision of operations in Africa, and his relations with colleagues and Allied leaders. This highly readable book refutes many myths about Kitchener, which his detractors circulated after his death in 1916, and makes a powerful case that without his leadership the Entente would not have won the war.
Publisher: Potomac Books Inc
ISBN: 9781574887099
Number of pages: 368
Weight: 617 g
Dimensions: 230 x 150 x 24 mm
---
MEDIA REVIEWS
"This superbly written narrative history by a prolific World War I scholar will be of interest to the general reader as well as to the specialist. In addition to his insightful analysis of the many crises faced by the British government during the early years of the Great War, Professor Cassar makes a spirited defense of Lord Kitchener's controversial tenure as Secretary of State for War. Although Kitchener's numerous critics will probably not agree with Cassar's conclusion that Kitchener saved the Entente from defeat, they will almost certainly be impressed with his attempt to rehabilitate the reputation of Britain's most popular soldier at the beginning of the war."
"George H. Cassar has now capped his studies of the British generals in the early part of the First World War with this fresh second look at Field Marshal Lord Kitchener. Cassar's depth of knowledge, crisp prose, and excellent judgments make for a fascinating analytical biography of the ambitious, intelligent bachelor who stood head-and-shoulders above his contemporaries in his understanding of the nature of war. Well worth reading."
"Cassar has written an important reevaluation of British strategy in the first two years of the Great War. His rehabilitation of Lord Kitchener's reputation forces us to raise our eyes from the trenches and to consider British strategy in its global, imperial context. Kitchener is revealed to have advocated a coherent approach to the war designed to ensure that Britain would dominate the postwar settlement, without taking the casualties that a full-scale commitment to the Continent implied. Based on his own detailed archival work and a thorough knowledge of the secondary sources, it is an impressive and significant advance in our understanding of the Great War."
"Far too long we have suffered the Lloyd George regurgitated verdict on Lord Kitchener, damning him as effectively and as unwarrantably as he--the man who told the world that he won the war--damned Earl Haig. Now we have some insight, balance, and wisdom. Cassar's new study of Kitchener was needed. It is to be welcomed both for its reasoned judgment and the felicity of his writing."
"A major reassessment of the role of Field Marshal Horatio Kitchener in shaping British strategy in World War I . . . a valuable contribution to the literature of the Great War."
"George H. Cassar offers a sophisticated, balanced, and genuinely fresh look at strategic problems at the beginning of the twentieth century and offers insights into the limits of personalities in shaping the course of history. It is an excellent book for strategists and students of military leadership at the national level."
"Cassar's book ought to be read and discussed in our war colleges today."
"An extremely valuable reexamination of British strategy in the 1914-16 period, combining a robust, and generally convincing, defence of Kitchener's strategic policies and decisions with a thorough and judicious synthesis of existing scholarship. . . . Cassar presents a persusasive case that, initially at least, Kitchener grasped the realities of the war, and of its global ramification, better than most and strove mightily to shape a coherent strategy. . . . Using a wide range of archival and published sources [Cassar] has written an authoritative, scholarly, and thought-provoking study, providing professional historians and general readers alike with a new and timely counterbalance to the myths--propagated by Lloyd George and others--which have long exerted a malign influence on the historiography of the Great War."
"Readable, well-researched, and insightful . . . The research for the book is reflective of a scholar in the prime of his career. . . . The imperial and global views of Kitchener are of the greatest importance and no one working on the British war effort in the First World War can afford not to use this study."
"Carefully researched, well-written, and filled with interesting detail, "Kitchener's War" is the first major reassessment of Kitchener's tenure as secretary of war and provides a much-needed balance to the literature on the war."
You may also be interested in...
Simply reserve online and pay at the counter when you collect. Available in shop from just two hours, subject to availability.
Thank you for your reservation
Your order is now being processed and we have sent a confirmation email to you at
When will my order be ready to collect?
Following the initial email, you will be contacted by the shop to confirm that your item is available for collection.
Call us on or send us an email at
Unfortunately there has been a problem with your order
Please try again or alternatively you can contact your chosen shop on or send us an email at