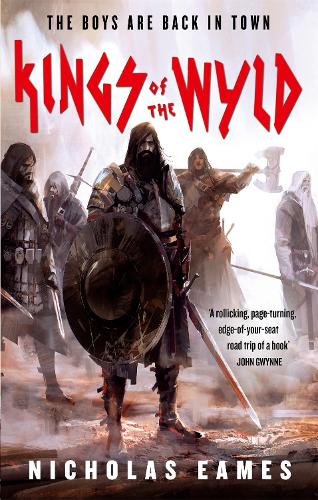 Kings of the Wyld: The Band, Book One - The Band (Paperback)
Nicholas Eames
(author)
Paperback
528

Pages
Published: 23/02/2017
'An outstanding debut which will make you laugh and cry and hold your breath. This is a book that has it all' - K. J. Parker Clay Cooper and his band were once the best of the best - the meanest, dirtiest, most feared and admired crew of mercenaries this side of the Heartwyld. But their glory days are long past; the mercs have grown apart and grown old, fat, drunk - or a combination of the three. Then a former bandmate turns up at Clay's door with a plea for help: his daughter Rose is trapped in a city besieged by an enemy horde one hundred thousand strong and hungry for blood. Rescuing Rose is the kind of impossible mission that only the very brave or the very stupid would sign up for. It's time to get the band back together for one last tour across the Wyld. 'A fantastic read, a rollicking, page-turning, edge-of-your-seat road-trip of a book' - John Gwynne
Publisher: Little, Brown Book Group
ISBN: 9780356509020
Number of pages: 528
Weight: 360 g
Dimensions: 196 x 130 x 33 mm
---
MEDIA REVIEWS
Brilliant debut novel . . . Eames has cranked the thrills of epic fantasy up to 11 . . . Moreover, the plot is emotionally rewarding, original, and hilarious. Eames clearly set out to write something fun to read and he has succeeded spectacularly -- PUBLISHERS WEEKLY
Manages to be a comedy, an adventure tale, a consideration on growing older, and a sendup of fantasy conventions, all at the same time. It also has heart. In short: it rocks . . . I finished this book in one night. If I could, I'd see the tour, and buy the t-shirt. Instead, I'll have to content myself with waiting for the sequel, and reading it again -- B&N SCI-FI AND FANTASY BLOG
An outstanding debut which will make you laugh and cry and hold your breath. This is a book that has it all -- K. J. Parker
Absolutely awesome. If the Beatles held a concert tomorrow (with all the necromancy required for that to happen), it still wouldn't be as good a 'getting the band back together' story as this. Full of heroes, humor, and heart. -- Jon Hollins, author of DRAGON LORDS: FOOL'S GOLD
It was a fantastic read, a rollicking, page-turning, edge-of-your-seat road-trip of a book. Great characters, loveable rogues that I genuinely cared about and all manner of fantastical monsters. All spiced with a sly sense of humour that had me smiling throughout. Wonderful -- John Gwynne, author of MALICE
A promising, fast-paced debut that balances classic quest fantasy with modern sensibilities and liberal doses of humor. Huzzah! -- Alex Marshall, author of A CROWN FOR COLD SILVER
Kings of the Wyld took me back to my Dungeons and Dragons days. It has well-crafted characters long past their best but still fighting, non-stop fantasy action and welcome touches of humour. Great reading! -- Ian Irvine
Nicholas Eames brings brazen fun and a rock & roll sensibility to the fantasy genre -- Sebastien de Castell, author of TRAITOR'S BLADE
I had a brilliant time reading this book. Kings of the Wyld is escapism of my favourite type - noble quests, edge of the seat action and well-rounded, likeable characters that carve out their own unique definition of "family" -- FORBIDDEN PLANET
Kings of the Wyld is awesome, and quite possibly one of the best debut novels I've ever read . . . This is, without a shadow of a doubt, unmissable -- TINY REVIEWS
An extremely entertaining debut . . .Thoroughly recommended -- SFF WORLD
Joe Abercrombie meets Terry Pratchett, and that is not praise I would give lightly -- FANTASY REVIEW BARN
I only have two questions that remain unanswered - (1) Where do I get my Saga tour t-shirt? (2) When does the second book come out? . . . A highly recommended debut, I can't wait for more -- THE ELOQUENT PAGE
Kings of the Wyld does everything right . . . Nicholas Eames knows how to write and, more importantly, he knows how to pace and structure a novel. He mixes action and humor in equal measure, and weaves genuine emotion into the heroics. It's a fun novel, but one where sorrow and melancholy are always lurking just under the narrative . . . I loved the characters, loved the journey and even loved the climax . . . Kings of the Wyld is a fantastically fun read, from beginning to end, and I am already looking forward to the sequel. -- BEAUTY IN RUINS
Kings of the Wyld is rollicking, explosive fun from cover to cover . . . written with exuberance and elan. Always assured, Eames strikes the same balance as Pratchett at his best, drawing humour from the conventions and tropes of high fantasy while also clearly loving them -- BLUE BOOK BALLOON
This will be one of THE books of 2017. Brilliant, innovative, immersive and just pure fun to read. -- THE BOOK PLANK
There are gladiatorial arenas, aerial battles, pissed off dragons, crazy portal-hopping madcap assassins . . . It is goofy and silly and fast-moving and explodey. And it does all those things well . . . Wyld also works hard to make its characters meaningful - you're not just along for the craaaaazy ride, you actually care about the other passengers -- PORNOKITSCH
I absolutely loved this book -- Anna Stephens, author of GODBLIND
Amid all the airship battles and forest chases there's a vulnerability, a charm born from affection and nostalgia -- SFX, five star review
An entertaining, brilliantly crafted adventure . . . You'll fall in love with the members of Saga and want to cheer them on every step of the way . . . From the first page to the last, Kings of the Wyld is a rollicking fast-paced novel with just the right amount of grit and wit -- BIBLIOSANCTUM
Fantastic . . . Eames is an author that has the potential to set gene trends with this book -- BOOKWORM BLUES
Readers will not be able to put this book down -- BOOKLIST
This is a fast-paced, excellently written and extremely enjoyable fantasy story . . . could very well be the debut of the year -- FANTASY BOOK REVIEW
Kings of the Wyld is, quite simply enormous fun . . . a splendid rollercoaster of the most rollicking kind . . . I adored this book. It's gone immediately onto my Books of 2017 list and I will pester you mercilessly to read it -- ESPRESSO COCO
It's superbly written, full of action, has a really solid plot line that never lets up, some of the most awesome characters I've ever read, and a really well built world full of all kinds of mythological and legendary creatures . . . This book is a hilarious romp from start to finish. I laughed my ass off. What a great debut from Nicholas Eames -- SUPERSTAR DRIFTER
We grow to care so much about these men who once fought for glory, but now do so for each other, and for what is right. There were moments where I cheered, moments where I laughed, or held my baited breath as the book took that roller coaster-like lurch over the hill into a giant set piece battle or brawl. I love these characters, their camaraderie, their sense of duty, their love for one another. I love that I haven't had this much fun reading in a long, long time. . . .You will want this debut. Very. Very. Much. Long live the Kings of the Wyld -- SERIAL BOOKSELLER
Eames' debut was one of the most fun times I've had in a long while, and I honestly cannot wait to see what he's going to write next -- SPECULATIVE HERALD
From a trek across dangerous lands to a massive final battle intermingled with unyielding humor, this felt like GRRM plowing into Terry Practhett at a ridiculously fast pace. Nonstop entertainment in a rare and beautiful form, this book will tackle and capture the heart of fantasy and adventure lovers alike. Be prepared to traverse the Heartwyld with the most rambunctious collection of characters known to man and find yourself loving every minute of it -- BOOKS, VERTIGO AND TEA
This book kicks ass! It's downright funny, adventurous, exciting, touching, heart wrenching, and engaging! . . . Give Kings Of The Wyld a try, just be prepared to set aside all your other books for it! This reader can't wait for more from the author -- RED STAR REVIEWS
Fantastic, funny, ferocious. Hugely recommended. Read it now -- Sam Sykes
Eames cranked it all the way to 11. So f*** it, you know what? 11 out of 10. As the saying goes: They don't make 'em like they used to. But Eames did. And he made it better -- Michael Everest
The best debut I have read in awhile, Nicholas Eames' Kings of the Wyld has everything I love in the fantasy genre with some original twists and angles -- THE QUILL TO LIVE
A cheeky, warm-hearted romp through a D+D monster compendium with a memorable (mostly pensionable) band of mercenaries being pinballed from one crisis to another. Nick delivers a sharp, funny and satisfying page-turner -- Adrian Selby, author of SNAKEWOOD
George R. R. Martin meets Terry Pratchett -- BUZZFEED BOOKS
An absolutely outstanding debut . . . [It has] all the heart and passion that great fantasy can bring in the hands of a master -- Myke Cole, author of THE ARMOURED SAINT
You may also be interested in...
"Don't get the fuss!"
I going to break my own review rules here. Normally I don't reveal plot details but here I have to too explain why this is a negative review. I've been asked to do this review after telling someone about... More
"Fantasy debut of the year"
I really enjoyed this one. It's been years since I enjoyed a book as much as this. It is a standalone, self contained book but 2 more are promised & set in the same world. I cannot wait until they are published!
"The legends are back, so monsters beware!"
Mercenary bands deal with the monsters of this world and Saga has legendary status, but disbanded after their "Yoko Ono" moment. Gabriel and Clay have to get the band back together to save Gabriel's daughter from a... More
×
Download the Waterstones App
Would you like to proceed to the App store to download the Waterstones App?
Reserve online, pay on collection


Thank you for your reservation
Your order is now being processed and we have sent a confirmation email to you at
When will my order be ready to collect?
Following the initial email, you will be contacted by the shop to confirm that your item is available for collection.
Call us on or send us an email at
Unfortunately there has been a problem with your order
Please try again or alternatively you can contact your chosen shop on or send us an email at