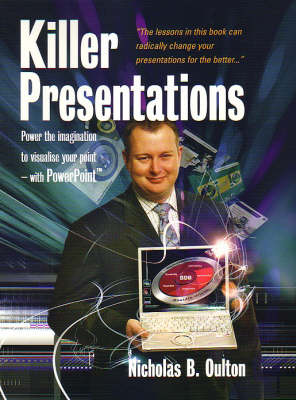 Killer Presentations: Power the imagination to visualise your point with PowerPoint (Paperback)
Nicholas B. Oulton
Paperback
Published: 29/07/2005
In this book, presentations guru Nick Oulton sets out a revolutionary approach that will allow you to use PowerPoint to multiply the power of your presentations. You will radically increase the chances of them impressing your audience and achieving your objectives. Using tried and tested principles, shows how, through practical, systematic thinking and kick starting your attitude to the visual aids you use, you can ditch old habits and bring your future presentations to life in a way that truly enhances the clarity of what you put over, and fires the imagination of those to whom you present. The book is accessible and practical, it: helps you question unwarranted assumptions about presentations and visual aids that can leave your presentational impact stillborn; sets out a logical way to set objectives and put together a presentation that is audience-focused and likely to persuade; shows in detail how PowerPoint' slides that truly illustrate and explain, rather than simply list points, can add significant power to your presentation; and specifies a clear series of formats and approaches that can create such powerful slides. The book illustrates its approach clearly and in detail: using real company examples (including xxx) and a series of 40 colour-images to show how such slides can work. Additionally, the book provides unique links to web sites where you can see more about this sort of presentation in action. It is no exaggeration to say that using the lessons in this book can radically change your presentations for the better - in a way that your audiences will appreciate and which will bring the results you want.
Publisher: Little, Brown Book Group
ISBN: 9781845280406
You may also be interested in...
We would love to hear what you think of Waterstones. Why not review Waterstones on Trustpilot?