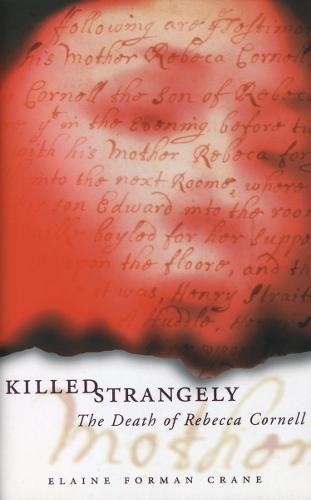 Paperback
256

Pages / Published: 05/02/2009
"It was Rebecca's son, Thomas, who first realized the victim's identity. His eyes were drawn to the victim's head, and aided by the flickering light of a candle, he 'clapt his hands and cryed out, Oh Lord, it is my mother.' James Moills, a servant of Cornell . . . described Rebecca 'lying on the floore, with fire about Her, from her Lower parts neare to the Armepits.' He recognized her only 'by her shoes.'"-from Killed Strangely
On a winter's evening in 1673, tragedy descended on the respectable Rhode Island household of Thomas Cornell. His 73-year-old mother, Rebecca, was found close to her bedroom's large fireplace, dead and badly burned. The legal owner of the Cornells' hundred acres along Narragansett Bay, Rebecca shared her home with Thomas and his family, a servant, and a lodger. A coroner's panel initially declared her death "an Unhappie Accident," but before summer arrived, a dark web of events-rumors of domestic abuse, allusions to witchcraft, even the testimony of Rebecca's ghost through her brother-resulted in Thomas's trial for matricide.
Such were the ambiguities of the case that others would be tried for the murder as well. Rebecca is a direct ancestor of Cornell University's founder, Ezra Cornell. Elaine Forman Crane tells the compelling story of Rebecca's death and its aftermath, vividly depicting the world in which she lived. That world included a legal system where jurors were expected to be familiar with the defendant and case before the trial even began. Rebecca's strange death was an event of cataclysmic proportions, affecting not only her own community, but neighboring towns as well.
The documents from Thomas's trial provide a rare glimpse into seventeenth-century life. Crane writes, "Instead of the harmony and respect that sermon literature, laws, and a hierarchical/patriarchal society attempted to impose, evidence illustrates filial insolence, generational conflict, disrespect toward the elderly, power plays between mother-in-law and daughter-in-law, [and] adult dependence on (and resentment of) aging parents who clung to purse strings." Yet even at a distance of more than three hundred years, Rebecca Cornell's story is poignantly familiar. Her complaints of domestic abuse, Crane says, went largely unheeded by friends and neighbors until, at last, their complacency was shattered by her terrible death.
Publisher: Cornell University Press
ISBN: 9780801475276
Number of pages: 256
Weight: 340 g
Dimensions: 216 x 140 x 15 mm
---
MEDIA REVIEWS
"A satisfying account of the mysterious death in 1673 of a 73-year-old Rhode Island matriarch (and ancestor of Ezra Cornell, founder of Cornell University), for which her son, Thomas Cornell was hanged. Rebecca Cornell was at home with her family-including 46-year-old Thomas, still dependent on mom's largesse-but remained in her chamber at suppertime; while the others dined, she died and her body caught fire from the hearth. But the author. . . . doesn't stop there, and subsequent chapters about Rhode Island society of the time will be of most interest to scholars and local historians."-Publishers Weekly, 27 October 2002
"For sleuthing historian Elaine Forman Crane in Killed Strangely, the jury's 'willingness and ability to reconcile medieval superstitions with modern evidentiary standards makes the Cornell case a striking example of the friction between traditional Christian folklore and evolving common law.' And Crane's examination of the case in the context of its place and time-1673, 19 years before the Salem witch crisis-is a fine example of the 'microhistory' genre. She found it an opportunity to study 'the prescriptive values of Puritan society' and 'the ways in which people . . . actually lived out their lives."-Boston Globe, 3 August 2003
"This excellent book by a Fordham University history professor presents a true 1673 murder mystery. . . . This well-written, integrated, historical perspective on this mystery fascinated me. Think of it this way-when was the last time you heard about the testimony of a crime victim's ghost being admissible in a court of law?"-Virginia Quarterly Review
"Well written, thorough, scholarly, and entertaining. Summing Up: Recommended."-Choice, June 2003
"Killed Strangely is an engaging read that will entrance and inform readers who are at once murder mystery and history buffs."-Cornelia Hughes Dayton, Common-Place, October 2003
"This book is brief and compulsively readable, the kind of work tailor-made to grip and hold the imaginations of undergraduates in early American survey courses everywhere. . . . Crane's use of material culture is also marvelously adept. . . . Her book succeeds nicely as a mystery story and admirably as a teaching tool."-Nicole Eustace, Reviews in American History, September 2003
"Killed Strangely is itself a strangely haunting work. Based on meticulous, often ingenious, research, it unfolds a compelling story of lives gone awry in the lost world of colonial America. Some parts are highly specific to that world; others are of universal significance. As such, the book makes a signal contribution to genre of microhistory."-John Demos, Yale University
"Killed Strangely takes us to a seventeenth-century New England hearth that does not radiate the warmth and ultra-piety we commonly imagine when we visit picture-perfect historic colonial houses. Rebecca Cornell's hearth was the scene of her death, by burning and perhaps also by stabbing. Was it matricide? Intruder murder? Suicide? Elaine Forman Crane sorts through the suspects and possibilities, skillfully exploring the tensions generated in the Cornell household over marriage and remarriage, elder care and filial duty, money and inheritance. Her absorbing recreation of this one family's history, from English origins through Atlantic migration, from Puritanism to Quakerism, from Indian wars to the Barbados trade, from murder conviction and execution to the birth of a baby named, Innocent, opens a window onto a rarely-seen slice of the American colonial past."-Patricia Cline Cohen, University of California, Santa Barbara
"Killed Strangely is a page turner! I don't think I have ever devoured a nonfiction book so quickly and with so much pleasure. Elaine Crane has mastered the art of suspense; she sets up the circumstances of this unusual case of matricide and only divulges its details to the reader a piece at a time until the puzzle is complete. In addition to writing a superb 'whodunit,' Crane has painted a vivid portrait of seventeenth-century New England."-Elizabeth Reis, author of Damned Women: Sinners and Witches in Puritan New England
"Killed Strangely is an engrossing piece of microhistory, a detective story, and a wonderful 'thought experiment' all rolled into one book. Crane's explorations of different possible explanations for Rebecca Cornell's mysterious death should prove fascinating to scholars and students alike."-Mary Beth Norton, Cornell University
You may also be interested in...
Simply reserve online and pay at the counter when you collect. Available in shop from just two hours, subject to availability.
Thank you for your reservation
Your order is now being processed and we have sent a confirmation email to you at
When will my order be ready to collect?
Following the initial email, you will be contacted by the shop to confirm that your item is available for collection.
Call us on or send us an email at
Unfortunately there has been a problem with your order
Please try again or alternatively you can contact your chosen shop on or send us an email at