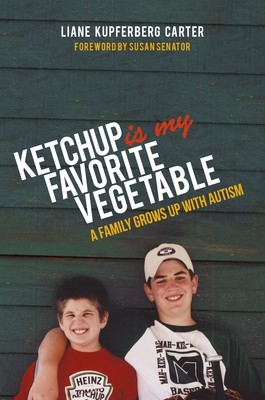 Paperback
352

Pages / Published: 21/10/2015
How do you create an ordinary family life, while dealing with the extraordinary needs of an autistic child?
Meet Mickey - charming, funny, compassionate, and autistic. In this unflinching portrait of family life, Liane Kupferberg Carter gives us a mother's insight into what really goes on in the two decades after diagnosis. From the double-blow of a subsequent epilepsy diagnosis, to bullying and Bar Mitzvahs, Mickey's struggles and triumphs along the road to adulthood are honestly detailed to show how one family learned to grow and thrive with autism.
Publisher: Jessica Kingsley Publishers
ISBN: 9781849057158
Number of pages: 352
Weight: 499 g
Dimensions: 229 x 152 x 23 mm
---
MEDIA REVIEWS
It's rare for someone to be able to write about life with a special needs child and make it an enjoyable read, but Liane's prose is so good - so smart and funny and lucid and elegant - that even when she's exploring the fears and anxieties a parent faces, she makes it all somehow entertaining. There's real information in these pages for parents going through similar journeys, but it's accompanied by so much empathy and warmth that even those whose lives are untouched by this kind of thing will enjoy reading this. I would recommend it to every parent I know. -- Claire LaZebnik, author of Overcoming Autism
I will always remember the day that Liane Carter first emailed me an essay for the New York Times blog, Motherlode. I knew from the first few paragraphs that I was in the company of a special writer. Her words shine a bright but embracing light on life with a grown son with autism. Never treacly, often funny, always direct and honest, she speaks to parents who have and will walk her specific road. That companionship is a gift to families who are navigating autism. But she's also a gift to parents of all children in every variety. This parenting stuff is joyous and hard, whatever the particulars. Liane captures the whole of that, and gives us all permission to struggle and celebrate at the same time. -- Lisa Belkin, Senior National Correspondent at Yahoo, former reporter and columnist at the New York Times
Liane Carter's lovingly written memoir should be required reading for every parent raising a child with autism, particularly those who have been told "your child will never...", because, Wow! does her son Mickey ever! Liane's journey, for better AND for worse, brings hope to our entire community. -- Alison Singer, President of the Autism Science Foundation
In Ketchup is My Favorite Vegetable, Liane Kupferberg Carter gracefully articulates the hopes, the disappointments, the frustrations, and the triumphs that are inherent to raising a child on the spectrum and negotiating with the powers that be. The reality of life in a household dominated by autism is artfully conveyed. By the end of the book you are rooting for Mickey and his family, and hoping to read a sequel. Highly recommended! -- Chantal Sicile-Kira, author of A Full Life with Autism
This honest and forthright portrayal of how families cope, build resilience and, yes, sometimes break down when the going gets rough, will bring you laughter, tears and the fortitude that comes from knowing that we all share so much in this life journey. -- Susan Axelrod, Founding Chair, CURE/Citizens United for Research in Epilepsy
Liane Kupferberg Carter's Ketchup is My Favorite Vegetable is both moving and instructive. It will serve as a helpful and inspirational guide for all parents of special needs children as they transition to the adult world. -- Priscilla Gilman, author of The Anti-Romantic Child: A Memoir of Unexpected Joy
Liane does a masterful job leading us up the twisted stairway from denial to acceptance; chaos to freedom. Raising a child with autism can at times feel like we've been thrown in at the deep end. But as we learn in Ketchup is My Favorite Vegetable, the waters eventually recede and we can stand on dry land again. -- Arthur Fleischmann, parent of an adult daughter living with severe autism and author of the bestselling Carly's Voice - Breaking Through Autism
Ketchup is my Favorite Vegetable is the best kind of autism memoir because it is a family story. Even the pets are included. After all, autism is a family experience. -- from the Foreword by Susan Senator, author and mother of three boys, one of whom has severe autism
Liane Kupferberg Carter's book is a touching, compelling and ultimately uplifting account of parenting an autistic son. It is breathtakingly honest about the emotional upheaval and about the many practical and legal difficulties, but also warm and funny. The observations are constantly astute and the book importantly demolishes some of the myths surrounding autism. -- Adam Feintstein, Editor, Looking Up (The International Autism Magazine) and author of A History of Autism: Conversations with the Pioneers
...Carter, a marvelous writer, details both the struggles and joys of parenting with pathos and humor. Her engaging style makes this book a page turner, and I hope there will be a sequel someday. ...Ketchup is My Favorite Vegetable is a validation of the phrase, 'love conquers all.' -- Books is Wonderful blog
Carter's writing has sometimes taken my breath away. Her memoir about raising a son with autism is honest, brave and oh so real, and I would think it would be a bright light for every other parent in that community. With humor and wisdom, she reveals the struggles and triumphs that come with the diagnosis, and she shows the importance of being your child's biggest advocate. She shares the emotional toll life with a special needs child can take on a family but is unwavering in her love for her son. As a reader, you will also fall in love with Mickey - and his Mama Bear of a mother. -- Midlife at the Oasis blog
Liane Kupferberg Carter has written a memoir of a modern American family....Carter covers the entire arc of parenting a child with ASD, giving other families with special needs children a candid view into what they might anticipate on their own road ahead....Carter has written her son's unique story with great honesty, self-awareness and love. -- Grown and Flown: parenting never ends
Ketchup is My Favorite Vegetable by Liane Kupferberg Carter is a real, raw, and very powerful memoir about a family growing up with Autism...I loved this book, and it really taught me a lot. Mostly it taught me to be understanding, to be observant and to just be patient. This was one of my favorite books of the year, I haven't read a memoir that wrapped me up in the world of the writer as much as this one did, I give this 5 out of 5 stars. Inspirational and a great read. -- Comfy Reading blog
There are books written about families, and there are books written about autism, and in 'Ketchup is My Favorite Vegetable,' author Liane Kupferberg Carter seamlessly weaves the two together to create a beautiful and heart-tugging story that will stay with you for a long time. In its purest sense, this is a love story-about two parents and the love they share for each other and for their sons, one of whom has autism -- Better After 50
You may also be interested in...
Simply reserve online and pay at the counter when you collect. Available in shop from just two hours, subject to availability.
Thank you for your reservation
Your order is now being processed and we have sent a confirmation email to you at
When will my order be ready to collect?
Following the initial email, you will be contacted by the shop to confirm that your item is available for collection.
Call us on or send us an email at
Unfortunately there has been a problem with your order
Please try again or alternatively you can contact your chosen shop on or send us an email at