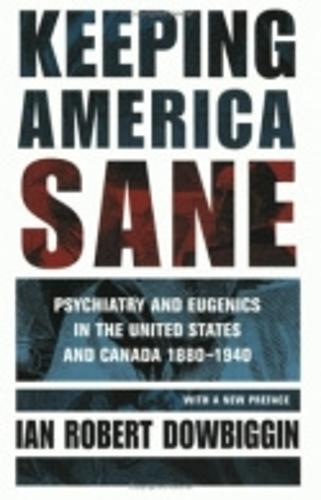 Keeping America Sane: Psychiatry and Eugenics in the United States and Canada, 1880-1940 - Cornell Studies in the History of Psychiatry (Paperback)
Ian Robert Dowbiggin
(author)
Paperback
272

Pages / Published: 27/03/2003
What would bring a physician to conclude that sterilization is appropriate treatment for the mentally ill and mentally handicapped? Using archival sources, Ian Robert Dowbiggin documents the involvement of both American and Canadian psychiatrists in the eugenics movement of the early twentieth century. He explains why professional men and women committed to helping those less fortunate than themselves arrived at such morally and intellectually dubious conclusions. Psychiatrists at the end of the nineteenth century felt professionally vulnerable, Dowbiggin explains, because they were under intense pressure from state and provincial governments and from other physicians to reform their specialty. Eugenic ideas, which dominated public health policy making, seemed the best vehicle for catching up with the progress of science. Among the prominent psychiatrist-eugenicists Dowbiggin considers are G. Alder Blumer, Charles Kirk Clarke, Thomas Salmon, Clare Hincks, and William Partlow. Tracing psychiatric support for eugenics throughout the interwar years, Dowbiggin pays special attention to the role of psychiatrists in the fierce debates about immigration policy. His examination of psychiatry's unfortunate flirtation with eugenics elucidates how professional groups come to think and act along common lines within specific historical contexts.
Publisher: Cornell University Press
ISBN: 9780801483981
Number of pages: 272
Weight: 397 g
Dimensions: 229 x 152 x 15 mm
---
MEDIA REVIEWS
"A breakthrough away from dogmatism and toward a fresh understanding of the history of both eugenics and psychiatry. The history of psychiatry and the history of eugenics will never be the same again after this sophisticated new look at both narratives. Dowbiggin shows how the actual experiences of specialist professionals in two cultures shaped the ways in which they tried to influence policy, to improve the world, and to practice medicine. He conjoins nuances to produce a vivid recreation of the world in which good, if sometimes flawed, men and women attempted to make sense of science, bureaucracy, and moral imperatives. Dowbiggin adds important new dimensions to what we thought was a familiar narrative. Neither the history of psychiatry nor the history of eugenics will ever be the same again."
-- John C. Burnham, Ohio State University
"A fascinating cautionary tale. In tracing the attraction of eugenics for a number of leaders in North American psychiatry, Dowbiggin has made a valuable contribution to the cultural history of twentieth-century medicine."
-- Charles Rosenberg, University of Pennsylvania
"A valuable and meticulously documented study."
-- William H. Tucker, PhD * JAMA *
"Given the role that medical practitioners play in influencing public debate on health care, Ian Dowbiggin's Keeping America Sane provides a much-needed cautionary tale. Rather than arguing that North American psychiatrists mainly represented their class, Dowbiggin demonstrates the extent to which psychiatric support for eugenics was located within their own professional self-interest.... As Dowbiggin describes it, the story of eugenics in North America is one of human fallibility, of good people advocating abuses of basic human rights for the very best reasons.... Keeping America Sane is a much needed addition to Canadian and American medical history."
* The Canadian Historical Review *
"Ian Dowbiggin's study of psychiatry and eugenics in the United States and Canada is a significant contribution to both medical and social history. He demonstrates that the eugenics movement was more complex than is commonly recognized, and that the involvement of psychiatrists was driven less by ideology than by the fact that they were employed within a state bureaucratic system and often had to tailor their beliefs to prevailing policies. His book offers a new perspective on an important social movement."
-- Gerald N. Grob, Rutgers University
"It would be accurate to state that a majority of late-19th- and early-20th-century scientists, particularly social scientists, were favorably inclined toward eugenics.... Pressure from government bureaucrats, public alarm over the mental health of new immigrants, and the dispiriting experience of practicing within the state mental hospital led individual psychiatrists to sanction the eugenics movement.... Dowbiggin ably tells this story."
* Choice *
"Keeping America Sane is a valuable addition to the still small number of first-rate studies we possess of any aspect of the history of twentieth-century psychiatry.... This is a well-researched and original monograph that deserves a warm welcome.... It sets a high standard for the new series of Cornell Studies in the History of Psychiatry."
* Medical History *
"No other author... has produced such a close and empathetic analysis of the profession's inhouse squabbles.... Ian Dowbiggin has produced a useful portrait of North American psychiatry and its relations with eugenics."
* The International History Review *
"This book's exploration of the attitudes and involvements of psychiatrists in the eugenics movement is important and eye-opening. Dowbiggin takes the trouble to get inside the North American psychiatric community, to examine its members at work in the asylums and in struggle with the state. He convincingly shows that they held diverse views on the role of hereditarianism in mental illness and disorder and that their ideas of therapy were shaped at least as strongly by considerations of professional autonomy and practice as by their embrace of eugenic doctrine."
-- Daniel J. Kevles, California Institute of Technology
"This timely and balanced account provides a fresh new perspective on the place of eugenics in the history of American and Canadian psychiatry. By putting the profession's ambivalent embrace of eugenics in institutional and professional context, Dowbiggin provides a compelling account of this troubling episode in American history. Beautifully written and cogently argued, Keeping America Sane will remain the standard work on the subject for decades to come."
-- Nancy Tomes, SUNY at Stony Brook
"Too often the treatments of eugenics are incomplete, simplistic, and misinformed. One would hope that those authors will read Ian Dowbiggin's history of eugenics in the United States and Canada so that they might correct or enrich their own accounts. In this archive-based history, Dowbiggin, a historian of psychiatry, focuses on the roles that psychiatry played in the eugenics movement. The author seeks to understand why psychiatrists endorsed eugenics, what eugenics programs they advocated, why they lost faith in eugenics and what role they played in the eventual passage of eugenics laws. These and other questions are answered in this very readable account.... This book offers readers two histories woven into one story: the eugenics movement in North America and the 20th century transformation of psychiatry.... A well-researched account. The history of eugenics is redefined in this outstanding book that draws on a rich analysis of behavior, medicine, politics, and culture."
-- Ludy T. Benjamin Jr. * American Scientist *
You may also be interested in...
Simply reserve online and pay at the counter when you collect. Available in shop from just two hours, subject to availability.
Thank you for your reservation
Your order is now being processed and we have sent a confirmation email to you at
When will my order be ready to collect?
Following the initial email, you will be contacted by the shop to confirm that your item is available for collection.
Call us on or send us an email at
Unfortunately there has been a problem with your order
Please try again or alternatively you can contact your chosen shop on or send us an email at