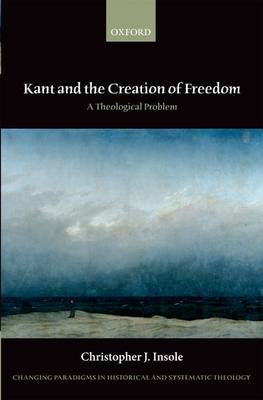 Kant and the Creation of Freedom: A Theological Problem - Changing Paradigms in Historical and Systematic Theology (Hardback)
Dr. Christopher J. Insole
(author)
Hardback
280

Pages / Published: 30/05/2013
Kant actively struggles with the problem of how to conceive of God's creative action in relation to human freedom. He comes to the view that human freedom can only be protected if God withdraws in certain ways from the created world. The two pillars of Kant's mature philosophy - transcendental idealism and freedom - are in part shaped and motivated by Kant's need to provide a solution to his theological problem. The medieval and early modern theological tradition conceives of divine action as unlike the action of any created being. When the creature acts, God directly causes this action, but without reducing the creature's freedom. Kant explicitly discusses and rejects this account of divine and human concursus. This rejection has significant and surprising ramifications for Kant's wider philosophy, explaining otherwise incomprehensible claims in his critical philosophy. Christopher J. Insole presents a definitive study in the history of ideas, engaging with a wide range of Kant's texts from 1749 until the early 1800s. Many of these texts have received little or no attention in Kant studies to date. Insole places Kant's thought in relation to numerous historical and traditional positions and illuminates these positions by a close engagement with recent debates in analytical philosophy and systematic theology. Kant is unrelentingly honest when grappling with the difficulty of relating divine and human freedom. This study, of Kant's theological struggle and legacy, goes to the heart of the problem in the modern reception of what the Christian tradition has affirmed about human freedom. As such, the book throws light on one of the defining fault-lines in modern theology and philosophy.
Publisher: Oxford University Press
ISBN: 9780199677603
Number of pages: 280
Weight: 570 g
Dimensions: 241 x 162 x 21 mm
---
MEDIA REVIEWS
Christopher Insole has done something remarkable. He has provided a novel and credible account of the development of Kant's transcendental idealism ... This is an excellent book. * Journal of the History of Philosophy *
Christopher Insole's erudite work contributes to [the] revitalization of the metaphysical Kant - Insole's scrupulous work must be considered a success - in providing a coherent case for thinking that theological questions were at least as prominent among Kant's concerns in his Pre-Critical period as any of the more familiar philosophical challenges. One of this work's merits is the degree of sophistication with which it engages with its topics. Although its central claim is contentious, the book touches on a range of other key topics in Kant's philosophy, and always perceptively. This work will then reward any serious study. It is a very well-written and diligently researched piece of work, one that brings the more metaphysical interpretation of Kant's Critical philosophy into direct contact with traditional theological concerns. * John J. Callanan, Religious Studies *
Theologically literate engagements with the work of Immanuel Kant of the kind exemplified in this study by Christopher Insole are enormously welcome. It is historically sensitive, textually attentive and argumentatively deft. As well as being concise and clear, Insole's thesis is original and compelling. There is no finer theological engagement with Kant in print. * Nicholas Adams, Studies in Christian Ethics *
Kant and the Creation of Freedom is carefully researched and closely argued ... he has set high standards for debate through his close attention to the primary sources ... What Insole has done, and done marvellously, is to relieve readers of the fiction that they can understand Kant without understanding the religious and theological features of his work * Joshua D. Broggi, Journal of the American Academy of Religion *
Christopher Insole has done something remarkable. He has provided a novel and credible account of the development of Kants transcendental idealism His book is not intended to replace familiar accounts, but to supplement and complicate them. But it will be difficult to read Kant with the same eyes after reading Insole ... This is an excellent book ... Many different readers and many different kinds of readers will profit from it * Benjamin J.B. Lipscomb, Journal of the History of Philosophy *
[A] thought-provoking premiss that brings to light a theological probing of Kantian philosophy. * Hoon J. Lee, Journal of Theological Studies *
Insole's case for ascribing a double-affection view to Kant, arising out of concern to preserve a space for human freedom within a divinely created order, is scrupulously argued textually, in drawing from both minor and major writings over the full range of Kant's career. In light of Insole's textual work, it will be hard to deny either that Kant seriously held a double affection view in many places within his critical period or that this view was significantly motivated by a theological problem * Richard Eldridge, Philosophical Investigations, *
Lucid and, especially for those familiar only with Kant's critical period, helpful discussions of several pre-critical texts together with an engagement with selected secondary literature. Here Insole's exposition is nuanced and sure-handed. * Terry F. Godlove, International Journal for Philosophy and Religion *
The book provides an exceptionally clear account of multiple aspects of Kants thought as they bear upon this relatively neglected central theme as well as a host of new insights along the way. One of its overt advantages is that it does so against the background of an extensive familiarity not only with Kants late and early writings and those of his interpreters, but also with the Christian theological tradition. Insole's careful tracking of Kant's evolving pre-critical awareness of the possible competition between divine and human freedom is studied and convincing * Alex Englander, Reviews in Religion and Theology *
There is no shortage of secondary works on Kant's conception of freedom, which he himself tells us is the central concern of his philosophy. However, there are relatively few works that examine Kant's pre-Critical understanding of freedom, or the motives behind his shift to the views we more traditionally associate with him. Kant and the Creation of Freedom is a welcome remedy to such neglect. Insole's work will be of interest not only to Kant scholars, but also to theologians and philosophers of religion, particularly those interested in the relation of Kant to medieval and early modern thought. In addition to the central topic of Kant's changing views of freedom, Insole includes helpful discussions of the views of Aquinas, Leibniz, and Suarez, and well as a chapter devoted to whether Kant really defends belief in God and noumenal substances or holds some weaker or more voluntaristic attitude. * David Sussman, Critique *
Insole's project is tremendously important and provides an equally comprehensive, focused and illuminating take on familiar Kantian issues from what for many readers still is a thoroughly unfamiliar perspective. It is rare to see philosophers like Aquinas, Suarez and others along this line discussed in the context of Kant, and Insole's book shows that invoking this context has a clarifying effect on a large number of passages in Kant's  uvre ... I should like to close by reiterating how deeply illuminating Insole's approach is and how he manages to shed light on a number of as yet largely unexplored aspects of Kant's thought. Moreover, he provides the resources for reassessing quite a few allegedly familiar claims by placing them in a context thoroughly unfamiliar and perhaps even alien to many quarters of contemporary Kant scholarship. He has done us all a great service by linking Kant to the Thomist tradition of scholasticism * Wolfgang Ertl, Critique *
You may also be interested in...
Simply reserve online and pay at the counter when you collect. Available in shop from just two hours, subject to availability.
Thank you for your reservation
Your order is now being processed and we have sent a confirmation email to you at
When will my order be ready to collect?
Following the initial email, you will be contacted by the shop to confirm that your item is available for collection.
Call us on or send us an email at
Unfortunately there has been a problem with your order
Please try again or alternatively you can contact your chosen shop on or send us an email at