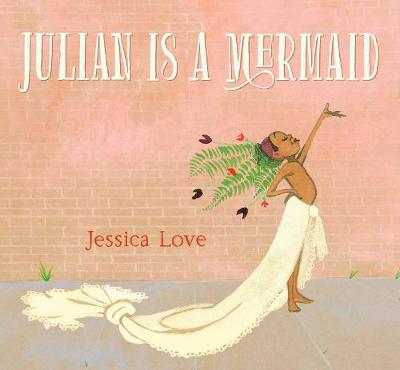 Julian Is a Mermaid (Hardback)
Jessica Love
(author,illustrator)
Hardback
40

Pages
Published: 07/06/2018
Mesmerizing and full of heart, this is a picture book about self-confidence and love, and a radiant celebration of individuality.
While riding the subway home with his Nana one day, Julian notices three women spectacularly dressed up. Their hair billows in brilliant hues, their dresses end in fishtails, and their joy fills the train carriage. When Julian gets home, daydreaming of the magic he's seen, all he can think about is dressing up just like the ladies and making his own fabulous mermaid costume. But what will Nana think about the mess he makes - and even more importantly - what will she think about how Julian sees himself?
Publisher: Walker Books Ltd
ISBN: 9781406380637
Number of pages: 40
Weight: 370 g
Dimensions: 237 x 256 x 9 mm
---
MEDIA REVIEWS
'Celebratory and ground-breaking.' - The Sunday Times Culture/The Sunday Times Ireland
'The stand-out title this month is a picture book, Julian Is a Mermaid by Jessica Love. [...] In the bravura feat of understated storytelling, the richness of Julian's free-floating imagination is caught in images layered with colour, movement, muscle and life, celebrating black and Latino experience. Julian invents a tail and flowing hair, and Nana's acceptance, as she accompanies him on a wild parade of mermaids, will leave the reader filler with joy.' - The Guardian
'This is Jessica Love's debut picture book, and every choice she makes - the spare text, a color palette both muted and lively, full-bleed pages that make even subway cars and apartment rooms feel as expansive as the ocean - imbues the story with charm, tenderness and humor... Alongside Julian, readers learn that anyone can be a mermaid: All it takes is love and acceptance, a little imagination and a big swishy tail.' - The New York Times Book Review
'Beautiful [...] Magnificent [...] Lovely [...] Magical [...] Gorgeous.' - RuPual of RuPaul's Drag Race
'Capturing the simple, joyful playfulness of a gender creative young boy and his wonderful grandmother this is one of the most heart-moving and beautifully illustrated children's picture books we've ever read. [...] This book is a luminous carnival of joy.' - Attitude
'If there's one thing you check out this month make it this delightful children's book [...] it'll make you want to read it to any young'un in your life immediately. Perfect as a tie-off to Pride month, and to get you in the mood for carnival season, it's a lesson in self-love for all ages!' - Pride magazine
'Julian Is a Mermaid is fabulous in every sense. A remarkable debut that should be sashaying off the shelves, it will particularly appeal to those parents and carers with a penchant for RuPaul's Drag Race.' - The Guardian Online
'While on the subway with his abuela, Julian notices three mermaids. Mesmerized by their beauty, all of Julian's thoughts are consumed by wanting to be a mermaid, too, but he is afraid of what his abuela might think. In her author-illustrator debut, Jessica Love delivers a delightful story of celebrating what makes us unique and a joyful read for anyone in need of a little love.' - Time Magazine Online
'This utterly gorgeous picture book is great for questioning our gender stereotypes but without being at all preachy.' - The Sun

'A powerful but gentle read Julian Is A Mermaid transcends gender stereotypes, body-shape, ethnicity and family dynamics. Brimming with acceptance and celebrating individuality, there's something for everyone in this book.' - Sarah Yewman, Picture Books Blogger
'With love and acceptance bursting from its pages, Julian Is A Mermaid by Jessica Love is a celebration of being yourself. [...] Sparse text and sublime illustrations give the book a magical feel as real life shifts in and out of Julian's imagination. This stunning book exudes warmth and joy.' - The Scotsman
'This creatively told book does a great job at dismantling gender stereotypes without being preachy.' - The Evening Standard
'Vibrant watercolours are splashed deftly across pages inhabited by stunning Sendak-esque characters, as we find ourselves whisked away on Julian's journey of self-discovery. Julian is entranced by three women he sees on the subway and with his grandmothers help he begins his transformation into a beautiful mermaid. A joyful celebration of diversity and embracing your own individuality. One of the most beautiful and gently inspiring books of 2018.' - WRD
'Easily my favourite book of the year. A glorious ode to inclusivity, diversity, transcendence of societally determined "norms", and fierce, fierce love. Jessica Love has thrown down a marker for her fellow picture book artists - challenge, push, and play. The result is not just artistic perfection, but a book which serves as a giant hug for those who feel their dreams must be deferred for fear they are too different. A book which says, I see you for all of who you are, and you are fabulous.' - Stephanie Cummings, Two In A Tepee
'Quite possibly one of the best stories I've ever read.[...] I'm completely blown away by this book. This is definitely a book we'll treasure forever. [...] [Jessica Love has] now in my opinion written one of the best children's books of our children's time.' - Liv, UltimateGirlGang
'So much love [...] absolutely one of my books of the year.' - Emma O'Donovan, The Book Sniffer
'This is probably my favourite book ever illustrated. [...] To think that this is going to be a book that kids are reading makes my heart beat even faster and harder, it's gorgeous.' - Laura Dockrill on Down The Rabbit Hole children's book podcast
'This book is sick for so many reasons [...] So many layers to these illustrations. I live for this level of inclusivity and representation.' - Candice Brathwaite, Make Motherhood Diverse
'[...] one of the most beautiful books we've come across... artistically satisfying to a child & adults eye. But most importantly, it's a book about embracing differences, understanding individuality and freedom to express your inner creativity. We're totally in love with this one! We recommend this book for your little ones.' - The Motherhood Group
'Love's deep empathy for her characters and her keen-eyed observations of urban life come together in a story of love, understanding, and embracing the mermaid within us all.' - Publishers Weekly
'Beautifully illustrated, this gentle book shines with the importance of acceptance and individual dreams.' - Angels and Urchins
'I read it and teared up. [...] So sweet.' - Neil Gaiman
'Though it could easily feel preachy, this charmingly subversive tale instead offers a simple yet powerful story of the importance of being seen and affirmed.' - Kirkus
'A picture book story of self-confidence and self-love.' - Made For Mums
'Here's a picture book that transcends so many boundaries seemingly effortlessly delivering a powerful punch, or rather several, through a wonderfully empathetic affirming story and richly coloured, heart-stoppingly beautiful, watercolour and gouache illustrations. [...] An awesome unforgettable tale of non-conformity, understanding, acceptance and belonging; it speaks to the desire for love and understanding in us all, no matter who we are. A book to be shared and celebrated by anyone and everyone, young or not so young and amazingly, this is Jessica Love's debut picture book - wow!' - Red Reading Hub
'Gorgeous on every single level.' - Playing by the Book
'Visually stunning.' - Hey Is That Me
'I love this book.' - The Next Best Thing to Mummy
'[...] it really is a beautiful thing for children to read.' - Me, Him, the Dog, and a Baby
'An awesome unforgettable tale of non-conformity, understanding, acceptance and belonging; it speaks to the desire for love and understanding in us all, no matter who we are.' - Red Reading Hub
'[...] this book is such a joy to hold and read. From a rainbow of colours and feelings, to sights and sounds throughout, it warms my heart to recommend it to you. I think this book is extremely uplifting, not only does it focus on gender stereotypes and the joy of supporting others in the things they love, it also teaches us as parents/grandparents to support and nourish.' - Kelly Allen
'Sparse text and sublime illustrations give the book a magical feel as real life shifts in and out of Julian's imagination. This stunning book exudes warmth and joy.' - TheScotsman.com
'Perfect as a tie-off to Pride month, and to get you in the mood for carnival season, it's a lesson in self-love for all ages!' - Pride
'Julian is a Mermaid celebrates self-confidence and diversity in a plethora of ways, from gender stereotypes, to family dynamics and body types.' - TheGayUK.com
'This is perhaps the most beautiful children's book I've ever read.' - Hungermama
'A beautifully illustrated book.' - Freddie Harrel
'The artwork is phenomenal and the message an incredibly special and important one.' - Sibeal Pounder, BookTrust
'This is a stunningly illustrated picture book, with a joyous message at its heart.' - Theriversideway.wordpress.com, blog of The Riverside Bookshop in London Bridge
"A beautiful story about love and acceptance, which questions gender stereotypes in a really positive way." * SevenStories, HooksIntoBooks, Autumn Pack. *
'An inspirational picture book that celebrates individuality, self-discovery, acceptance, gender identity, beauty and love. Highly recommended.' - Brenda Marshall, Carousel
'This joyful picture book with outstanding illustrations has stayed with me all year.' - The Irish Independent
'A beautiful, inspiring and empowering book, this should be a must read for all readers, young and old.' - The School Librarian
You may also be interested in...
×
Download the Waterstones App
Would you like to proceed to the App store to download the Waterstones App?
Reserve online, pay on collection


Thank you for your reservation
Your order is now being processed and we have sent a confirmation email to you at
When will my order be ready to collect?
Following the initial email, you will be contacted by the shop to confirm that your item is available for collection.
Call us on or send us an email at
Unfortunately there has been a problem with your order
Please try again or alternatively you can contact your chosen shop on or send us an email at