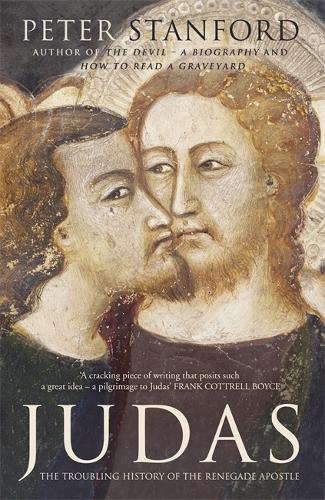 Judas: The troubling history of the renegade apostle (Hardback)
Peter Stanford
(author)
Hardback
320

Pages / Published: 12/03/2015
In stock online

Free UK delivery
In this fascinating historical and cultural biography, writer and broadcaster Peter Stanford deconstructs that most vilified of Bible characters: Judas Iscariot, who famously betrayed Jesus with a kiss. Beginning with the gospel accounts, Peter explores two thousand years of cultural and theological history to investigate how the very name Judas came to be synonymous with betrayal and, ultimately, human evil.
But as Peter points out, there has long been a counter-current of thought that suggests that Judas might in fact have been victim of a terrible injustice: central to Jesus' mission was his death and resurrection, and for there to have been a death, there had to be a betrayal. This thankless role fell to Judas; should we in fact be grateful to him for his role in the divine drama of salvation? 'You'll have to decide,' as Bob Dylan sang in the sixties, 'Whether Judas Iscariot had God on his side'.
An essential but doomed character in the Passion narrative, and thus the entire story of Christianity, Judas and the betrayal he symbolises continue to play out in much larger cultural histories, speaking as he does to our deepest fears about friendship, betrayal and the problem of evil.
Judas: the ultimate traitor, or the ultimate scapegoat? This is a compelling portrait of Christianity's most troubling and mysterious character.
Publisher: Hodder & Stoughton General Division
ISBN: 9781444754728
Number of pages: 320
Weight: 562 g
Dimensions: 241 x 165 x 31 mm
---
MEDIA REVIEWS
JUDAS by Peter Stanford was named one of The Independent's Books of the Year in the biography and memoir category. * The Independent *
A cracking piece of writing that posits such a great idea - a pilgrimage to Judas. -- Frank Cottrell Boyce
I've been reading Peter Stanford's JUDAS. It's great. He's a beautiful writer -- Author Jon Ronson
There is no better navigator through the space in which art, culture and spirituality meet than Peter Stanford. His biography of the Devil is a masterpiece. This is an easier book, written in a friendlier style, but the research is just as through... Despite the layers of confusion between the present day and what happened - or not - 2,000 years ago, he finds meaning, and spins a good yarn. (There is also an A to Z of Judas-related bits and pieces, from asparagus to the Zodiac, which is fun)... Stanford is more than willing to admit that some or all of this - including the character of Judas himself - may be fiction, as he picks apart the gospels beautifully and uncovers what appears to be home truths... This entertaining, enlightening biography serves the sympathetic old devil wonderfully well. -- Cole Morton * The Independent on Sunday *
Peter Stanford's engrossing book shows that Judas is a man for all seasons, nearly all of them bad for him and those around him. Judas is a chameleon, though a chameleon in consistently dark colours, endlessly fertile as a symbolic figure, because he helps us to reflect on our own dark side.
Stanford, a journalist and broadcaster, says a lot about the many faces and other attributes of Judas and does so very engagingly: his book manages to be fun as well as sometimes profound, and it is as much an enjoyable tour of Christian art and thought as an account of a 2,000-year-old traitor.
-- Diarmaid MacCulloch * The Times *
The biggest question has always been whether Judas was an "out-and-out traitor or cog-in-the-wheel of a divine plan", as Stanford puts it.
With Judas, as with other religious figures, you can and must believe just what you choose. One of the best moments in the book is when Stanford sees a sign outside the Basilica of the Agony in Jerusalem that reads, "Please: no explanations in the Church."
-- Christopher Hart * The Sunday Times *
It's a fascinating subject. -- Clare Balding * BBC Radio 2 *
This is scary and thought-provoking stuff.
Curiously, thoughtfully and reassuringly English
-- James Runcie * The Independent *
Wide-ranging and engaging ... Stanford, a much-respected commentator on Catholic affairs, has unearthed some fascinating material and left his readers with more than enough material to prompt some echo of the question "Is it I?" -- Rowan Williams * New Statesman *
Stanford's book is ultimately a cultural history of the forces which subsumed Judas, leading unstoppably to the version of him - so close to 'Jew' or 'Yehuda' - that lent weight to the idea that the Jews were the murderers of Christ... this book provides, among many insights, a timely account of the origins of anti-Semitism. -- Justin Cartwright * The Spectator *
Judas continues to play an important part in Christian history, the symbol of the bad guy or more specifically the traitor, and especially in the history of anti-Semitism. In a brilliant piece of writing, the whole enduring story is summed up in the Appendix, the tale of the author's visit to Laurence Whistler's engraved Judas window in Dorset, entitled "the Forgiveness Window". -- Henry Wansbrough * TLS *
The tortuous journey of the arch-traitor through cultural history is something of a revelation'
A "clever and nimble book"
"Stanford's book is engaging without being decisive on Judas and his fate (no matter, the Church has the same problem). In his pilgrimage in search of Judas, some of the finest material in this work is in the form of travelogue: the various sites which have become associated with Judas in the Holy Land, few of which appear in standard tours of Bethlehem, Nazareth, Gethsemane and Calvary."
'No Christian, I think, can have avoided wrestling with the nature of Judas. Stanford's book makes this evident, while charting a dangerous history of co-opting the figure for some of humanity's most shameful episodes. When one thinks of the horrors perpetrated by seemingly decent men and women, the scapegoat Iscariot seems more deserving of pity than terror.
* Scotland on Sunday *
Stanford is particularly good at explaining how interpretations evolved during Christianity's early years as the new religion sought to differentiate itself from other sects.
Stanford avoids trying to write an all-encompassing study of treachery. He sticks to his subject... he does not balk at explaining theological concepts, yet his manner is always engaging. All in all, his quest for Judas provides a satisfying left-field approach to the entire history of Christianity.
-- Andrew Lycett * The Sunday Telegraph *
But a new book from Peter Stanford asks Christians and non-believers alike to look anew at Judas. It chronicles the hatreds, often anti-Semitic in nature, that were cultivated around Judas and contrasts the subsequent mythology with the historical and Biblical record. When it was uncomfortable for Christians to think of their God going willingly, even meekly, to death, Judas made a convenient scapegoat.
While Stanford finds much fault in Christendom, he settles on the cornerstone of the faith: Forgiveness. Stanford writes: 'In Matthew, straight after the Judas kiss, Jesus tells his betrayer: 'My friend, do what you are here for' (26:50). And in John's account of the Last Supper, once Jesus has identified Judas as the one who will betray him, he tells him: 'What you are going to do, do quickly'(13:28). Contrary to two millennia of remorseless official vilification and scapegoating, these two brief remarks surely indicate that Jesus knew all too well that Judas was playing his anointed role in God's plan. It was not a task to win him fans, or a halo, but equally is hardly sufficient to tar him ever after as 'the most hated name in human history'."
* Fox News *
A delightful Odyssey which attempts to unravel mystery of the enigmatic Judas Iscariot * The National, Scotland *
Peter Stanford...holds our attention with the skill of an experienced writer. * Eastern Daily Press *
Very thought-provoking and well-informed -- Peter Costello * The Irish Catholic *
Well known journalist Peter Stanford gives us in his new book
Judas
not just a biographical study of the gospel figure but an illuminating analysis of how Judas has been regarded in different periods of history.
Highly recommended
. * Church of England Newspaper *
For those of us for are fascinated by myth-making Stanford has performed a great service. * The Huddersfield Examiner *
A wide-ranging and interesting read... If God can forgive him - and there is arguably no Christianity without the concept of forgiveness from God - then who are we to judge? It's an interesting question, and Stanford does a thoughtful and informed job of creating the space in which we can dare to ask it. * Herald.ie *
A fine evocative piece of writing -- Christopher Smith * Norwich Evening News *
Many have tried to chart Judas's cultural trajectory through the centuries. Few have approached the task with Stanford's skill and nuance. -- Jonathan Wright * The Catholic Herald *
A thought provoking study of a figure dubbed by Pope Leo 1 "the wickedest and unhappiest man that ever lived". * The Week *
Having previously written The Devil: An Autobiography [sic] you can't help but think that if anyone was going to tackle this topic for a general readership, he'd be the man to do it...
If God can forgive him - and there is arguably no Christianity without the concept of forgiveness from God - then who are we to judge? It's an interesting question, and Stanford does a thoughtful and informed job of creating the space in which we can dare to ask it.
* The Dublin Herald *
The author unravels this knotty theological problem with aplomb, bringing Judas into the secular age. -- Michael Conaghan * Belfast Telegraph *
From this readable book you will see that Judas' story is full of contradictions and confusion. Like the baffled civil servant, Pontius Pilate, he makes brief, vivid appearances in the story and then spends eternity living down his role. * Oremus Magazine (Westminster Cathedral Magazine) *
Stanford neatly debunks the idea of Judas Iscariot as the most evil man who ever lived... Stanford's book is fascinating from start to finish. * The Observer *
This "troubling history of the renegade apostle" is the subject of Peter Stanford's magnificent Judas. This book does several things at once: it is a study in biography, intellectual history and iconography; a personal pilgrimage to the places where the tragedy of Judas took place and traces of his life remain; and a meditation on his meaning for our time. But it does all these things with a generosity of spirit that lends nobility to what could otherwise be a tale of unremitting woe for Jews and shame for Christians. -- Daniel Johnson * Standpoint *
It's a fascinating journey... Stanford has a light touch and a quick eye for absurdity and drama. -- Piers Plowright * The Camden Review *
Peter Stanford is not afraid to grasp the nettle when it comes to religious subjects. * The Oldie *
Stanford brings out the enigmatic humanity that is lodged within the archetype, helping to explain why this figure retains the power to fascinate. -- Theo Hobson * Third Way Magazine *
In this highly readable biography Stanford retells that story, traces the progress of Judas through Western literature and art...What we end up with is an entertaining travelogue to accompany a comprehensive history. -- Nigel Nelson * Tribune *
This thought provoking book is more than history... Stanford takes us through all the theories, with some skilful travelogues on the way. * Reflections Magazine *
Nick Major selects the best books to leave under the tree:
'Judas is a colourful and nuanced cultural and historical biography of this much-maligned figure and looks at scripture, art and architecture down the ages.'
* Sunday Herald *
You may also be interested in...
Simply reserve online and pay at the counter when you collect. Available in shop from just two hours, subject to availability.
Thank you for your reservation
Your order is now being processed and we have sent a confirmation email to you at
When will my order be ready to collect?
Following the initial email, you will be contacted by the shop to confirm that your item is available for collection.
Call us on or send us an email at
Unfortunately there has been a problem with your order
Please try again or alternatively you can contact your chosen shop on or send us an email at