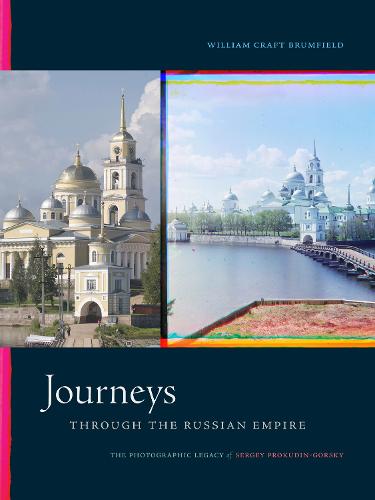 Journeys through the Russian Empire: The Photographic Legacy of Sergey Prokudin-Gorsky (Hardback)
William Craft Brumfield
(author)
Hardback
528

Pages / Published: 13/07/2020
We can order this from the publisher
At the turn of the twentieth century, the photographer Sergey Prokudin-Gorsky undertook a quest to document an empire that was undergoing rapid change due to industrialization and the building of railroads. Between 1903 and 1916 Prokudin-Gorsky, who developed a pioneering method of capturing color images on glass plates, scoured the Russian Empire with the patronage of Nicholas II. Intrepidly carrying his cumbersome and awkward camera from the western borderlands over the Volga River to Siberia and central Asia, he created a singular record of Imperial Russia.
In 1918 Prokudin-Gorsky escaped an increasingly chaotic, violent Russia and regained nearly 2,000 of his bulky glass negatives. His subsequent peripatetic existence before settling in Paris makes his collection's survival all the more miraculous. The U.S. Library of Congress acquired Prokudin-Gorsky's collection in 1948, and since then it has become a touchstone for understanding pre-revolutionary Russia. Now digitized and publicly available, his images are a sensation in Russia, where people visit websites dedicated to them.
William Craft Brumfield-photographer, scholar, and the leading authority on Russian architecture in the West-began working with Prokudin-Gorsky's photographs in 1985. He curated the first public exhibition of them in the United States and has annotated the entire collection. In Journeys through the Russian Empire, Brumfield-who has spent decades traversing Russia and photographing buildings and landscapes in their various stages of disintegration or restoration-juxtaposes Prokudin-Gorsky's images against those he took of the same buildings and areas. In examining the intersections between his own photography and that of Prokudin-Gorsky, Brumfield assesses the state of preservation of Russia's architectural heritage and calls into question the nostalgic assumptions of those who see Prokudin-Gorsky's images as the recovery of the lost past of an idyllic, pre-Soviet Russia.
This lavishly illustrated volume-which features some 400 stunning full-color images of ancient churches and mosques, railways and monasteries, towns and remote natural landscapes-is a testament to two brilliant photographers whose work prompts and illuminates, monument by monument, questions of conservation, restoration, and cultural identity and memory.
Publisher: Duke University Press
ISBN: 9781478006022
Number of pages: 528
Weight: 2608 g
Dimensions: 305 x 229 mm
---
MEDIA REVIEWS
"In the current climate in the West, with the return to an awareness of Russia being coupled with a renewed sense of threat, William Craft Brumfield's work is a major catalyst for making people aware of the richness of Russian culture. Journeys through the Russian Empire is an innovative book and an invaluable resource for coming generations of cultural historians. Allowing an opportunity to consider loss over time and to think in terms of common human values, it is indispensable to both Russophiles and all those interested in wider issues of restoration, plans for public space, the impact of industrialization and modernization, and the consequences of large-scale population migration." -- Ann Kleimola, coeditor of * Culture and Identity in Muscovy: 1359-1584 *
"As miraculous and prodigious as Sergey Prokudin-Gorsky's photographic efforts were, William Craft Brumfield's heroically resolute labor to record the Russian built environment of the late twentieth and early twenty-first centuries is remarkable in its own way. For the past four decades, Brumfield has pursued buildings, cityscapes, and landscapes across the length of Russia, producing what has become the single most important record of the Russian built environment of our era. This period's political tumult makes his work even more significant. Journeys through the Russian Empire is an important record of how Russia changed over a troubled century and will help readers appreciate what will come to be seen as lost worlds." -- Blair A. Ruble, coeditor of * Rebounding Identities: The Politics of Identity in Russia and Ukraine *
"Sergei Prokudin-Gorsky's eerie color photographs of the Tsarist empire, made in its waning years before war and revolution, record the serene glories of Russian architecture typically set in a softly glowing pre-industrial landscape. Beginning in the last decades of the Soviet Union, William Craft Brumfield has photographed these same widely dispersed monuments. The resulting juxtaposition of images, taken as much as a century apart, reminds the reader that buildings, like empires, have lives in time." -- John Beldon Scott, author of * Architecture for the Shroud: Relic and Ritual in Turin *
"This large-format book, 520 pages in length, contains some 400 stunning full-color images of ancient churches, towns, and landscapes taken by two great explorers, who have preserved so much of Russian culture through their photography." -- Anna Sorokina * Russia beyond the Headlines *
"This is a book to be approached slowly and with care. As you move through the eight regions of travel, there is much to be absorbed and to be savored including Brumfield's narrative, which ends at the Solovetsky Transfiguration Monastery, an impressive array of buildings on the Solovetsky Archipelago in the White Sea. . . . This is rich journey worth taking for anyone with an interest in Russia and Russian culture, and it matters not at all whether you have been to Russia or not." -- Richard Crepeau * New York Journal of Books *
"At the asking price, this large-format book is a bargain, not just for 'content' but for the excellence of production values and design, enhanced by clearly drawn maps for each of the regions covered. Anyone interested in Russian or Central Asian history and culture would find pleasure in having this volume to savor." -- Dan Waugh * Newsletter of the Early Slavic Studies Association *
"The journeys wend through little-known towns like Belozersk and Rzhev, and the complexity of their churches and monasteries, full of tiny and intricate details, unfold like flowers before the eyes. Magnificent iconography, graceful 'onion' domes, wildly colorful exteriors, and blended architectural styles keep the eye roving, with descriptions that provide historical context and artistic merit. . . . As intriguing as the photos are, Brumfield's text draws readers in with tales of vast wealth and power and religious devotion. Moreover, Brumfield invites readers to consider not only the circumstances under which the buildings were built, but what happened after Prokudin-Gorsky captured them." -- Faith Dawson * Tulane Today *
"The juxtaposition of these two artists' works provides students and researchers with an excellent study in how artists can view the same subjects in different historical contexts. Prokudin-Gorsky's and Brumfield's photographs show the changes each site underwent, including differences in condition, color, and the effects (or lack) of preservation attempts over time. The photographs also invite discussion of issues such as reconstruction versus restoration and reality versus memory in the history of Russian architecture. Highly recommended. Lower-division undergraduates through faculty." -- M. Miller * Choice *
"An extraordinary study of two photographers and, indeed, two Russias. . . . Journeys through the Russian Empire is a masterful achievement that readers will want to savor and return to again and again. In its pages are insightful lessons on everything from color photography to the nature of time. William Craft Brumfield has brought all of his considerable talent, expertise, and energy to produce an invaluable resource for students of Russian history, photography buffs, nature lovers, architecture aficionados, and anyone who longs to explore the expansive Russian empire through the eyes of two eminently talented and devoted photographers." -- Jennifer Eremeeva * The Moscow Times *
"Brumfield's own photographs are of exceptional quality, and . . . there is something enthralling for the reader about comparing pictures of a building or set of buildings taken many years apart. . . . What Brumfield does in Journeys is provide visual material and text that provoke reflection on important questions without seeking to provide simplistic answers. He shows the value of Prokudin-Gorskii's photographs while acknowledging that they do not provide an unproblematic insight into a vanished world. He provides an effortless visual and textual history of important sites of Russian ecclesiastical architecture that is accessible to non-specialists." -- Michael Hughes * Slavic and East European Review *
"In 1970, an American graduate student set off for what was then the Soviet Union, taking a camera he'd bought for the trip. William Craft Brumfield spent the next half-century travelling through the Soviet Union and its successor states, becoming a specialist in the region's architectural history and a respected photographer in his own right. . . . [A]s Journeys through the Russian Empire quietly illustrates, the desire to preserve religious buildings as part of a national past was not solely a phenomenon of perestroika." -- Miriam Dobson * London Review of Books *
"The publication of Journeys through the Russian Empire marks a jubilee of sorts, as its author, William Craft Brumfield, first arrived in Russia in 1970, exactly fifty years earlier. A half century is indeed more than half a lifetime, and over this time Russia has become a second homeland for the scholar. . . . Brumfield thus allows us to compare the appearances of the most significant works of Russian architecture over the course of a century, but this is not his only contribution. He also demonstrates the coexistence of two long-standing artistic traditions of representing works of Russian architecture: the Russian and the foreign." -- Evgeny Khodakovsky * Russian Review *
"This is a work of pure enchantment! William Craft Brumfield's Journeys lead us to some of the most forbidding regions on Earth to reveal centuries-old architectural masterpieces. His photographic odyssey, which parallels the travels of a pioneering Russian photographer in the early 1900s, opens a world of almost supernatural grace and beauty. The images-at times dreamlike, often frozen in the amber light of the far North-portray structures both towering and serene, gemstones of timber and rock that stand as timeless monuments to mysticism and spirituality. The images are spellbinding, but the text is no less so. Professor Brumfield's concluding essay 'Above the Abyss' is a deeply informed meditation on photography, memory, and the arc of Russian history." -- John R. Beyrle, former United States Ambassador to Russia
"Bill Brumfield's Journeys Through the Russian Empire is a visual and cultural tour d' force. In treading the steps of his legendary imperial predecessor Sergey Prokudin-Gorsky, Brumfield's lens documents and captures why for Russia in particular the architecture and creativity of its buildings is an essential key to understanding its culture and identity, and his images provide a contemporary vision of the enduring core that has given the world Russian culture, art, and architecture. His photos and text, set alongside the images from a century ago, document what neither two world wars nor three quarters of a century of permanent, hostile revolution could destroy or erase from the Russian landscape or vision. Brumfield's pictures and text are essential for anyone truly seeking to understand Russia and its people. It likewise offers the reader a vision about how monuments that reflect what is best in a culture survive even the most determined efforts to undo the values and aspirations they represent." -- James F. Collins, Senior Fellow, Carnegie Endowment for International Peace, and former United States Ambassador to Russia, 1997-2001
"Written at the juncture of visual studies and cultural history, Journeys through the Russian Empire makes a major contribution to the study of the architectural heritage of Russia and Central Asia. . . . Although the book is indeed addressed to a wide circle of readers, we have before us not a 'picture book,' but a serious, multilayered investigation. . . . Brumfield's service can be summarized by the fact that he has simultaneously preserved the legacy of two authors. Exhibits and internet publications are fleeting, but a book is something that remains for the long term. Brumfield's book can be used by researchers as a guide to photographic sources. At the same time, it is a superb guide for travelers planning a trip to Russia and Central Asia." (translated from Russian) -- Ramina Abilova * Ab Imperio *
You may also be interested in...
×
Download the Waterstones App
Would you like to proceed to the App store to download the Waterstones App?
Reserve online, pay on collection.
Or,
add to basket
, pay online, collect in as little as 2 hours, subject to availability.
Thank you for your reservation
Your order is now being processed and we have sent a confirmation email to you at
When will my order be ready to collect?
Following the initial email, you will be contacted by the shop to confirm that your item is available for collection.
Call us on or send us an email at
Unfortunately there has been a problem with your order
Please try again or alternatively you can contact your chosen shop on or send us an email at