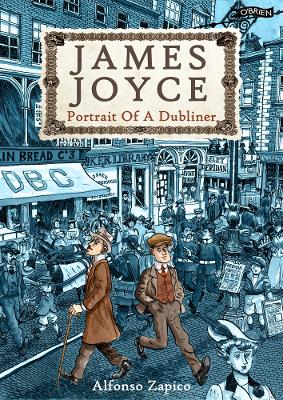 Paperback
Published: 06/05/2013
A complete account of the life and times of James Joyce in the form of a graphic novel. From his earliest days and school career, through to meetings with all the literary greats of the day, this story is dotted with anecdotes, as well as a captivating and beautifully drawn journey through the cities of Dublin, Trieste, Paris and Zurich, where this universal Irishman left traces of his life.
A stunning one-of-a-kind publication about Joyce's life.
Publisher: O'Brien Press Ltd
ISBN: 9781847173638
Weight: 541 g
Dimensions: 234 x 156 x 19 mm
---
MEDIA REVIEWS
sings out at you from a grey-scale wash
The cartoonist's sensory immersion in the landscapes of Joyce's life lends this Portrait of a Dubliner its visual authority: the sordid charm of turn-of-the-century Dublin, the civilized cosmopolitanism of Trieste at the end of the Austro-Hungarian Empire, and the modernist ebullience of interwar Paris are all portrayed vividly in Zapico's lively gestural style of freehand drawing and ink-wash shading. The biography's overall visual mode is on the cartoonish side of realism, with enough verisimilitude to be historically convincing and enough exaggeration to lend speed and comedy to his narrative. Joyce's life … is well-served by Zapico's almost caricatural art, since Joyce's own outsize personality had something of the cartoonish about it … the best moments in James Joyce come when Zapico stops narrating and lets dialogue and pictures tell the story: in one brief scene, Joyce, toward the end of his life and the start of World War II, joins a group of French soldiers in singing La Marseillaise. This simple page should save us reams of analysis of Joyce's complicated politics, as in one gesture it shows the apparently aloof and apolitical modernist for the disappointed Romantic liberal he was at heart … a vibrant introduction to Joyce and his times … Joyce might well have admired this particular comic book
a visual treat, filled with offhanded, irreverent humor that Joyce himself might have enjoyed
charming … Zapico treats Joyce with both humor and respect, but does not sugarcoat the writer's drunkenness, infidelities, financial irresponsibility and cheerful willingness to bite any helping hand that came his way … the visual language of the work is sophisticated. The grey-wash backgrounds are drawn with meticulously realized historical detail while Joyce and his contemporaries are rendered with a jaunty, comic book-style line … a beautifully drawn and playful portrait of the artist as a difficult man
this biography is an enjoyable, valuable introduction to Joyce for students and literary-minded readers, high school and up
this visually delightful graphic novel does not shy away from James Joyce's negative qualities, but those are just one thread among many of the tapestry of his story … Zapico's scribbly, active art with the pen strokes and washes of ink dashing across the page, alternately portrays the beauty and elegance of the European cities that Joyce visits, as well as the shock and violence of the Irish uprising and the two world wars … although Joyce may frustrate us at times, he has moments of likability that increase in number as the story progresses. Zapico has created a well-rounded and honest portrait of a controversial yet brilliant writer, and the genius as well as the artistic temperament shines through on every page
James Joyce's life, like much of his work, can be something of a mystery, a puzzle to untangle. Alfonso Zapico gives a thorough and masterful pictorial retelling of Joyce's life in … a graphic novel that goes far toward illuminating the enigmatic author
though "breezy" isn't a term generally associated with the author of Ulysses and Finnegans Wake, artist Zapico (Café Budapest, 2008, etc.) remains true to the life and spirit of the Irish master while appealing to readers who might not have the patience for either Joyce's novels or a standard, more exhaustive biography … A solid account of the development of a writer not easy to encapsulate
Readers familiar with James Joyce only through his dour dust-jacket photos are in for a big surprise in this warts-and-all graphic biography of Ireland's best-known and most divisive writer … the black-and-white, ink-wash illustrations are surprisingly expressive, capturing Joyce's jocular manner and rabble-rousing with an indulgent yet objective hand. Because it reveals its subject without sensationalizing or glamorizing him, readers will close the book with a better understanding of a complex man and his influential work
the most humorous and heartfelt of the recent Joyce-inspired graphic novels … Zapico draws gorgeous close-ups with his thick, rough outlines and minimalist details in a cartoon format. He reinterprets famous scenes many Joyceans know by heart and presents them in a fresh way … Zapico's work has a cinematic quality, and, in many ways, reading his book is like viewing a pleasurable documentary … charming and thoroughly worthwhile
this lively, beautifully drawn portrait of the writer is among the best recent graphic novel biographies … The strong cartooning is what makes this work. Zapico's art teems with details of architecture, and the characters are looser but bursting with emotion—both elements are indispensable to understanding Joyce's peripatetic life. The art not only establishes a sense of place, but shows how these places were unable to contain an indomitable spirit like Joyce: save for Dublin, which, of course, contains his soul. An early candidate for the "Best Of" lists for 2016
a playful book, and a colourful break from the business of Joyce … the hero of the comic though is Zapico's drawing. His jaunty line captures the arrogance and frenzy, the drunkenness and the frustration but most of all the comedy of Joyce, his light touches drawing out his own humour and that of Joyce the trickster as he traces the recognisable odyssey of Dublin, Trieste, Zurich and Paris, with welcome stops in Cork, Pola, Rome and London – for Jim and Nora's wedding. His streets are as noisily melodic as Joyce sang them into being, with a grey-wash backdrop that wouldn't be out of place for a walk-on part for a pair of gallants, say. Zapico's pen and ink follow Joyce through his life with obvious affection for his creation … Zapico, and his translator's contribution … opens the way … to returning Joyce and his work to the city and citizenry that begot him, or at least those with a sense of humour
his portrayal of the writer's ancestors, relations, friends, teachers, benefactors, and so on are witty and recognisable as are his interpretations of the politically famous such as Gladstone and Parnell ... lively and credible … will be welcomed by those who see the graphic medium as a serious and valid one ... sophisticated, amusing, stylish and very readable ... a consistently humorous and unpretentious touch ... well researched ... in future we'll look at graphic books with greater interest, but also … much more critically now we've seen what is possible ... it is possible for a literate adult to read this biography with pleasure and interest
it doesn't skimp on ANYTHING. Alfonso Zapico tossed out the panels in moments of fluid genius ... this is a work that was perfected and honed and smoothed for years ... as charming visually as it is narratively, it really does bring the general debauchery of Joyce's life to the fore
charming ... very accessible
a visually compelling and utterly charming biography of one of Ireland's most iconic literary sons. Zapico breathes life into the author [Joyce] ... the historical detail captured within the art is a joy ... a wonderful piece of work in a subtle black, white and grey scale wash ... a comic book artist at the top of his game
graphic biography brings our greatest novelist to life ... the life of James Joyce – and his all-consuming love for Nora – are brought spectacularly alive ... a remarkable depiction of the Dublin of Joyce's time, his family, his friends, his travels in Europe and how he overcame poverty, rejection and ill-health to create some of the greatest work in the English language ... uniquely accessible and depicts the tumultuous life of Joyce as never before
charming ... very accessible
uniquely accessible and depicts the tumultuous life of Joyce as never before
this is an astonishing work of art ... it's absolutely extraordinary ... I loved every single moment of it ... felt like I really knew him from this ... brilliant portrait of Dublin at the time ... just brilliant … I could not recommend this highly enough ... so fresh ... brilliantly written … it just zings ... the drawings are just divine. I highly highly recommend everyone to buy it
blown away ... this is a James Joyce I can get on board with ... wonderful cast of characters ... go out and buy this ... hands down the best comic book that O'Brien have put out
a kind of Where's Wally for Joyce scholars ... a tad Beanoesque, but Joyce, with his visual and cinematic instinct, would I'm sure, have approved
You may also be interested in...
×
Download the Waterstones App
Would you like to proceed to the App store to download the Waterstones App?
Reserve online, pay on collection


Thank you for your reservation
Your order is now being processed and we have sent a confirmation email to you at
When will my order be ready to collect?
Following the initial email, you will be contacted by the shop to confirm that your item is available for collection.
Call us on or send us an email at
Unfortunately there has been a problem with your order
Please try again or alternatively you can contact your chosen shop on or send us an email at