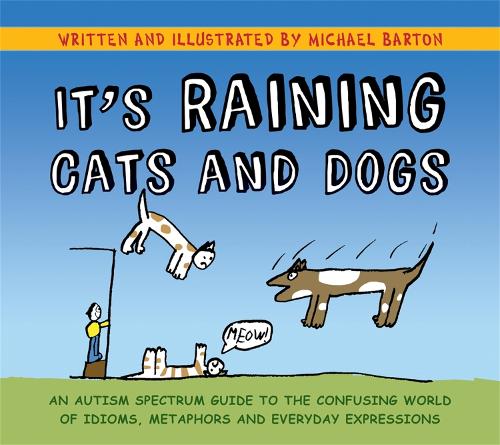 It's Raining Cats and Dogs: An Autism Spectrum Guide to the Confusing World of Idioms, Metaphors and Everyday Expressions (Hardback)
Delia Barton

(foreword)

,

Michael Barton

(author,illustrator)
Hardback
96

Pages
Published: 15/12/2011
The English language can be extremely confusing and illogical, especially for people with an autism spectrum disorder (ASD) who interpret meaning in a very literal way. Why should an announcement that cats and dogs are falling from the sky indicate heavy rain? And what have chickens got to do with being a coward?

It's Raining Cats and Dogs is a witty and stylish insight into the mind of someone with an ASD. It beautifully illustrates why people with ASDs have problems understanding common phrases and idioms that others accept unquestioningly as part of everyday speech. The quirky drawings will entertain and inspire those on the spectrum, giving them the confidence to recognise figures of speech, feel less alienated and even use idioms themselves.

The drawings will form instantly memorable references for those with ASDs to recall whenever they need to and will be helpful for anyone curious to understand the ASD way of thinking. They will enable people on the spectrum and their friends, families, teachers and colleagues to better understand and communicate with each other.
Publisher: Jessica Kingsley Publishers
ISBN: 9781849052832
Number of pages: 96
Weight: 252 g
Dimensions: 184 x 164 x 12 mm
---
MEDIA REVIEWS
The pictures are funny and thought provoking and each saying has the "translation" included underneath. I think it would be a useful "tool" for inclusion in any classroom and a great way to encourage children and adults alike to think about language and context... it could be a very useful resource for anyone studying English language or teachers and trainers supporting those who are learning English. -- Inclusion Now
What a lovely book. It is just fun, rather than an insightful clinical digest... Reading this book will enable you to know what a "square meal" looks like and how to "give someone a piece of your mind"... It will be useful resource for staff training those who support people on the autistic spectrum, reinforcing how much of our everyday language is figurative rather than literal. -- Nursing Standard
The book is helpful for both those on the spectrum and the neurotypical people who surround them. There are excellent, clear explanations for how and why these sayings are confusing. Simple line drawings clearly show the literal interpretation of each phrase. The meaning, in nonfigurative lanuage, appears under each picture. The book could be used in many ways with all children and would make a nice companion to Peggy Parish's "Amelia Bedelia" books for elementary school children. The foreword by Barton's mother as well as the introduction by the author also give helpful explanations and background, making the book more accessible to a wider audience. -- School Library Journal
This book is simply enchanting from beginning to end and could happily sit on my coffee table as a book for guests to pick up and flick through... The drawings are gorgeous in their child-like simplicity and remind me of how I, and many of my adult family, draw. All the examples are amusing and instructive... The book is a 'must have', and would make a fabulous gift for aspies and their families but also for anyone working with children or adults on the spectrum, including the police, health workers and social workers, as well as the more obvious educationalist. -- asteens
My son, Connor, is 9 and has a diagnosis of Autistic Spectrum Disorder. This book is brilliant! Michael's drawings are funny and insightful and have really helped Connor get to grips with the peculiarities of every day spoken English. It has improved his confidence to speak more freely and we have great fun reading it together at bedtime! -- Nicola Harvey, Connor's mother
What a splendid book! It is a wonderfully clear insight into the minds of those on the autistic spectrum. I found it very helpful and very engaging and will have no hesitation in recommending it to any teacher. -- Paul Sanders, visiting music teacher, Bromley Youth Music Trust
I have used Michael's pictures in training sessions with mainstream staff to show just what it means to have literal understanding. People are amazed and fascinated by the memorable examples he gives. The pictures give us a real insight into the difficulties in understanding spoken language experienced by people with ASD and clearly demonstrate the value of using visual supports. I have found them to be an invaluable and thought-provoking resource. -- Sue Carter, teacher of pupils on the autism spectrum
Our English language is full of idiomatic phrases and inferential language which, when literally translated, has little or no related meaning. Many people with ASD may not recognise instances of non-literal language and have difficulty in figuring out intended meaning and consequently may miss the meaning of a significant part of an instruction or conversation...Michael clearly demonstrates this in an amusing and thought-provoking way in his book and has produced an excellent, invaluable tool to help people with ASD and anyone involved with ASD. -- Helen Bull, Specialist Advisor for Social & Communication Difficulties for Bromley Education Services
I read It's Raining Cats and Dogs and was really impressed with both the content and presentation. The author superbly illustrates (in more ways than one!) the absurdities of the English language. Whilst I'd picked up many of the expressions over the years, his examples enhanced my comprehension and revealed eye-opening autistic interpretations of familiar phrases. -- Graduate with Asperger's Syndrome (late diagnosis)
Michael's pictures are an excellent resource. I use them when I deliver training or write advice for schools as part of my advisory role within a local education authority. I always highlight the use of visual support to aid the understanding of language. These pictures provide a clear visual representation of everyday phrases and sayings which can confuse people with autism. I thoroughly recommend them'. -- Jane Rowland, teacher working with students on the autism spectrum, Kent County Council
Michael's book is a really useful tool to help young people with ASD make sense of how non-ASD people see the world. It is also invaluable for non-ASD people to understand how confusing - and sometimes scary - our words can be for those who think literally! I highly recommend this book to anyone who works or lives with ASD. -- Wendy Warne, Family Service Manager, Burgess Autistic Trust
A befitting and beneficial support aid for pupils which delivers a tactful and empathetic approach, this book doubles up as a valuable training resource to assist staff in opening a door to the often confusing and complex world of autism. This publication deserves its place on every school bookshelf. -- Debbie Newall, Complex Needs Specialist, Charles Darwin School, Biggin Hill
Michael's book is a fantastic example of how people on the autistic spectrum take language literally. Everyone who knows someone on the spectrum should read this book to help them understand why spoken and written language needs to be as clear as possible. I just love the images Michael uses to interpret idioms and his sense of humour makes them particularly memorable. -- Michelle Cuss, Visual Support Worker, Burgess Autistic Trust
Although It's Raining Cats and Dogs is especially valuable for autism spectrum individuals, children and adults who are learning English as a second language will also find it an invaluable supplementary reference and teaching tool, particularly due to the visual reinforcement of the pictures. Highly recommended, especially for school library collections. -- The Midwest Book Review
This humorous picture book, written and illustrated by Michael Barton, made me laugh aloud... Barton's book deftly bridges the communication gulf between neuro-typical individuals and those on the autism spectrum... this book could be used to create a common language and style of communication between counsellor and client, and thereby begin to address the latter's shame and despair of feeling an alien. -- Therapy Today
I think this book is really good, because it is hilarious, as well as helping me. I am good at language and expressions and I like to use interesting words when I talk and write, so this will be really useful for me... I feel proud that he wrote a book when he has autism, and I hope lots of people use it because it is very useful. -- Isaac Ramsay, Aged 9, diagnosed with high functioning autism. Young Minds Magazine
This is a brilliant little book! Beautifully produced in hardback, it shows in words and black line drawings the difference between idiomatic sayings and the way the logical mind of a person on the autistic spectrum works. Michael Barton has Asperger Syndrome, and as a child he was taught these differences by using his own simple drawings. His method was so effective that he has now produced this book - and very helpful it will be... The little drawings are so funny - often laugh-out-loud comical - that parents and children will thoroughly enjoy using the book and will find that learning about the use of such phrases is a pleasure. -- Healthy Books
You may also be interested in...
×
Download the Waterstones App
Would you like to proceed to the App store to download the Waterstones App?
Reserve online, pay on collection


Thank you for your reservation
Your order is now being processed and we have sent a confirmation email to you at
When will my order be ready to collect?
Following the initial email, you will be contacted by the shop to confirm that your item is available for collection.
Call us on or send us an email at
Unfortunately there has been a problem with your order
Please try again or alternatively you can contact your chosen shop on or send us an email at