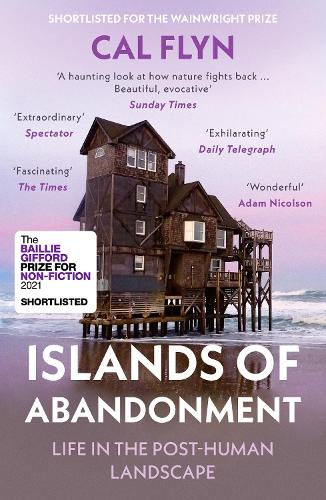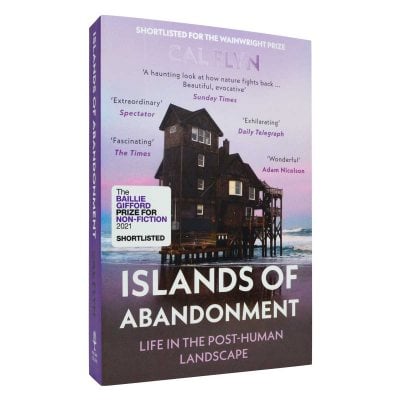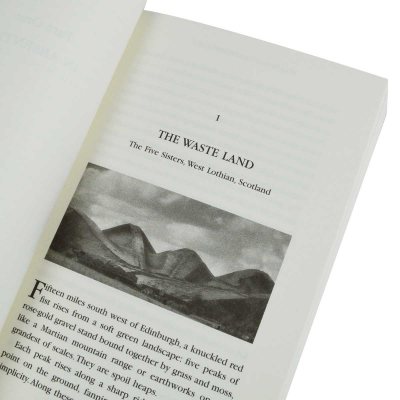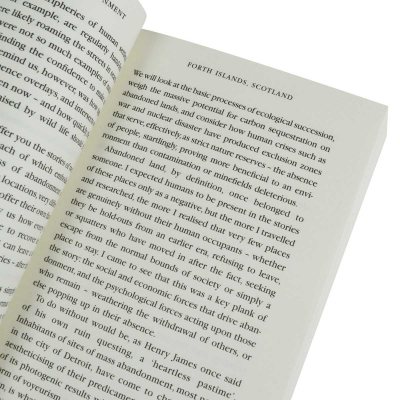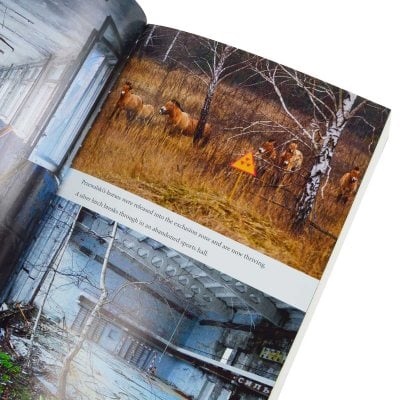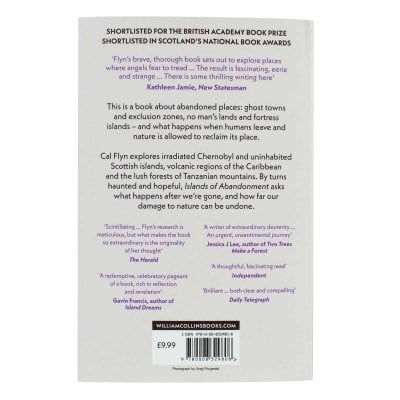 Islands of Abandonment: Life in the Post-Human Landscape (Paperback)
Cal Flyn
(author)
Paperback
384

Pages
Published: 23/12/2021
A haunting journey through the world's abandoned places, Flyn's wide-ranging and reflective meditation on how nature continues in humanity's absence is an eerie yet ultimately optimistic account of ecological diversity.
Winner of the Sunday Times Young Writer of the Year Award 2021
Waterstones Non-Fiction Book of the Month for January 2022
Shortlisted for the Baillie Gifford Prize for Non-Fiction 2021
Shortlisted for the Wainwright Prize for Writing on Global Conservation 2021
This is a book about abandoned places: ghost towns and exclusion zones, no man's lands and fortress islands - and what happens when nature is allowed to reclaim its place.
In Chernobyl, following the nuclear disaster, only a handful of people returned to their dangerously irradiated homes. On an uninhabited Scottish island, feral cattle live entirely wild. In Detroit, once America's fourth-largest city, entire streets of houses are falling in on themselves, looters slipping through otherwise silent neighbourhoods.
This book explores the extraordinary places where humans no longer live - or survive in tiny, precarious numbers - to give us a possible glimpse of what happens when mankind's impact on nature is forced to stop. From Tanzanian mountains to the volcanic Caribbean, the forbidden areas of France to the mining regions of Scotland, Flyn brings together some of the most desolate, eerie, ravaged and polluted areas in the world - and shows how, against all odds, they offer our best opportunities for environmental recovery.
By turns haunted and hopeful, this luminously written world study is pinned together with profound insight and new ecological discoveries that together map an answer to the big questions: what happens after we're gone, and how far can our damage to nature be undone?
Publisher: HarperCollins Publishers
ISBN: 9780008329808
Number of pages: 384
Weight: 360 g
Dimensions: 198 x 129 x 29 mm
---
MEDIA REVIEWS
'Extraordinary ... Just when you thought there was nowhere left to explore, along comes an author with a new category of terrain - not scenes where man has never trod, but places where he has been and gone ... Dazzling' - Spectator
'Exhilarating ... A story of the extraordinary resilience of life in some of the most desolate, ravaged and polluted landscapes on earth' - Daily Telegraph
'Fascinating and brain-energising. It is full of detail and colour that sends one googling, to look up pictures and find out more. It is also an optimistic book ... I'll cling to that bit of unfashionable hope' - The Times
'Brave, thorough ... The result is fascinating, eerie and strange ... There is some thrilling writing here, a fine way with the telling detail, and a plea for radical revisioning of what we mean by "nature" and "wild"' - Kathleen Jamie, New Statesman
'Filled with understanding and adventure ... Written with a beautiful attention to detail and a generous and imaginative frame of mind. The wonderful and surprising thing is how much reassurance and sense of possibility comes out of it at every turn' - Adam Nicolson
'Meticulous research, lyrical writing ... It made me think differently about nature ... At a time when writing about nature can be depressing, a book that goes to the most depressing places on Earth and finds hope is a revelation' - Louise Gray, author of The Ethical Carnivore
'Cal Flyn takes us on a mercurial expedition into the strange lands of human surrender ... Thoughtful, careful, fascinating, poignant, mysterious, surreal, compelling, pace pitch-perfect. I could go on ... and on' - Keggie Carew, author of Dadland
'Bracing, eye-opening, comprehensive, and essential ... An energizing and important work ... should motivate all of us to try harder, even for the habitats that seem broken or hopeless' - Jeff VanderMeer, author of the Southern Reach Trilogy
Cal Flyn named as Sunday Times Young Writer of the Year 2021
Description
Fresh from being crowned as Sunday Times Young Writer of the Year, we're thrilled to hear more from Cal Flyn about her fascinating book, Islands of Abandonment.
Transcription
It is quite an overwhelming experience I think and the main thing that stands out to me is having been picked as one of this group of five writers. I mean many of these writers I've been admiring for years and so that's an incredible privilege and it's incredibly flattering as well, so it means a huge amount to me.
Islands of Abandonment is a non-fiction book about the ecology and psychology of abandoned places. So that is about how the natural world reacts in the absence of people, how it regrows and regenerates, but it's also about how those abandoned places make us feel
I think one of the reasons that people have responded to the book is that sense of hope and faith in the natural world that perhaps comes through in these locations. I know that when I think about the environment when I think about climate change and all the damage that's been done, it is overpowering and I think to move on and to keep going every day it is important for us to have that sense of hope and optimism. And that affects people very differently, so it depends on your personality. But for me, I need to see that sort of glint of light and and, you know, the plants coming through the cracks in the pavement for me to understand what the route forward is. So that's what I was searching for and I hope that other people can find that sense of faith in the book too.
Probably the most surprising place might have been in France. I went to an area that had been the front line during the First World War and they had burnt a lot of chemical weapons in a particular, well what is now a clearing in the woods, and the soil has become impregnated with heavy metals. It's very toxic, 17% of it is arsenic, there's also zinc and lead and cadmium. And these heavy metals are very toxic for plants specifically and what is happening there is that some types of plants are able to sort of grow and start creeping in at the edges because they shut themselves off to the metals and other plants are actually sort of in love with metal and they're called metallophytes. They love metal, they only live in places where there's heavy metal and what they do is they sort of suck it up and they store it in their bodies. And that chapter for me was very magical, it was almost like a fairy story the way that these plants change and colour change and grow or shrink if metal's in their bodies and I just love that. Science can be dry when you write it down, the stats and so on, but actually what it describes is beautiful and magical and what I was trying to get in is that sort of fairy tale sense or sensory information in that chapter and I think that might have been the one I most enjoyed writing.
I hope that it will make people focus on the future and when I say the future I mean not next year or the year after but possibly beyond our own generations. That's what we as humans find very difficult to think about and that we can often be very impatient when we have conservation projects because we want to see results now. But what we need to be thinking about is what are the results in 50 years, and 100 years, what are the results of withdrawing from an area and allowing nature its head? That's much slower than planting a plantation of trees for example but it can have a much more powerful outcome in the long run so I think long-term thinking is something that I wrestled with a lot while I was reading and researching this book and that's something that I'm trying to to think about more in terms of the environment and the climate and that's what we need to be thinking about more generally.
You may also be interested in...
×
Download the Waterstones App
Would you like to proceed to the App store to download the Waterstones App?
Reserve online, pay on collection


Thank you for your reservation
Your order is now being processed and we have sent a confirmation email to you at
When will my order be ready to collect?
Following the initial email, you will be contacted by the shop to confirm that your item is available for collection.
Call us on or send us an email at
Unfortunately there has been a problem with your order
Please try again or alternatively you can contact your chosen shop on or send us an email at