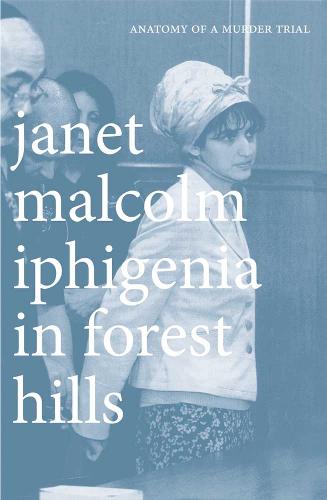 Iphigenia in Forest Hills: Anatomy of a Murder Trial (Paperback)
Janet Malcolm
(author)
Paperback
168

Pages / Published: 27/11/2012
Prizewinning journalist Janet Malcolm discovers the elements of Greek tragedy in a sensational New York City murder trial

"Astringent and absorbing. . . . Iphigenia in Forest Hills casts, from its first pages, a genuine spell - the kind of spell to which Ms. Malcolm's admirers (and I am one) have become addicted."-Dwight Garner, New York Times
"This is shrewd and quirky crime reporting at its irresistible and disabused best."-Louis Begley, Wall Street Journal

"She couldn't have done it and she must have done it." This is the enigma at the heart of Janet Malcolm's riveting book about a murder trial in the insular Bukharan-Jewish community of Forest Hills, Queens, that captured national attention. The defendant, Mazoltuv Borukhova, a beautiful young physician, is accused of hiring an assassin to kill her estranged husband, Daniel Malakov, a respected orthodontist, in the presence of their four-year old child. The prosecutor calls it an act of vengeance: just weeks before Malakov was killed in cold blood, he was given custody of Michelle for inexplicable reasons. It is the "Dickensian ordeal" of Borukhova's innocent child that drives Malcolm's inquiry.
With the intellectual and emotional precision for which she is known, Malcolm looks at the trial-"a contest between competing narratives"-from every conceivable angle. It is the chasm between our ideals of justice and the human factors that influence every trial-from divergent lawyering abilities to the nature of jury selection, the malleability of evidence, and the disposition of the judge-that is perhaps most striking.
Surely one of the most keenly observed trial books ever written, Iphigenia in Forest Hills is ultimately about character and "reasonable doubt." As Jeffrey Rosen writes, it is "as suspenseful and exciting as a detective story, with all the moral and intellectual interest of a great novel."
"Iphigenia in Forest Hills is another dazzling triumph from Janet Malcolm. Here, as always, Malcolm's work inspires the best kind of disquiet in a reader-the obligation to think." -Jeffrey Toobin, author of The Nine: Inside the Secret World of the Supreme Court
"A remarkable achievement that ranks with Malcolm's greatest books. Her scrupulous reporting and interviews with protagonists on both sides of the trial make her own narrative as suspenseful and exciting as a detective story, with all the moral and intellectual interest of a great novel." -Jeffrey Rosen, author of The Supreme Court: The Personalities and Rivalries that Defined America
Publisher: Yale University Press
ISBN: 9780300181708
Number of pages: 168
Weight: 180 g
Dimensions: 200 x 125 x 11 mm
---
MEDIA REVIEWS
"[Malcolm] is acute-and devastating."-Emily Bazelon,
New York Times Book Review
(Editor's Choice)
"Reading [Malcolm], you have the sensation of encountering a mind at once incredibly blunt and terrifically precise: a sledgehammer that could debone a shad. That rare and strange effect could only be produced by an intellect as formidable as Malcolm's."-Kathryn Schulz,
Boston Globe
"This is shrewd and quirky crime reporting at its irresistible and disabused best."-Louis Begley,
Wall Street Journal
"In Iphigenia in forest Hills, Janet Malcolm turns her excellence in first-person reportage to the American justice system, by way of a real jury trial in New York City in 2009. . . . A gripping read."-Marcel Berlins,
The Times
"[Malcolm] is an excellent observer, with a good eye for detail."-Lynn Barber,
The Sunday Times
"Ms. Malcolm's books have wintry atmospheres-both intellectual and aesthetic-that derive partly from the way she takes facts and attaches them, like someone hanging tea-light candles from high rafters, to mythology and classic literature."-Dwight Garner, New York Times

"It would be interesting to put Tom Wolfe (a humidifier) and Ms. Malcolm (a dehumidifier) on the same court case and let them fight it out for the available oxygen in the room."-Dwight Garner, New York Times

"[Malcolm's] observations about the legal system in America are fierce and finely ground."-Dwight Garner, New York Times

"This new book does for the courtroom what Malcolm's previous books did for biography, journalism and psychoanalysis. It shows that in a high-stakes trial nobody, least of all the judge, is an entirely disinterested player."-Jonathan Bate, The Sunday Telegraph

"Janet Malcolm's new book, Iphigenia in Forest Hills, is a slim little volume. If it is a cold night and you don't mind a few wrinkles, you can read the entire thing in the bath. If it is not a cold night, it will feel like one by the time you finish."-Kathryn Schulz, Boston Globe

"Iphigenia in Forest Hills is an incendiary book that begins and ends-like any good epic must-in medias res. . . . It's a story that discomfits as much as it explains. Not for Malcolm the journalism of 'reassurance' or 'rhetorical ruses,' her small book with big stakes and mythic underpinnings flies close to the sun. It unsettles and scorches and soars."-Parul Sehgal, Bookforum

"Absorbing. . . . Iphigenia in Forest Hills casts, from its first pages, a genuine spell-the kind of spell to which Ms. Malcolm's admirers (and I am one) have become addicted."-Dwight Garner, New York Times Book Review


"Janet Malcolm has produced another masterpiece of literary reportage."-Geoff Dyer, FT.com
"Malcolm's interpretation is . . . astonishing. . . . Under her brilliant gaze, a seemingly incidental detail shines suddenly with meaning."-Elizabeth Gumport,
The Guardian
"This absorbing book is [Malcolm's] account of a trial that throws an unflattering spotlight on the US justice system, and will make every American cross their fingers and hope never to sit in the dock."-Rosemary Goring,
Glasgow Herald
"If you have never read Malcolm, you are in for a treat. All her books are short and sharp and fiercely intelligent: as one of her colleagues put it, her 'blade gleams with a razor edge'....Trials make great theatre and the five week trial of Borukhova and Mallayev offered Malcolm some very colourful characters."-Craig Brown,
The Mail on Sunday
"Malcolm has written a fascinating story....her essay's after effect is entirely disproportionate to its brevity. The disquiet stays with you. It's there in the pit of your stomach."-Rachel Cooke,
The Observer
"As soon as I read this bizarre murder story, I felt impelled to read it again. It is impossible to put down."-Julia Pascal,
The Independent
". . . . it's after the trial, when Malcolm gets among the Bukharan families in their homes, that she is most splendidly and poignantly in her element. Her presence in the text is lighter, her touch firmer and more delicate, and her attention more warmly and accurately attuned, than those of any other writer I can think of. All her life she has been perfecting this superb narrating and analytical voice and I for one would follow it anywhere."-Helen Garner,
Sydney Morning Herald
"A prize-winning journalist discovers the elements of Greek tragedy in a sensational murder trial. This is a riveting account of the recent bizarre and intriguing Borukhova case. Janet Malcolm's journalistic brilliance paints an unsettling picture of a fractured marriage, legal manoeuvrings and a fatal custody battle that precipitated murder."-
Granta
"Janet Malcolm's characteristically incisive account of a murder trial."-Geoff Dyer,
Prospect Magazine
"A passionate, incredulous indictment of the American legal system and its brutal bureaucracy."-Christopher Hirst, The Independent i
A Lifetime Achievement award for 2011 was given to nonfiction writer and journalist Janet Malcolm by the English-Speaking Union of the United States
Runner-up for the Biography/Autobiography category at the Los Angeles Book Festival
Finalist for the 2012 Book of the Year in the True Crime category, as awarded by ForeWord Magazine
You may also be interested in...
×
Download the Waterstones App
Would you like to proceed to the App store to download the Waterstones App?
Reserve online, pay on collection.
Or,
add to basket
, pay online, collect in as little as 2 hours, subject to availability.
Thank you for your reservation
Your order is now being processed and we have sent a confirmation email to you at
When will my order be ready to collect?
Following the initial email, you will be contacted by the shop to confirm that your item is available for collection.
Call us on or send us an email at
Unfortunately there has been a problem with your order
Please try again or alternatively you can contact your chosen shop on or send us an email at