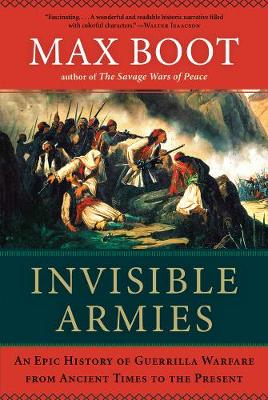 Invisible Armies: An Epic History of Guerrilla Warfare from Ancient Times to the Present (Hardback)
Max Boot
(author)
Hardback
784

Pages / Published: 15/01/2013
In stock online

Free UK delivery
Beginning with the first insurgencies in the ancient world-when Alexander the Great discovered that fleet nomads were harder to defeat than massive conventional armies-Max Boot, best-selling author and military advisor in Iraq and Afghanistan, masterfully guides us from the Jewish rebellion against the Roman Empire up through the horrors of the French-Indochina War and the shadowy, post-9/11 battlefields of today. Relying on a diverse cast of unforgettable characters-not only Mao and Che but also the legendary Italian nationalist Giuseppe Garibaldi, the archaeologist-turned-military commander T. E. Lawrence, and the "Quiet American" Edward Lansdale, among others-Boot explodes everything we thought we knew about unconventional combat. The result is both an enthralling read and our most important work on nontraditional warfare.
Publisher: WW Norton & Co
ISBN: 9780871404244
Number of pages: 784
Weight: 1270 g
Dimensions: 244 x 170 x 51 mm
---
MEDIA REVIEWS
"[A] comprehensive history of guerrilla warfare, breezily written and chock-full of perceptive insights.... [Boot] has a great feel for details...a mighty impressive achievement, one that should be a bible for policymakers everywhere in the civilized world." -- Steve Forbes - Forbes Magazine
"A sweeping panorama that ranges over a vast terrain... thoughtful, smart, fluent, with an eye for the good story." -- Mark Mazover - New York Times Book Review, Front Page Review
"Max Boot has written a landmark book about a perennial and important challenge: guerilla warfare." -- Jon Meacham, author of the Pulitzer Prize-winning American Lion: Andrew Jackson in the White House
"A penetrating writer and thinker." -- Wall Street Journal
"Fascinating. . . . Beginning with the barbarians at the gates of the Roman Empire, a wonderful and valuable historic narrative filled with colorful characters." -- Walter Isaacson
"[D]estined to be the classic account of what may be the oldest as well as the hardest form of war." -- John Nagl - The Wall Street Journal
"This is the definitive treatment of guerrilla warfare through the ages-a tour de force by a preeminent military historian who has advised generals, policymakers and political leaders on the subject." -- Senator John S. McCain
"An expansive nuts-and-bolts historical survey from a keen military mind." -- Kirkus Reviews
"...[I]mpressively researched, astutely synthesized, and eminently readable." -- Booklist
"The word "magisterial" is bandied about far too freely these days, but in the case of Max Boot's sweeping and deeply researched history of guerrilla warfare, it proves fair. Somewhere in the first third of Boot's book, you begin to realize that guerrilla wars (and terrorism and insurgencies) are the way we fight, while the formal set battles of, say, the Napoleonic wars are but an exception." -- Lucas Wittmann - The Daily Beast
"For the historian and journalist Max Boot to use the phrase `an epic history' in the subtitle of his own book implies a magnificent lack of modesty in his own capabilities. The work more than matches the hype.... This pathbreaking book should thus be on the reading list of every NATO officer hoping to defeat an insurgency." -- Andrew Roberts - Commentary
"Invisible Armies' is a magisterial account of insurgency and counterinsurgency across the ages, peppered with fascinating personalities such as Robert the Bruce, Giuseppe Garibaldi, Che Guevara, Edward Lansdale, Osama bin Laden and David Petraeus. Out of narrative emerges cogent analysis: The author offers important insights relevant to any modern power faced with a guerrilla opponent. Hard lessons are, however, delivered with elegant prose. Leaving aside what Invisible Armies teaches us, this is a wonderful read." -- Gerard DeGroot - Washington Post
"Max Boot's alternative military history is so marvelously readable because every section-and there are many in this epic of 750 pages-is moved along by a vividly pictured zealot, mass murderer, mini-murderer, tactician, partisan, general, king-as well as the weary survivors of battles, wars, massacres, atrocities." -- Manueala Hoelterhoff - Business Week
"There's no better guide to both the past and the future than Invisible Armies, the tour de force of a scholar as well as a man who's seen American adversaries and soldiers at work up close." -- The Weekly Standard
"In his encyclopedic history of guerrilla warfare, Max Boot, a military analyst at the Council on Foreign Relations, makes a crucial observation: that [guerrilla warfare] has been a far more enduring feature of conflict than many realize... [An] important survey.... Nicely drawn portraits of the leading figures in the insurgents' pantheon-Giuseppe Garibaldi, T.E. Lawrence, Orde Wingate, Mao Zedong." -- James Blitz - Financial Times
"Lively.... A timely reminder to politicians and generals of the hard-earned lessons of history." -- The Economist
"Max Boot is an ideal guide to offer such a timely and, in some ways, reassuring history of guerilla warfare.... A considerable achievement that will ensure Invisible Armies remains a valuable scholarly research tool as well as popular history.... Boot is concerned with neither a morality tale nor politics, but in conducting a disinterested examination of a method of war that is still poorly understood, yet increasingly relevant to our own security.... Boot's formal findings may startle.... [A] magisterial study." -- Victor Davis Hanson - The New Criterion
"Boot is an elegant writer .... Invisible Armies is a timely book." -- Mackubin Thomas Owens - National Review
"Enormous, brilliant, and important...should be required reading in the White House and Pentagon.... Lucid, enlightening, and highly readable." -- Michael Korda - The Daily Beast
"[B]rilliantly sums up the lessons of the centuries." -- Martin Walker - The Wilson Quarterly
"[C]ool and balanced." -- John Gray - The New Statesman
"[A] rich and enthralling history of guerrilla warfare." -- Jay Winik, author of April 1865 and The Great Upheaval
"A magisterial overview of insurgency and counterinsurgency, peppered with fascinating personalities. The author counts 442 insurgencies since the American Revolution, 25.2 percent of which were successful." -- Gerard DeGroot - Washington Post
"Boot, a senior fellow at the Council on Foreign Relations and the author of The Savage Wars of Peace, presents an astutely synthesized account of insurgency and counterinsurgency through the ages-from the Peloponnesian War to the post-Sept. 11 battlefields of today."" -- Ihsan Taylor - New York Times Book Review
You may also be interested in...
Simply reserve online and pay at the counter when you collect. Available in shop from just two hours, subject to availability.
Thank you for your reservation
Your order is now being processed and we have sent a confirmation email to you at
When will my order be ready to collect?
Following the initial email, you will be contacted by the shop to confirm that your item is available for collection.
Call us on or send us an email at
Unfortunately there has been a problem with your order
Please try again or alternatively you can contact your chosen shop on or send us an email at