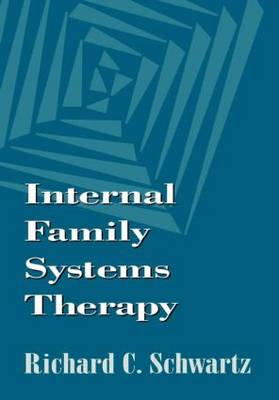 Internal Family Systems Therapy - The Guilford Family Therapy (Hardback)
Richard C. Schwartz
(author)
Hardback
248

Pages / Published: 12/01/1995
Most theorists who have explored the human psyche have viewed it as inhabited by subpersonalities. Beginning with Freud's description of the id, ego, and superego, these inner entities have been given a variety of names, including internal objects, ego states, archetypes and complexes, subselves, inner voices, and parts. Regardless of name, they are depicted in remarkably similar ways across theories and are viewed as having powerful effects on our thoughts and feelings.
In his important new book, Richard C. Schwartz applies systems concepts of family therapy to this intrapsychic realm. The result is a new understanding of the nature of people's subpersonalities and how they operate as an inner ecology, as well as a new method for helping people change their inner worlds. Called the Internal Family Systems (IFS) model, this approach is based on the premise that people's subpersonalities interact and change in many of the same ways that families or other human groups do. The model provides a usable map of this intrapsychic territory and explicates its parallels with family interactions.
The IFS model can be used to illuminate how and why parts of a person polarize with one another, creating paralyzing inner alliances that resemble the destructive coalitions found in dysfunctional families. It can also be utilized to tap core resources within people. Drawing from years of clinical experience, the author offers specific guidelines for helping clients release their potential and bring balance and harmony to their subpersonalities so they feel more integrated, confident, and alive. Schwartz also examines the common pitfalls that can increase intrapsychic fragmentation and describes in detail how to avoid them. Finally, the book extends IFS concepts and methods to our understanding of culture and families, producing a unique form of family and couples therapy that is clearly detailed and has straightforward instructions for treatment.
Offering a comprehensive approach to human problems that allows therapists to move fluidly between the intrapsychic and family levels, this book will appeal to both individual- and family-oriented therapists. Easily integrated with other orientations, the IFS model provides a nonpathologizing way of understanding problems or diagnoses, and a clearly delineated way to create an enjoyable, collaborative relationship with clients.
Publisher: Guilford Publications
ISBN: 9780898622737
Number of pages: 248
Weight: 528 g
Dimensions: 229 x 152 x 26 mm
---
MEDIA REVIEWS
"The recent inclusion of dissociative identity disorder in the DSM-IV (1994) signals a continuing shift from the preconscious/conscious/unconscious model toward a multiple consciousness/split-consciousness paradigm. Among the more important voices in this revival is Dr. Richard Schwartz, whose Internal Family Systems (IFS) model is an elegant synthesis of the best principles of family systems therapy and the evolving, multiple-selves paradigm of personality and consciousness.

In this important and timely book, Dr. Schwartz presents a thoughtful, extensively researched and practical clinical model that therapists will be able to apply to a broad range of clinical issues. Schwartz shows not only how this model may be applied to individuals and families, but also to understanding and changing broader human systems at the level of culture and society. The model also offers a way of understanding transference and countertransference that is both elegant in its explanatory ability and pragmatic in its clinical applicability.

Clinicians and other readers interested in paradigms of consciousness will appreciate the gentle, yet powerful challenge to Western assumptions about consciousness and personality this book represents." --David L. Calof, editor-in-chief, Treating Abuse Today, clinical director, Family Psychotherapy Practice of Seattle, author (with Mary Leloo) of Multiple Personality and Dissociation: Understanding Incest, Abuse, and MPD

"Internal Family Systems Therapy, developed by Richard Schwartz, is one of the most innovative psychotherapeutic approaches to emerge in recent years. Schwartz's model is a unique application of family systems theory to the complex and conflictual interactional system within each person. Psychotherapists working with individuals, couples, or families will find these ideas and methods stimulating and useful, and will value Schwartz's compassion and respect for clients in their painful dilemmas and their change efforts." --Froma Walsh, Ph.D., Professor & Co-Director, Center for Family Health, University of Chicago, Past President, American Family Therapy Academy

"In a complex world, systems thinking is the tool of choice. To my knowledge, it has never been before been put to such good use as it has in Richard Schwartz's model of the Internal Family System. His description of the inner world of the psyche is the clearest and most useful I have ever encountered. Any improvement in the modeling of personality of this magnitude deserves very serious attention. He writes well too, which is a great blessing." --Ron Kurtz, B.A., Developer of the Hakomi Method of Body Centered Psychotherapy

"Each of us is lobbied by a clamor of disembodied inner voices. In his clinical work, Richard Schwartz engages with each of these voices as though it were a full, living member of a small, discordant, yet loyal parliament, one in which the core self of the client permanently presides. By applying family systems approaches to this interior assembly, Schwartz enables the client to comprehend and grapple effectively with many problems, even with such bedeviling maladies as bulimia and self-mutilation. His brilliantly imaginative methods feel natural and immediately acceptable to most individuals and families. The clear, intelligent exposition makes this enchanting book equally accessible to students and experienced clinicians." --Richard Chasin, MD, Family Institute of Cambridge; Associate Clinical Professor of Psychiatry, Harvard Medical School; President, American Family Therapy Academy

"This book presents the Internal Family System's model in a clear and readable way, providing wonderful case examples. The model is an excellent integration of systems theory and individual psychology which has literally transformed the way I work with clients. Because my MFT students have found it to be a tremendous help in their personal growth and in their growth as clinicians, I will continue to use it in my MFT theory courses. I refer to it over and over again in my clinical work, and hope that the author continues to share his ideas with the field." --Laura Johnson, PhD,, Assistant Professor, Appalachian State University

"Richard Schwartz is one of family therapist's most creative explorers. This long-awaited volume on his Internal Family Systems (IFS) model makes him the Magellan of family members' inner lives. Schwartz has done for internal systems what Haley and Minuchin did for external family processes. Schwartz makes the invisible visible in ways that are compelling, lucid, and clinically useful. He shows how the psyche is both systemic and accessible, and his model could well revolutionize family therapy. A far cry from your typical dry text, a spirit of adventure and discovery permeates this landmark volume! Must reading for anyone who wants to stay up on current models in the field. This book has generated enormous excitement among my students, and I highly recommend it to teachers and learners of therapy of any persuasion." --Douglas H. Sprenkle, Ph.D., Purdue University, Editor, Journal of Marital and Family Therapy

"....A hallmark of humbleness and thoroughness. Schwartz recognizes that he is not the first theorist to view the mind as a multiplicity-oriented entity....His thoroughness shines as he provides detailed instructions for assessing and working with individuals' internal family systems. In a refreshing stance, he also discusses the common mistakes and pitfalls that new therapists make in practicing this model....This book will be both theoretically enriching and clinically helpful...." --Joseph L. Wetchler in Journal of Family Psychotherapy

"...offers the clinician a new tool for understanding internal conflicts and methods for working with themes of ambivalence and conflicting desires." --Robert L. Beck, American Journal of Psychotherapy

You may also be interested in...
Simply reserve online and pay at the counter when you collect. Available in shop from just two hours, subject to availability.
Thank you for your reservation
Your order is now being processed and we have sent a confirmation email to you at
When will my order be ready to collect?
Following the initial email, you will be contacted by the shop to confirm that your item is available for collection.
Call us on or send us an email at
Unfortunately there has been a problem with your order
Please try again or alternatively you can contact your chosen shop on or send us an email at