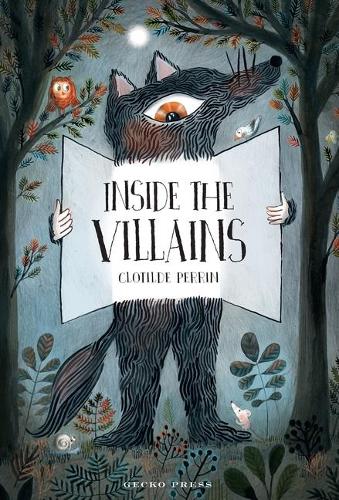 Hardback
12

Pages
Published: 01/11/2018
An extraordinary pop-up book that reveals the secrets of the most famous fairytale villians: giants, wolves and witches
Lift the flaps to see the devilish tricks inside each villain's head, what's beneath their disguise, who was the victim of their last meal (now comfortably settled inside their stomach!). Read all about each villain on their personality card, which shows strengths and weaknesses, favourite pastimes, physical characteristics, their best meal and—of course—their favourite books.
This exquisitely produced book is like no other: a celebration of story that's full of humour and detail, to mesmerise readers of all ages.
Publisher: Gecko Press
ISBN: 9781776571987
Number of pages: 12
---
MEDIA REVIEWS
Evil figures in childhood stories--the Wolf, the Giant, the Witch--disclose their secrets in this French import. Through cunning paper-engineering techniques (using flaps, levers and strings), skillfully rendered images, traditional stories and personal dossiers, each villain's history unfolds in the creamy thick pages of this oversized volume. Inside the Villains by Clotilde Perrin is a handsome literary and visual package that invites exploration with the fingers, the eyes and the imagination. Each of the three sections opens with a first-person narrative by the villain. The wolf starts, 'Yes, it's true that I sometimes happen to eat (okay, devour) lost children, little pink piglets, grandmothers and occasionally even baby goats.' A gatefold then reveals 'More About Me, ' including 'My Strengths, ' 'My Weaknesses, ' 'Games I Like' and 'My Library, ' listing the Wolf's various starring roles. The story of 'The Wolf and the Seven Little Goats' appears next, in a three-column layout with generous white space, and then--the piece de resistance--a full-page hairy wolf shape opens to expose grandma's embroidered nightgown and valentine socks over hairy feet. Other flaps open to show the wolf's stitched-up stomach, his brain with dastardly thoughts labeled 'brilliant ideas' and his long snout with pointed teeth, closing around baby goats. The Giant and the Witch get the same treatment with the stories 'Jack and the Beanstalk' and, unexpectedly, 'Alyoskha and Baba Yaga, ' where a Russian witch tries to roast a boy. The witch's attributes come from tales listed in her library section: a dress embellished with lollipops, an apple, a cat hidden in her pocket and a boy in a small cage on her inner skirt. Open the skirt again for further surprises. This is a book that children will likely ask for eagerly (and repeatedly) to continue discovering its mysteries. Discover: Not a beginner's fairy tale book, the beautifully designed Inside the Villains provides shivery delights for children.--Shelf Awareness -- "Website" (11/15/2018 12:00:00 AM) In delicate interactive paper flaps within a wonderfully oversize book, Perrin (At the Same Moment, Around the World) explores the true characters of three archetypal villains: a wolf, a giant, and a witch. Each fiend receives a gatefold's worth of background information: an introductory message ('I am the wolf. Everyone is afraid of me'), a well-known tale, and a trait sheet that details the baddie's strengths ('mastery of evil spells'), weaknesses ('digestive problems'), distinguishing features ('huge buttocks')--even its library. But the real pleasure is found in large lift-the-flap portraits of these mythical figures: The wolf's fur folds away to reveal Grandma's embroidered nightgown beneath it (pockets filled with octogenarian notions), which itself opens to skin level, where clever flaps show the contents of the animal's scarred stomach and wily mind. The giant's outerwear peels away to show what (or who) is hiding beneath his red hat and within his jacket's sausage-patterned lining. And a feather cape opens to reveal the witch's frock, her pocket's removable surprises, and the dreadful treasures she's stowed in her petticoats. In this book of detailed devils, which offers all the joys of paper crafts with none of their frustrations, the devil is most certainly in the details.--Publishers Weekly -- "Journal" (7/30/2018 12:00:00 AM) The title can be taken literally, as the figures of a wolf, a giant, and a witch posing on the right sides of each big spread are kitted out with artful multilayered flaps that, lifted up, reveal contents of heads and stomachs as well as underclothes and pockets full of knives, captive children, or other treasures. Thus, readers tantalized by the wolf's list of strengths and flaws and a full version of 'The Wolf and the Seven Little Goats' beneath the gatefold opposite can peel aside his pelt to see him clad in 'Grandma's nightgown, ' open up his head to see strategies for getting into various houses, move his jaws up and down to marvel at his big teeth, and lift up a cut spiral to view kids and other victims in his 'Misery-guts.' Or lift the witch's petticoat for a gander at her underpants, or peer beneath the giant's vest to reveal tattoos with 'Hangry, ' 'Sausage Power, ' and other legends. Each villain is presented with one unabridged tale ('Jack and the Beanstalk' and 'Alyoshka and Baba Yaga' are the other two) and lots of oblique but easily recognizable references ('THINGS I HATE: Mirrors, girls fairer than I, children who are too smart, wide open ovens'). In addition, each profile includes a list of other related, popular stories (mostly but not entirely European). The witch, the giant, and all of the smaller human figures are white. Splendid introductions, chock-full of villainous revelations and insights both figurative and literal.--starred, Kirkus Reviews -- "Journal" (7/24/2018 12:00:00 AM)
You may also be interested in...
×
Download the Waterstones App
Would you like to proceed to the App store to download the Waterstones App?
Reserve online, pay on collection


Thank you for your reservation
Your order is now being processed and we have sent a confirmation email to you at
When will my order be ready to collect?
Following the initial email, you will be contacted by the shop to confirm that your item is available for collection.
Call us on or send us an email at
Unfortunately there has been a problem with your order
Please try again or alternatively you can contact your chosen shop on or send us an email at