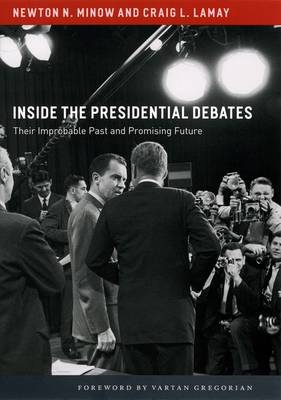 Hardback
Published: 11/04/2008
Newton N. Minow's long engagement with the world of television began nearly fifty years ago when President Kennedy appointed him chairman of the Federal Communications Commission. As its head, Minow would famously dub TV a "vast wasteland," thus inaugurating a career dedicated to reforming television to better serve the public interest. Since then, he has been chairman of PBS and on the board of CBS and other companies, but his most lasting contribution remains his leadership on televised presidential debates.Written with longtime collaborator Craig L. LaMay, this fascinating history offers readers for the first time a genuinely inside look into the origins of the presidential debates and the many battles - both legal and personal - that have determined who has been allowed to debate and under what circumstances. The authors do not dismiss the criticism of the presidential debates in recent years but do come down solidly in favor of them, arguing that they are one of the great accomplishments of modern American electoral politics.Looking to the challenges posed by third-party candidates and the emergence of new media such as YouTube, Minow and LaMay ultimately make recommendations for the future, calling for the debates to become less formal, with candidates allowed to question each other and citizens allowed to question candidates directly. They also explore the many ways in which the Internet might serve to broaden the debates' appeal and informative power. Whether it's Clinton vs. Giuliani or McCain vs. Obama and a third candidate, "Inside the Presidential Debates" will be welcomed in 2008 by anyone interested in where this crucial part of our democracy is headed - and how it got there.
Publisher: The University of Chicago Press
ISBN: 9780226530413
You may also be interested in...
We would love to hear what you think of Waterstones. Why not review Waterstones on Trustpilot?