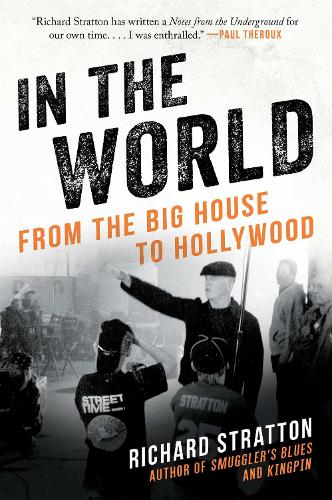 In the World: From the Big House to Hollywood (Hardback)
Richard Stratton
(author)
Hardback
336

Pages / Published: 17/10/2019
Smuggler's Blues, the first book in Richard Stratton's memoir of his criminal career, detailed his years as a kingpin in the Hippie Mafia. Kingpin, the second book, traced his eight-year journey through the criminal justice system, through two federal trials and myriad jails and prisons and culminating in his success as a self-taught jailhouse lawyer winning his own release. In this final volume, Stratton recounts his return to civilian life, as a convicted felon who had been forced to confront his demons and an aspiring writer who yearned to make his mark.

From parole to Hollywood to marriage and fatherhood, he found his way in the free world. Working in the New York office of a criminal defense attorney, he somehow adhered to the stringent conditions of his release not to associate with other felons. When his prison novel Smack Goddess was published, his mentor Norman Mailer entered his life again. Going to Hollywood to consult on a documentary, he became a writer and producer, and his feature film Slam won major awards at Sundance and Cannes. In the World includes profiles of celebrities such as Mailer, Oliver Stone, Sean Penn, Harvey Keitel, Robert De Niro, and others.
Publisher: Skyhorse Publishing
ISBN: 9781628727272
Number of pages: 336
Dimensions: 229 x 152 mm
---
MEDIA REVIEWS
Praise for Smuggler's Blues
"Many of the tales of his real-life adventures in search of a massive high and the ultimate payday are absorbing in the same zany way as his fiction . . . [f]eaturing encounters with the late David Bowie and Norman Mailer, plus Mick Jagger and convicted murderer and mob boss Whitey Bulger." -Publishers Weekly

"A wild, entertaining ride . . . A compulsively interesting story with the requisite drama and suspense that will keep the pages turning. . . . Stratton and his crew pulled off a surprising number of impressive smuggles while Wolfshein tried to pin them down, and Stratton throws in a lot of extra color by way of lavish spending, sex, and glittering parties that make heads spin. Near misses abound and offer great fun for readers." -Kirkus Reviews

"Smuggler's Blues is an adrenaline rush, a high-stakes ride from Maine to Lebanon to the Caribbean. . . . This book will get under your skin, enter your blood stream, and mess with your head." -T. J. English, New York Times, best-selling author The Savage City and Havana Nocturne

"There is no one who both knows the deadly world of international drug trafficking and who can tell the tale in such a stylishly compelling way, than Richard Stratton, a man who walked the walk and lived to tell about it." -Michael Levine, former undercover DEA agent and author of the New York Times bestsellers Deep Cover and The Big White Lie

"No wonder Norman Mailer liked hanging out with Richard Stratton. His drug-fueled early years read like the stuff of great fiction. Crazed drug cowboys, daredevil pilots, Lebanese hashish lords, a DEA nemesis who's half Javert, half Columbo . . . plus, cameo appearances by Jagger, Bowie, and Whitey Bulger. Smuggler's Blues is not only a mad romp, it's a brilliant indictment of the flaming absurdity of America's war on drugs." -David Talbot, founder of Salon and author of The Devil's Chessboard: Allen Dulles, the CIA and the Rise of America's Secret Government

"Beneath the story of drug smuggling and risk . . . Stratton offers a blistering indictment of the Drug War and a call for Americans to be actively engaged in the political process." -The Stoner's Cookbook

"Smuggler's Blues is a must-read for those enticed by nonstop adventure and outlaw books. It's definitely one for the handy bookshelf." -Provincetown Banner

"In 1982, Richard Stratton, one of the last great hippie marijuana smugglers, was hit with a long stretch of hard time all because he wouldn't give the feds his buddy, Norman Mailer. Yes, that Norman Mailer, the literary lion with the roaring ego. Sure, the Drug Enforcement Administration had Stratton dead to rights on the crime. In his new book, Smuggler's Blues, he details exactly how he managed to get a ton and a half of Lebanese hash through customs in New Jersey in a $15 million deal." --New York Daily News

Praise for Kingpin
"Stratton's latest book . . . details his treacherous trip through the federal prison system with an unfiltered voice and a knack for finding humor in the most desolate of spaces."-New York Post

"Richard Stratton's powerful memoir Kingpin is a sharp reminder that 'Orange' in not the 'New Black.' There is nothing romantic or exotic about a trip through the criminal justice system and federal prison. Stratton's page-turning account takes us through the mendacity of the criminal justice system, with its relentless drive to turn him into an informer, and into the arbitrary and casual brutality of prison life. Spoiler alert: Stratton refused to snitch and emerged with his principles intact. But he paid a heavy price for fighting the war on drugs."-Ronald L. Kuby, civil rights and criminal defense attorney

"Stratton's portrait of prison life is unsparing . . . This prison memoir stands out due to Stratton's elite criminal status and also the quality of his writing, which tends to be observant, mordant, and sometimes hilariously vulgar. A pulpy, well-crafted recollection of time behind bars packed with unsettling questions about society's embrace of mass imprisonment and the drug war."-Kirkus Reviews

"There is nothing abstract or contentious about Richard Stratton's Kingpin, an indictment of America's severely flawed and corrupt system of criminal justice. He has experienced it all at firsthand, spending eight years on a journey through the squalid prisons and politically tainted courts, from Los Angeles to New York and points between. His story is told in the first person and present tense which gives it an immediacy and pace that catches the reader early and won't let go. At one point, recounting his harrowing experience, Stratton writes. `But then, just maybe I will make it through and live long enough to write about it. That is my secret desire, my solitary plan.' He has fulfilled his desire, accomplished his plan, and succeeded brilliantly." Convicting the Innocent: Death Row and America's Broken System of Criminal Justice." -Stanley Cohen, author of Convicting the Innocent: Death Row and America's Broken System of Criminal Justice
Simply reserve online and pay at the counter when you collect. Available in shop from just two hours, subject to availability.
Thank you for your reservation
Your order is now being processed and we have sent a confirmation email to you at
When will my order be ready to collect?
Following the initial email, you will be contacted by the shop to confirm that your item is available for collection.
Call us on or send us an email at
Unfortunately there has been a problem with your order
Please try again or alternatively you can contact your chosen shop on or send us an email at