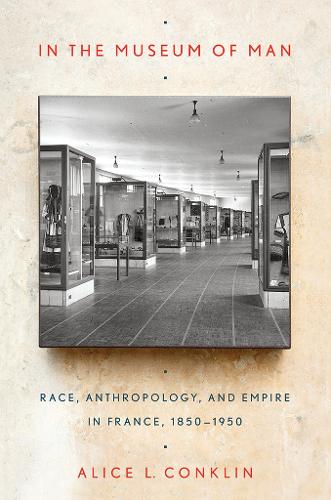 In the Museum of Man: Race, Anthropology, and Empire in France, 1850-1950 (Paperback)
Alice L. Conklin
(author)
Paperback
392

Pages / Published: 15/10/2013
In the Museum of Man offers new insight into the thorny relationship between science, society, and empire at the high-water mark of French imperialism and European racism. Alice L. Conklin takes us into the formative years of French anthropology and social theory between 1850 and 1900; then deep into the practice of anthropology, under the name of ethnology, both in Paris and in the empire before and especially after World War I; and finally, into the fate of the discipline and its practitioners under the German Occupation and its immediate aftermath.
Conklin addresses the influence exerted by academic networks, museum collections, and imperial connections in defining human diversity socioculturally rather than biologically, especially in the wake of resurgent anti-Semitism at the time of the Dreyfus Affair and in the 1930s and 1940s. Students of the progressive social scientist Marcel Mauss were exposed to the ravages of imperialism in the French colonies where they did fieldwork; as a result, they began to challenge both colonialism and the scientific racism that provided its intellectual justification. Indeed, a number of them were killed in the Resistance, fighting for the humanist values they had learned from their teachers and in the field. A riveting story of a close-knit community of scholars who came to see all societies as equally complex, In the Museum of Man serves as a reminder that if scientific expertise once authorized racism, anthropologists also learned to rethink their paradigms and mobilize against racial prejudice-a lesson well worth remembering today.
Publisher: Cornell University Press
ISBN: 9780801478789
Number of pages: 392
Weight: 567 g
Dimensions: 235 x 156 x 25 mm
---
MEDIA REVIEWS
"Conklin's history of French anthropology/ethnology is a very welcome addition to the history of the field, a subtle, detailed, and fine-grained account of the development-in some cases the underdevelopment-of the discipline in the colonial era. She focuses in particular on changing and contested ideas of 'race.' Indeed, anthropology emerged in nineteenth-century France as an elaboration of biological 'race science' under the aegis of Paul Broca, who endeavvored to demonstrate European biological superiority through the rigorous comparative analysis of skeletal remains. Paradoxically, Broca's very rigor ultimately doomed the enterprise."-The International Journal of African Historical Studies
"In the Museum of Man is provocative in that it implicitly invites scholars to treat 'science'not so very differently from the way in which we treat magic.... This invokes the big question of human history: why do people believe what they believe; what instruments do people with special knowledge use in order to demonstrate their beliefs 'work'?" - Julia Fein, Ab Imperio (2014)
"This masterfully researched study examines the transformation of French anthropology, including its institutionalization and professionalization. . . . As Conklin makes clear in this thorough and highly valuable study, the vestiges of belief in racial hierarchy did not disappear, but the intellectual circles of Rivet and Mauss helped bring it into disrepute."-Martin S. Staum, Isis Journal (September 2014)
"Conklin reconstructs this history with subtlety, and she writes with verve. Her footnotes and bibliography document her deep archival research and vast secondary reading. She touches upon developments in many of the human sciences: philology and linguistics, ancient religions, art, history, archaeology, and museography. She also discusses how the transformations of German, British, and U.S. anthropology were in transnational dialogue with the French. ...Conklin writes for scholars who can and must make...connections themselves, offering us an opportunity to engage in self-reflection about how science and the core categories of our disciplines are always saturated in the politics of the present."-Jonathan Judaken, American Historical Review (February 2015)
"Conklin explores how race and empire functioned within anthropology in different times and in different contexts from 1850 to 1950. The resulting narrative is complex, nuanced, deeply researched, and ultimately fascinating. Organized more or less chronologically, the seven chapters of this book interweave intellectual, cultural, and political history as Conklin examines the works of the main French anthropologists, the institutions that housed them (laboratories, museums, and schools) and the contexts (political and academic) that framed their projects."-Camille Robeis,The Journal of Modern History(September 2015)
"Alice L. Conklin's tightly-woven narrative...frankly confronts the occasionally disturbing nuances of the very human choices made by researchers driven to better understand humanity and human interactions. Using an impressive array of archival texts (a term she extends to physical objects and photographs) Conklin is masterful in her exploration of how race, racism and ethnology were redefined by the men and women who created the Museum of Man (Le Musee de l'Homme) between the two world wars. Conklin's book is a powerfully told story of this evolution and its hiccups, and therefore of the scientific roots of race, racism, colonialism, anticolonialism and antiracism in the twentieth century, and is well worth reading."-Jennifer Ann Boitin,European History Quarterly(vol. 46, no. 1)
"The human sciences are undergoing profound revision at this moment, and the transformation is nowhere more evident than in the case of anthropology and its historiography. The history of anthropology in France has a special role to play in this new discussion because of the strong universalistic tendency in French intellectual life. In this book Alice Conklin traces in fine-grained detail the conflicts, tensions, paradoxes, and debates on the century-long path from a science that accepted racial differences as a fact of nature in the age of European imperialism to the repudiation of 'race' and the study of a unified humanity in the aftermath of World War II. Deeply researched and authoritatively written, Conklin's book will influence debates about race, human rights, and their intellectual history in the twentieth century." -Harry Liebersohn, University of Illinois at Urbana-Champaign, author of The Return of the Gift: European History of a Global Idea
"This is a riveting study of French anthropology from the heyday of cranial measurement under the leadership of Paul Broca (d. 1880) to the rise of structural anthropology fashioned by Claude Levi-Strauss after World War II. Alice L. Conklin takes in institutional, museological, and intellectual evidence, leading to a fascinating reconstruction and critique of the exhibits of the Musee de l'Homme in the 1930s and an insightful discussion of the Vichy interlude and its aftermath."-William M. Reddy, William T. Laprade Professor of History and Professor of Cultural Anthropology, Duke University
"Alice L. Conklin's book is simultaneously a history of the key institutions in which the study of mankind took place, of the discipline of anthropology, of the thinking of social scientists, and of a concept that has played an important and often nefarious role in European history. She demonstrates that rather than there being a 'colonial' or a 'French' conception of race, there was no consensus but heated and unresolved arguments about what, if anything, race meant."-Frederick Cooper, New York University
"In the Museum of Man is a masterful synthesis of the emergence of the new field of anthropology in France. Alice L. Conklin provides a fascinating glimpse into the way in which social thought was shaped in response to historical circumstances. The political stakes in the debate over race were high, especially during World War II, when some scholars who favored the biological interpretation of race ended up collaborating with the Nazis. Others who favored a cultural and historical interpretation either supported the resistance or were murdered by the Nazis because of their Jewish background. Based on a huge amount of primary and secondary research, Conklin's pathbreaking book will be of value to students and scholars of French, European, and even American intellectual, cultural, and political history."-Vicki Caron, Diann G. and Thomas A. Mann Professor of Modern Jewish Studies, Cornell University
You may also be interested in...
Simply reserve online and pay at the counter when you collect. Available in shop from just two hours, subject to availability.
Thank you for your reservation
Your order is now being processed and we have sent a confirmation email to you at
When will my order be ready to collect?
Following the initial email, you will be contacted by the shop to confirm that your item is available for collection.
Call us on or send us an email at
Unfortunately there has been a problem with your order
Please try again or alternatively you can contact your chosen shop on or send us an email at