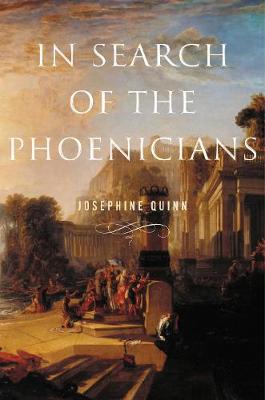 In Search of the Phoenicians - Miriam S. Balmuth Lectures in Ancient History and Archaeology (Hardback)
Josephine Quinn
(author)
Hardback
360

Pages / Published: 09/01/2018
Who were the ancient Phoenicians, and did they actually exist? The Phoenicians traveled the Mediterranean long before the Greeks and Romans, trading, establishing settlements, and refining the art of navigation. But who these legendary sailors really were has long remained a mystery. In Search of the Phoenicians makes the startling claim that the "Phoenicians" never actually existed. Taking readers from the ancient world to today, this monumental book argues that the notion of these sailors as a coherent people with a shared identity, history, and culture is a product of modern nationalist ideologies--and a notion very much at odds with the ancient sources. Josephine Quinn shows how the belief in this historical mirage has blinded us to the compelling identities and communities these people really constructed for themselves in the ancient Mediterranean, based not on ethnicity or nationhood but on cities, family, colonial ties, and religious practices. She traces how the idea of "being Phoenician" first emerged in support of the imperial ambitions of Carthage and then Rome, and only crystallized as a component of modern national identities in contexts as far-flung as Ireland and Lebanon. In Search of the Phoenicians delves into the ancient literary, epigraphic, numismatic, and artistic evidence for the construction of identities by and for the Phoenicians, ranging from the Levant to the Atlantic, and from the Bronze Age to late antiquity and beyond. A momentous scholarly achievement, this book also explores the prose, poetry, plays, painting, and polemic that have enshrined these fabled seafarers in nationalist histories from sixteenth-century England to twenty-first century Tunisia.
Publisher: Princeton University Press
ISBN: 9780691175270
Number of pages: 360
Weight: 680 g
Dimensions: 235 x 152 mm
---
MEDIA REVIEWS
Quinn's story is most compelling when she plays to her strength as a historian and archaeologist. . . . She leaves no stone unturned, from archaeological ruins and funerary inscriptions to poetry and drama, in her quest to understand how Phoenicians have . . . become a people.---Justin Marozzi, The Spectator
What makes Quinn's book especially interesting is her investigation of the later uses of the idea of a Phoenician people by modern nationalists from Ireland to Lebanon. The people who lived in the ancient cities of 'Phoenicia' didn't think of themselves as Phoenicians, but a remarkable number of people in other times and places have found that invented identity useful in making their own claims of nationhood.---Daniel Larison, The American Conservative
'Quinn's analysis of how ideas of modern nationhood have corrupted our understanding of past identities is expert and wide-ranging."---Dominic Green, Minerva
"Stimulating and original. Quinn extensively explores what we mean by Phoenician and how this term has not only had its own uses at various times in the past but also how these uses have influenced one another to create a palimpsest of meanings. In Search of the Phoenicians is an intellectual and interdisciplinary tour de force."--Peter van Dommelen, coeditor of The Cambridge Prehistory of the Bronze and Iron Age Mediterranean
"This is a groundbreaking, masterly, and original book that shows how ancient Phoenicians may have been the victims of the distorting categories of modern nationalism. Josephine Quinn offers a new vision of the ancient Mediterranean, where overarching identities mattered less and affinities found other meaningful expressions, such as networks of cult. The chronological and spatial horizons are huge, the erudition impressive, and the implication, that we should reexamine 'ethnicity' and even 'civilization' as viable categories, inescapable."--Irad Malkin, Tel Aviv University
"An important and original contribution to the reception history and invention of the Phoenicians."--Ann E. Killebrew, author of Biblical Peoples and Ethnicity
Composed of a set of politically independent city-states around the Mediterranean--most notably, Tyre, Arwad, Byblos, and Carthage--Phoenicia is typically thought of as a unified precursor to the Greek civilization that ultimately eclipsed it. In a new book, however, Josephine Quinn, an associate professor of ancient history at the University of Oxford, argues that the entire idea of a proto-nationalist 'Phoenician' identity or culture may not have existed at all. Rather, evidence suggests that it is unlikely that Phoenicians saw themselves as a collective that rose above the level of the city or indeed family. As such, Quinn argues that the histories of Phoenicia that invented and sustained this narrative of a Phoenician national identity are themselves worthy of study. . . . Quinn's In Search of the Phoenicians will serve as a comprehensive introduction to the literary, artistic, dramatic, and technological cultures of these ancient societies.--The New Criterion
Filled with informative, arresting images and deep-thinking argumentation, Quinn's In Search of the Phoenicians makes a compelling, wide-ranging case that suggests 'Phoenician' was a political rather than a personal description.--Foreword Reviews
Quinn's In Search of the Phoenicians can serve as useful reminder that turning to the lure of a mythical past for finding a path to the future can be fraught with risk.---Thomas Schellen and Riad Al-Khouri, Executive Magazine
Quinn's narrative is both exhilarating and cautionary because it shows how antiquity can be reimagined to promote ideological prejudices. One of the many lessons of her work is that ancient history is rarely stable, and dogmas that were current in both the remote and proximate past are constantly subject to correction or rejection.---G.W. Bowersock, New York Review of Books
Quinn's relaxed, engaging and authoritative prose style means that In Search of the Phoenicians is an enjoyable and intellectually rewarding read.--History Today
For some high-fibre holiday reading, I shall be packing . . . In Search of the Phoenicians, which dares to ask whether the famous ancient people really existed, and promises to expose the modern fantasies and ideologies that created them.---Mary Beard, The Guardian
A learned and carefully written scholarly work on identity in the city states commonly lumped together as Phoenician, theoretically informed by current ideas of ethnicity's constructed nature.---T. Doran, Choice
You may also be interested in...
Simply reserve online and pay at the counter when you collect. Available in shop from just two hours, subject to availability.
Thank you for your reservation
Your order is now being processed and we have sent a confirmation email to you at
When will my order be ready to collect?
Following the initial email, you will be contacted by the shop to confirm that your item is available for collection.
Call us on or send us an email at
Unfortunately there has been a problem with your order
Please try again or alternatively you can contact your chosen shop on or send us an email at