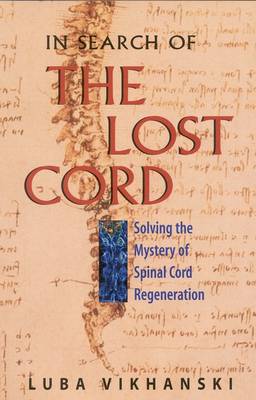 Hardback
Published: 05/10/2001
Can be ordered from our supplier
In Search of the Lost Cord is a scientific detective story, the stuff of science fiction en route to science fact. People trapped by the limitation of paralyzed limbs, rendered useless by devastating, catastrophic injuries to their spinal cords, may one day walk again. If the research is successful ...if the scientists hit on the right strategy for approaching the problem, we may yet see miracles happen. In her new book, science journalist Luba Vikhanski profiles the rapidly developing field of spinal cord injury research. She explains the field's greatest scientific challenges and introduces us to the pioneers who are working toward what would be a startling breakthrough. Perhaps the most riveting aspect of this international effort is the fact that each of these scientists is approaching the problem in very different ways. In the worldwide race to claim the prize of a cure, we witness a drama in the making. Who will cross the finish line first? Will it be the Swiss scientist Martin Schwab, who has actually managed to heal spinal cords in rats and has restored their ability to walk? Will it be Wise Young, a Rutgers scientist who is pinning his research hopes on drug therapies? Or could Lars Olson of the Swedish Karolinska Institute hold the key to success in his efforts to construct a bridge of slender nerve filaments to connect a once-severed spinal cord? His rats are already flexing their legs. These scientists, and others with unique and creative approaches of their own, have dared to tackle this seemingly unsolvable problem of spinal cord regeneration. Like all major medical and scientific breakthroughs, the "Eureka" moment often seems obvious in hindsight. Perhaps we'll have the same perspective when the puzzle of spinal cord regeneration is solved and the nerves are indeed healed. Until that time, there's a race to the finish line, and suspense is building. In Search of the Lost Cord is a trackside seat.
Publisher: National Academies Press
ISBN: 9780309074377
You may also be interested in...
We would love to hear what you think of Waterstones. Why not review Waterstones on Trustpilot?