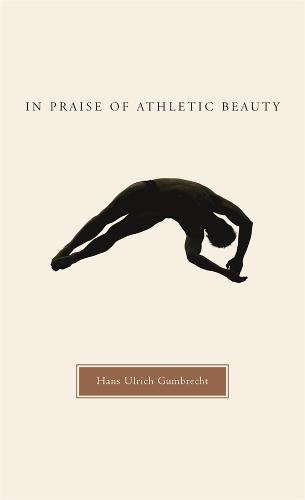 Hardback
240

Pages / Published: 31/03/2006
By the hundreds of millions we show up, stand in line, turn on, and tune in to watch, mesmerised, as athletes perform. And yet this experience, so widely craved and intensely felt, we commonly dismiss as 'only a game'. A book that looks beyond the usual explanations of why sport fascinates, "In Praise of Athletic Beauty" also strives for a language that can frame - even enhance - the pleasure we take in watching athletic events. The vicarious thrill, anxiety release, competitive spirit: in place of these traditional answers to the mystery of sports' allure, Hans Ulrich Gumbrecht proposes a more powerful and provocative alternative. The fascination with watching sports, he argues, is probably the most popular and potent contemporary form of aesthetic experience - in the classic, very literal sense of this concept. In exploring this idea, Gumbrecht develops a lucid reflection on the pleasures of sports spectatorship and the nature of athletic beauty. Where we might readily pronounce certain athletic moves and plays 'beautiful', this book gives us the means to explore, understand, and enjoy even more acutely the aesthetic experience that our words-in-passing barely suggest. With a new perspective on the appreciation of - and, indeed, a new tone of praising - sports, Gumbrecht also offers a new way of narrating the history of athletics and a fresh vocabulary for analysing various sports. Exploring athletic beauty, this book makes us understand the widespread passion sport inspires as an untamed form of aesthetic fascination.
Publisher: Harvard University Press
ISBN: 9780674021723
Number of pages: 240
Weight: 308 g
Dimensions: 185 x 121 x 25 mm
---
MEDIA REVIEWS
Sports plays a central role in our American culture. Yet, there is deep reluctance--almost embarrassment--among the intellectual class to acknowledge the enjoyment of spectator sports. In Praise of Athletic Beauty, by Hans Gumbrecht, frees us to embrace this enjoyment. For Gumbrecht locates sports viewing within the nexus of aesthetic experience. This marvelous book--both in content and style--offers a philosophically sophisticated explanation of the beauty of athletic performance. I recommend it most strongly, especially to closet fans and critics of sports.--Myles Brand, president of the National Collegiate Athletic Association
Now that sports have climbed to an apex of obsession in our society, here comes a book that fascinates in probing why we play sports and why we watch sports with such fervor. In Praise of Athletic Beauty considers Kant, Descartes, Nietzsche, and a host of intellectuals throughout history to get to the bottom of our love affair with athletes and their pursuit of excellence. Gumbrecht explores with a scholarly and yet charming curiosity the admiration for athletes that so many of us share. Page by page, I found myself exclaiming: 'Yes, that's what moves me when I see a sprinter striding down the Olympic straightaway!' This is a thought-provoking and most original addition to current sports literature.--Diana Nyad, television, radio, and print sports journalist and former world champion marathon swimmer
As our efforts to explain and predict are baffled, we retreat into pure pleasure. Then the question becomes: Enjoy what, how? Fortunately, a new book helps lead us back to becoming the armchair aesthetes we were all along. In Praise of Athletic Beauty, by Hans Ulrich Gumbrecht...is the book, and football the central game...Gumbrecht really is a fan, and he is trying to make sense of a fan's experience. Instead of focusing on the easy cases--everybody can admire divers and gymnasts and the lacier kind of ice skaters--he takes for his subject the aesthetic of ballgames, which, he points out, began to become central to Western life as spectator sports only a century ago. His central thesis, to round it out a little crudely, is that we watch sports not out of identification with the players but out of a kind of happy absorption in someone else's ability.--Adam Gopnik "New Yorker "
Professor of Literature Hans Gumbrecht is a sports fan. Not only a sports fan; Professor Gumbrecht is a fan of sports fans, so much so that he has written In Praise of Athletic Beauty to describe, and to make respectable, the hours spent watching baseball, football, tennis, and other sports. Dissatisfied with the academy's somewhat elitist dismissal of sport as just another capitalist banality, Gumbrecht wants to argue that there is more to the roar of the crowd than mere tribalism. To Gumbrecht, the current mass appeal of sports represents more than the manipulation of the masses by advertising corporates. There is something almost transcendental about sport; some aesthetic quality that united us with the Greeks, the Romans, even with the gods themselves as we admire the movement of a body, or revel in the million to one victory...The writing is clear and approachable...There is plenty to hold the attention of the reader. In Praise of Athletic Beauty is a paean to what sports fans already love: sports.--Tony O'Brien "Metapsychology Online "
You may also be interested in...
Simply reserve online and pay at the counter when you collect. Available in shop from just two hours, subject to availability.
Thank you for your reservation
Your order is now being processed and we have sent a confirmation email to you at
When will my order be ready to collect?
Following the initial email, you will be contacted by the shop to confirm that your item is available for collection.
Call us on or send us an email at
Unfortunately there has been a problem with your order
Please try again or alternatively you can contact your chosen shop on or send us an email at