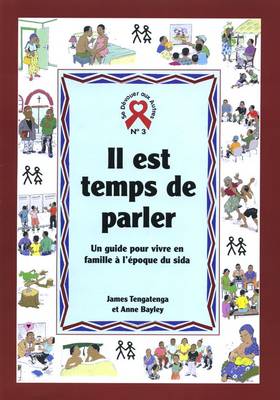 Paperback
Published: 01/02/2008
Can be ordered from our supplier
Un manuel pour permettre aux eglises et aux communautes de discuter de la vie de famille et du sexe dans le contexte actuel de l'epidemie mondiale du sida. Le livre contient des jeux de roles, des jeux, des questionnaires, des guides de discussion, des etudes bibliques et d'autres exercices participatifs. La collection SE DEVOUER AUX AUTRES est constituee de brochures, de guides pratiques et empiriques sur les questions relatives au VIH. Cette collection est destinee a l'usage des leaders des eglises (clerge et laiques), et tout particulierement pour ceux qui sont en Afrique sub-saharienne. Les materiels sont concus pour permettre aux pasteurs, pretres, surs religieuses et freres religieux, aux leaders ecclesiastiques et laiques ainsi qu'a leurs assemblees et communautes a : - Reflechir et comprendre les implications theologiques, ethiques, sanitaires, sociales et pratiques de l'epidemie de VIH et l'appel chretien afin de reagir avec compassion. - Vaincre la stigmatisation, le silence, la discrimination, le deni, la peur et l'inertie qui empechent l'eglise et la communaute a agir plus efficacement lorsqu'il s'agit des questions relatives au VIH. - Guider leurs assemblees et communautes a travers un processus d'apprentissage et de changement qui doit aboutir aux actions pratiques et diaconales, afin d'aider les individus, les familles et les communautes a diminuer la propagation du VIH et attenuer l'impact de l'epidemie de VIH. La collection SE DEVOUER AUX AUTRES est une initiative de la Fondation Strategies pour l'Espoir, qui produit des livres et des films concus pour diffuser l'information sur les strategies pratiques et a base communautaire de soins, de soutien et de prevention du VIH dans les pays a faible et moyen revenu et particulierement en Afrique subsaharienne. Le projet SE DEVOUER AUX AUTRES est mis en pratique a travers un processus de collaboration internationale et cumenique entre des eglises, des organisations confessionnelles, des organisations ecclesiastiques internationales et leurs reseaux, des editeurs, des distributeurs et d'autres partenaires.
Publisher: Strategies for Hope Trust
ISBN: 9781905746033
You may also be interested in...
We would love to hear what you think of Waterstones. Why not review Waterstones on Trustpilot?