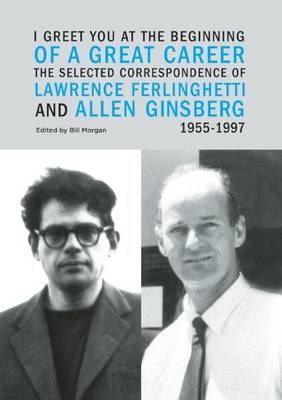 Paperback
284

Pages / Published: 23/07/2015
"Allen Ginsberg and Lawrence Ferlinghetti will forever be linked as the respective writer and publisher of Howl, and this irresistible collection of their correspondence shows the depth of their friendship and working relationship ... an impressive volume that is a must for every Beat aficionado."--Publishers Weekly, starred review
In 1969, Allen Ginsberg wrote to his friend, fellow poet, and publisher Lawrence Ferlinghetti, "Alas, telephone destroys letters!" Fortunately, however, by then the two had already exchanged a treasure trove of personal correspondence, and more than any other documents, their letters--intimate, opinionated, and action-packed--reveal the true nature of their lifelong friendship and creative relationship. Collected here for the first time, they offer an intimate view into the range of artistic vision and complementary sensibilities that fueled the genius of their literary collaborations.
Ferlinghetti and Ginsberg were two of the twentieth century's most influential literary rebels, and their correspondence documents a time when both were rising to the peak of their notoriety and international fame, traveling, writing, publishing, and performing their poetry during times of unprecedented social and cultural experimentation and upheaval. Ferlinghetti was Ginsberg's publisher and editor, and the correspondence begins with a telegram from Lawrence after hearing Allen's legendary reading of "Howl" at the Six Gallery: "I greet you at the beginning of a great career. When do I get the manuscript?"
The majority of the letters collected here have never before been published, and they span the period from 1955 until Ginsberg's death in 1997. Facsimiles and photographs enhance the collection, an evocative portrait of an inspiring and enduring relationship.
Lawrence Ferlinghetti is an internationally renowned poet, painter, publisher, and founder of City Lights Books.
Allen Ginsberg was a leading member of the Beat Generation and an award-winning poet best known as the author of Howl & Other Poems, among many other works.
Publisher: City Lights Books
ISBN: 9780872866782
Number of pages: 284
Weight: 454 g
Dimensions: 216 x 152 mm
---
MEDIA REVIEWS
"Allen Ginsberg and Lawrence Ferlinghetti will forever be linked as the respective writer and publisher of Howl [and Other Poems], and this irresistible collection of their correspondence shows the depth of their friendship and working relationship ... These [letters] should interest even casual readers, but devotees will find most rewarding the book's central revelation: that while Ginsberg was Beat Poetry's face, Ferlinghetti was its hero, the key to so many great writers' success. Their affectionate correspondence becomes spottier as they make the switch to telephone calls, but the later letters are as striking and stirring as their very first exchanges. [Bill] Morgan has assembled an impressive volume that is a must for every Beat aficionado."--Publishers Weekly, starred review
"Collects the back and forth of a patient editor and his house's bright star, who, when he wasn't trying to be the next Whitman (the beard, the bulk, the breathless lists) or Coleridge (the metaphysics of debauchery), fancied himself a literary agent, P.R. rep, and distributor--a one-man Amazon.com, fueled by cigarettes, amphetamines, and ayahuasca ... Ferlinghetti, for his part, remained caustic, cautious, and discerning: he said yes to Kerouac and Corso, and no to Whalen, Snyder, and Peter Orlovsky, Ginsberg's lover: 'You're a movement in yerself, ' he wrote."--Joshua Cohen, Harper's
"Limiting his comments to background information, [Bill] Morgan lets Ginsberg's personality emerge above and beyond what his poetry reveals ... Having some familiarity with both men's work is actually unnecessary, as their lives and outlooks come through in this compilation of their correspondence. A good primer to convince readers who have not experienced the work of Ferlinghetti and Ginsberg to give them a try."--Kirkus Reviews
"The relationship between [Ferlinghetti and Ginsberg], crucial to the life of American poetry, can now be explored, in all of its nuance and depth ... is owed to Bill Morgan's editorial choices, and his excellent, terse narrative insertions that contextualize the exchange between the artists. It was also a thoughtful decision on Morgan's part to end the book with a 1997 elegy Ferlinghetti wrote after hearing the news of his friend's passing. It is not only a gentle tribute but also a testament to Ferlinghetti's artistic mastery. Though undoubtedly, to scholars of American literature he will remain not only a poet but, also, as Ginsberg put it back in 1961, the iconic publisher, 'guarding the signal and the great impulses of being ... to decide what to do with the cosmos, whether to recognize the vast image of being and publish it to all gathered consciousness.'"--Jake Marmer, Chicago Tribune
"In I Greet You at the Beginning of a Great Career, the Ferlinghetti who takes shape in these letters possess a vivid inner life ... If Ferlinghetti is the fixed point, Ginsberg was the satellite: That dichotomy and the looping switchbacks of their long friendship is played out nakedly in this collection. Editor Bill Morgan's notes are concise and sharp, lending context decade-by-decade while also identifying cultural and social shifts that might affect the flow of correspondence (travel, long-distance rates) and how that shaped their communication ... The details of their correspondence fill in history from a different angle; they add contour to a moment that Ferlinghetti's journals might only sketch (and vice versa), and as such are a fine complement. What's important about these documents is that not only do they shed light on the editor-writer relationship (and the galaxy of relationships that developed under the aegis of City Lights), but also the tensions and tenderness of long and true friendship ... Late in their friendship, after a public reading, Ferlinghetti writes Ginsberg with an open heart: 'You've developed your voice to the fullest. It keeps getting better and better, clearer. Fine articulation, volume, modulation and power.' The same could be said of Ferlinghetti's legacy--with City Lights' ever-open door and its lasting imprint across the globe."--Lynell George, Los Angeles Times
"[H]ere is a four-decade exchange of gossip, chitchat, travelog, and thoughts on writing between two committed poets--Ginsberg, an exceptional poet--who worked diligently to promote the Beat ethos. Most of the missives, compiled by archivist [Bill] Morgan, have never before been published ... Both were generous, high-spirited men who not only practiced their craft but thought about it deeply ... Indispensable for scholars but of interest to lovers of the Beats and contemporary poetry, too."--Library Journal
"The most engaging part of the correspondence charts the symbiotically emerging careers of poet and publisher after the publication and trial of Howl. ... [The letters] paint Lawrence Ferlinghetti as part Zen clown, part establishment man. They reveal his gentlemanly radicalism in prose that oscillates between the playful and the profound."--Douglas Field, The Times Literary Supplement
"This volume provides the reader with unique insight into the evolving relationship between the young poet Allen Ginsberg and his publisher Lawrence Ferlinghetti, who was equally new to the publishing field with his launching of City Lights Publishers in 1955 ... Equally all of these letters are selected and annotated with the skillful touch of Bill Morgan. He has adroitly sifted a myriad of poetry, scraps of notes, the letters themselves and collectively edited the letters into a shiny testament of mutual love for which the voice of Lawrence Ferlinghetti and Allen Ginsberg shine through."--R. I. Sutherland-Cohen, Beat Scene
"Lawrence Ferlinghetti wrote an indelible chapter of San Francisco history when he founded City Lights Books in 1955. In addition to volumes of poetry by himself and others, the legendary Beat poet published a book that would rock the literary world. Allen Ginsberg's Howl and Other Poems introduced a new kind of American poetry, and when Ferlinghetti was slapped with an obscenity charge for putting it on the market, the case established City Lights as a champion of artistic freedom. This volume of letters between Ferlinghetti and Ginsberg--published for the first time--marks City Lights' 60th anniversary."--San Jose Mercury News
"[I]t is a must ... a rather joyful addition to the sagging bookshelf in the back bedroom."--Winton Rafe McCabe, New York Journal of Books
You may also be interested in...
Simply reserve online and pay at the counter when you collect. Available in shop from just two hours, subject to availability.
Thank you for your reservation
Your order is now being processed and we have sent a confirmation email to you at
When will my order be ready to collect?
Following the initial email, you will be contacted by the shop to confirm that your item is available for collection.
Call us on or send us an email at
Unfortunately there has been a problem with your order
Please try again or alternatively you can contact your chosen shop on or send us an email at