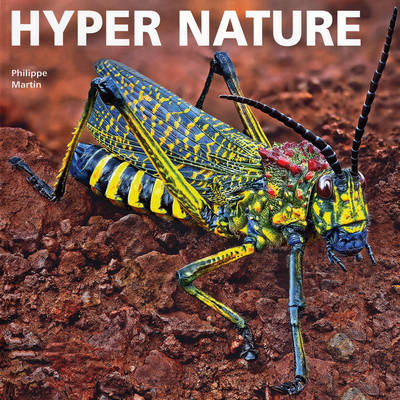 Hardback
176

Pages / Published: 30/11/2015
A revolution in nature photography. Philippe Martin revolutionised digital nature photography by 'stacking' images. To take one photograph, he will shoot a subject hundreds of times, stack the images into a composite, and then clean up the composite image pixel by pixel. The result is a 'quasi-3D' photograph of nature with such sharpness and brilliance that surely it will leap from the page. What's more, Martin takes the photographs in his subjects' natural setting, including inhospitable jungles. Hyper Nature is a portfolio of Martin's stunning photographs of snails, orchids, dragonflies, snakes, frogs and many other creatures. The hyperrealism and large images bring the viewer into the heart of the scene, face to face with the subject, where he can discover the smallest detail. This is nature photography as never seen before. Martin also explains how he achieves his photographs, increasing readers' appreciation and leaving a legacy for new photographers. The most recent exhibition of Martin's photographs attracted one million visitors to the Luxembourg Gardens in Paris. Hyper Nature is ideal for all photography and nature enthusiasts as well as photographers, naturalists, educators, museum specialists and scientists.
Publisher: Firefly Books Ltd
ISBN: 9781770856042
Number of pages: 176
Weight: 1374 g
Dimensions: 279 x 279 x 14 mm
---
MEDIA REVIEWS
In his eye-popping new book "Hyper Nature," photographer and ecologist Philippe Martin uses a painstaking post-processing technique to capture the almost unreal beauty of chameleons, crickets, beetles, lizards, frogs and other tiny critters. The technique that he uses -- "hyper focus" -- is a departure from the vast majority of macro nature photography you've seen before. While harnessing the depth of field is an intentional aesthetic choice for many macro photographers, it presents certain challenges if you're trying to get an entire small subject in focus... To achieve his surreal "hyper focus" aesthetic, Martin fused multiple images of a single subject by piecing them together in focus stacking software. Each of the stacked images are focused on a different part of the subject, so after they are combined, what's left is one image that is focused uniformly throughout... Of course, "Hyper Nature" is more than an impressive photographic feat -- it's also a fascinating study of some of our planet's smallest yet intriguing life forms. Nearly all of the creatures featured in the book could probably fit in the palm of your hand, which is why it's so eye-opening to see them presented in such resounding clarity.--Catie Leary"Mother Nature Network" (10/13/2015)
In his book "Hyper Nature," Martin provides what he calls illustrations, not photos, of many different species. These illustrations are composed of many close-up photos stacked together and then rendered through digital painting, resulting in an image with "Avatar"-type surrealism... Obtaining this extreme focus, however, is far from simple. According to Martin, the technique involves a lot of time and requires five disciplines: ecology, photography, drawing, painting and photo editing. The process begins in the field, where he patiently seeks out his subjects from a vast catalog of critters: everything from bees to dragonflies to caterpillars. He then shoots dozens upon dozens of photos of any given creature in its natural state, using only natural light. Back in his studio, anywhere from 30 to 100 pictures of one bug are glued or fused together to make one digital image, Martin said. And then he'll spend "between five and 25 hours painting," he said, which accounts for about 95 percent of the overall process. The painting is not with a brush but with pixels. It's a painstaking process that smooths out the layers of high-def photos, making the whole depth of field come into sharp focus. The end result? Beetles and butterflies that look as though they'd leap directly off the page. "It's easy," Martin said, though perfecting the process has taken about seven years. Through this medium, he has revolutionized nature photography, and he hopes his work will pave the way for further developments in the field.--Michelle Cohan"CNN" (12/16/2015)
Like the human eye, a camera can only focus on one thing at a time. But thanks to a process combining high-def digital photography, computer processing and years of painstaking work by photographer Philippe Martin, this limitation has been removed. Each bug, snake, flower or fish in this tome was photographed dozens of times, and the shots digitally overlaid so the entire depth of field is tack-sharp. Result: Over 170 pages of bug-eyed wonder that literally freeze time and let you pore over every scale of a dragonfly's wing and every hair on a spider's legs. The images are the main attraction, but the captions have their own nerdy appeal.-- (10/19/2015)
Hyper Nature is the culmination of a dream. Philippe Martin, an innovative nature photographer, spent years pursuing his ambition to produce images with the subject in perfect focus. Large spreads and a striking three-dimensional quality (developed using Martin's own Hyper Focus process) make every subject, from grotesquely coiled snakes (much too close for comfort) to delicate orchids, seem to jump off the page. The lifelike reproductions of insects and reptiles may give some viewers the creepy-crawlies, but even the squeamish may find themselves drawn in, as the stunning detail of each shot invites deeper scrutiny. Nature photographers and digital imaging enthusiasts alike will enjoy the last section of the book, which unpacks the process, showing the images in their earliest state, then again as the process is partly complete, and at last fully realized. Martin's technique requires an amalgamation of many photographs taken with different focus points. Larger subjects can require upward of 25 hours to digitally process. Martin's love of detail shows through, as each photograph is accompanied by a brief description of the subject, its relevant ecology, any imaging flaws, and photography specs such as f-stop and aperture. From a newly emerged common cicada's three red eyes to a male cuckoo roller's iridescent feathers to a tiny spider photobombing a june bug's portrait, the details that spring from the pages of Hyper Nature incite all sorts of reactions to the book's array of subjects: freakish monstrosities, surreal dreamscapes, and the alluring grace of sentient forms. Gift Guide 2015 selection.-- (12/18/2015)
Obtaining detailed, undistorted nature photographs is challenging, and the difficulty only increases as the subjects decrease in size. To create accurate images of various tiny animals, plants, and insects, award-winning nature photographer Martin (winner of the 2012 International Festival of Wildlife Photography's Grand Prize for Digital Photography) has used a technique called focus stacking. The subject is photographed multiple times at different focuses, then the photographs are composited to create an image in which no part of the subject is out of focus. The resulting image pops out of the page in almost surreal detail--Martin's term for this is hyper focus (hence the book's title). Martin states that the images are more illustrations than photographs and includes a short segment at the end of the book explaining how an image is created. Each photo is accompanied by the name--usually both the common and the scientific--and a few sentences about the subject, either in general, or about the one pictured. The size and detail of Martin's photographs puts the subjects on an almost human scale, while fully displaying their fascinating strangeness. The minimal text is informative and often charming, but the painstakingly created images are the book's reason for being. A wonderful volume to page through and linger over; it will inspire naturalists as well as photographers and other artists.-- (12/01/2015)
You may also be interested in...
Simply reserve online and pay at the counter when you collect. Available in shop from just two hours, subject to availability.
Thank you for your reservation
Your order is now being processed and we have sent a confirmation email to you at
When will my order be ready to collect?
Following the initial email, you will be contacted by the shop to confirm that your item is available for collection.
Call us on or send us an email at
Unfortunately there has been a problem with your order
Please try again or alternatively you can contact your chosen shop on or send us an email at