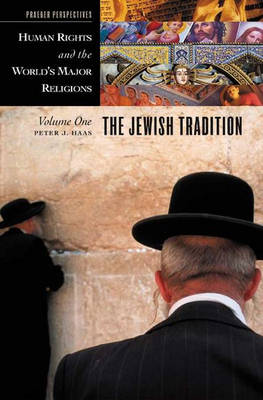 Hardback
1712

Pages / Published: 30/06/2005
Covering a wide span of history, this set includes volumes on Judaism, Christianity, Islam, Hinduism, and Buddhism. Each volume touches on issues such as the right to life, the rights of women, punishment for crimes, war and peace, slavery, violence, and other topics related to human rights. They provide primary sources to document the history of thought on the subject within each religion. Biographical sketches and annotated bibliographies offer excellent resources for further study. Together these volumes provide a comprehensive and unique approach to major religious views on human rights. Throughout history the peoples of the world have struggled with the idea of human rights. Indeed, at times, the definition of what constituted a human was variable, and some people were granted better protections than others. Still, even where rights were outlined and protected, atrocities against the human race abounded then, and continue to occur even now. The major faiths of the world have much to contribute to the discussion of human rights, and have grappled with the issues for centuries. In this important five-volume set, human rights are examined within the context of Judaism, Christianity, Islam, Hinduism, and Buddhism. Authors track the development of ideas, opinions, and issues, providing readers with a fuller understanding of how each faith views human rights, and what each has to offer for our better understanding today. Primary sources, biographical sketches, and annotated bibliographies are included in each volume. Volume 1: The Jewish Tradition: The oldest of the Abrahamic faiths, Judaism offers a complex and rich history of thought on human rights. Taking the reader on a tour of human rights throughout the history of this faith tradition, and throughout the world over time, the author provides a comprehensive overview of the subject. He makes the distinction between the biblical and later rabbinic texts and the continually evolving religious communities comprising Judaism from the classical period to modern Europe and considers the Jewish articulation of rights in North America alongside the emergence of the tate of Israel and its regional and national particularities. Volume 2: The Christian Tradition: The Christian tradition has an uneven history of regarding and protecting human rights, but with a multitude of perspectives, the evolution of human rights in this faith has grown into a complex affirmation of universal human rights in modern Christian life and thought. Here, Brackney traces the meaning and historical development of human rights in the Christian tradition through a careful consideration of the sources and commentaries, from the Edict of Milan through the UN declarations. He covers Catholic, Protestant, and Orthodox perspectives, and includes important biographical information on key figures. Volume 3: The Islamic Tradition: The human rights tradition in Islam is one of the oldest, most comprehensive, and, historically, one of the most effective and revolutionary traditions with considerable, as yet unfulfilled, potential. In it, rights are inseparable from duties and humanity, nature, and God are all taken into account. This volume offers a fresh and comprehensive treatment of the human rights tradition in Islam in the context of Islam's world view. It explains the manner in which the spiritual and ethical, as well as the legal and juridical dimensions of both rights and duties, are integrated in the Islamic tradition, and critically examines some of the principal achievements and limitations throughout Islam's history. Issues discussed include the roles of women, treatment of children, marital relationships, democracy and politics, minorities, and other areas essential to a better understanding of the nature of human rights in Islam. Volume 4: The Hindu Tradition: Beginning with a discussion of how human rights in Hinduism contrast with Western notions of human rights, Coward then moves on to discuss topics ranging from the Hindu world view to family relations, from royal models to Hindu Renaissance thinkers, from karma and caste to the untouchables, and from democratic rights to religious duties and obligations, among other topics. Offering an in-depth discussion of Hindu principles and thoughts on human rights, this volume introduces readers to the history of human rights in the Hindu tradition. Volume 5: The Buddhist Tradition: Arguing that Buddhist doctrines do not concern themselves with human rights, Florida nevertheless insists that this does not mean that there are no principles in Buddhism that lead to decent, non-oppressive, and cooperative societies where humans can live in freedom and prosperity and realize their highest spiritual potentials. This volume traces how Buddhism has worked in Thailand, Burma, Sri Lanka, China, Tibet, and other place where it is practices, and touches on issues of slavery, women, democracy, caste, warfare, government, and peace. Profiles include Aung San Suu Kyi, Sulak Sivaraksa, Phra Payutto, and the current Dalai Lama.
Publisher: ABC-CLIO
ISBN: 9780275984250
Number of pages: 1712
Weight: 386 g
Dimensions: 235 x 155 x 14 mm
Edition: Annotated edition
---
MEDIA REVIEWS
"This ambitious and valuable reference work examines the history of human rights from the perspective of the world's five major religious traditions. A recognized, distinguished expert in a specific religion prepared each volume; all of the authors' credentials demonstrate a focus on human rights or ethical studies....This set will be indispensable to those researching human rights in religion, as it pulls together important elements of the topic previously unavailable in a single reference work. Essential. Academic libraries serving lower-level undergraduates through faculty/researchers." - Choice
"Raising important issues about religion and human rights, this clearly written set is not only worthwhile for advanced students but also accessible to mature high school students. Highly recommended for both public and academic libararies." - Library Journal
"[T]his series provides a remarkable contribution to the field of human rights. It involves primary readings and meticulous bibliographies that open doors to further study. Readable, interesting and wide-ranging, this set will be a crucial resource in human rights discourse for years to come." - Science & Theology News
"In a world where religion so often divides, it is hard to find agreement on so volatile an issue as human rights, but the authors of this five-volume series have done a remarkable job." - MultiCultural Review
"These volumes are useful for the casual reader since each volume is carefully outlined and indexed to allow for quick location of specific topics. Especially interesting and potentially useful are the biographical sketches of Christian leaders in human rights." - PERSPECTIVES on Science and Christian Faith
"Al-Rahim's text provides a good analysis of human rights in the first five centuries and the last century of the Islamic tradition." - Studies in Religion
"Muddathir 'Abd al-Rahim is widely recognized as both a theorist and practitioner in Islamic traditions. He brings his scholarship to bear on some of the most relevant issues of human rights in Islam but the scholarship does not stand in the way of comprehensiveness and lucidity. His book is an engrossing and well-written volume, and a unique contribution to the exponentially expanding literature on human rights. We recommend Dr. Muddathir 'Abd al-Rahim's book to the readers with highest enthusiasm." - The Muslim World Book Review
"Robert Florida is to be commended for having taken on this challenging task--since there is no real human rights tradition in Buddhism; it obviously took considerable work to assemble the sources and link together a series of ideas that are not necessarily related within the tradition. He has produced a book that many of us will wish to own and to consult when we attempt to addres the question of human rights whether raised by our students or our colleagues." - Studies in Religion
You may also be interested in...
Simply reserve online and pay at the counter when you collect. Available in shop from just two hours, subject to availability.
Thank you for your reservation
Your order is now being processed and we have sent a confirmation email to you at
When will my order be ready to collect?
Following the initial email, you will be contacted by the shop to confirm that your item is available for collection.
Call us on or send us an email at
Unfortunately there has been a problem with your order
Please try again or alternatively you can contact your chosen shop on or send us an email at