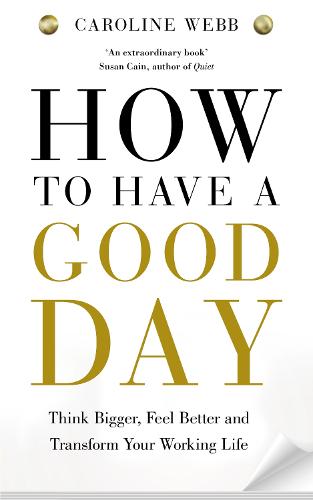 How To Have A Good Day: The Essential Toolkit for a Productive Day at Work and Beyond (Paperback)
Caroline Webb
(author)
Paperback
368

Pages
Published: 14/01/2016
In How to Have a Good Day, economist and former McKinsey partner Caroline Webb shows readers how to use recent findings from behavioral economics, psychology, and neuroscience to transform our approach to everyday working life.

Advances in these behavioral sciences are giving us ever better understanding of how our brains work, why we make the choices we do, and what it takes for us to be smart and savvy. But it's not always been easy to see how to apply these insights in the workplace - until now.

In How to Have a Good Day, Webb explains how three big scientific ideas can help us be at our best every day. She shows us exactly how to apply this science to our plans, tasks and conversations, in step-by-step guidance that allows us to: set better priorities; make the hours go further; turn every interaction into a success; strengthen our personal impact; be resilient in the face of setbacks; and sustain our energy over the course of the day. Webb teaches us how to be at our best under pressure, and gives us specific tools to tackle common work challenges - from conflict with colleagues, to dull meetings and packed inboxes.

Filled with stories of people who have used Webb's insights to boost their job satisfaction and performance at work, How to Have a Good Day is the book so many people wanted when they finished Nudge, Blink and Thinking Fast and Slow, and were looking for practical ways to apply this fascinating science to their own lives and careers.

A remarkable and much needed book, How to Have a Good Day firmly delivers on its promise, showing us all how to have a lifetime of good days.
Publisher: Pan Macmillan
ISBN: 9781447276517
Number of pages: 368
Weight: 396 g
Dimensions: 215 x 136 x 27 mm
---
MEDIA REVIEWS
How to Have a Good Day is an extraordinary book - a wonderful mix of science, practical advice, and stories based on Caroline Webb's years of experience helping a huge range of people transform their professional lives for the better. Every chapter is studded with engaging real-world examples that ring true and illustrate how to make the most of the book's suggestions. Whatever your personal definition of a good day, you'll have more of them after reading this book. -- Susan Cain, author of QUIET: The Power of Introverts in a World That Can't Stop Talking
How to Have a Good Day is a smart, thorough, and eminently practical book. Just about every page offers a science-based tip to help you become better off - or, in many cases, just plain better. -- Daniel H. Pink, author of To Sell is Human and Drive
Behavioral science has come of age in recent years, and it has begged for a world-class translator. Now we have one. Caroline Webb's peerless translation of the behavioral sciences into tools for shaping the quality of our day is the book we've been waiting for. Play with just 2% of the ideas in this book, and you might just end up changing your life's course. Words like 'magisterial' come to mind. Bravo. -- Tom Peters, co-author of award-winning bestseller In Search of Excellence
Finally, a practical book based on evidence. How to Have a Good Day is grounded in state-of-the-art research on behavior and neuroscience, and animated with vivid examples from professionals who have successfully applied Webb's advice. It might even leave you looking forward to your next tricky conversation or challenging task as an opportunity to try out her tips. -- Adam Grant, Wharton professor and New York Times bestselling author of Give and Take and Originals
Almost all of us work in environments where our time is stretched far too thin. How to Have a Good Day helps us rise to that challenge, containing ideas and techniques that show us how to be at our own personal and professional best every day. -- Tony Hsieh, New York Times bestselling author of Delivering Happiness and CEO of Zappos.com, Inc.
Webb has given us a great gift: she has synthesized all the advice coming out of labs around the world, filtered it for quality, and illustrated it with well-chosen examples. The appendices alone will save you dozens of hours per year - particularly on email - and help you create more great days for yourself. This is the only self-improvement book you will need in the next five years. -- Jonathan Haidt, NYU-Stern School of Business, Author of The Happiness Hypothesis, and The Righteous Mind
There's a big difference between having a great, productive day and having a bland, ordinary one. Caroline Webb deftly explains how to squeeze the most out of twenty-four hours, to create more of the former. Very useful. -- Sir Michael Moritz, Chairman of Sequoia Capital
Imagine what your life would be like if you could simply 'choose' to have a good day. Webb makes a powerful case that we can. Best of all, she shows us how. Webb gets her arms around the vast body of information coming at us from behavioral economics, psychology, and neuroscience, and distills the best of it into the kind of practical advice a wise friend might offer. It's the book Daniel Kahneman might write if he'd been working in the business world for twenty years. Masterful. -- Douglas Stone and Sheila Heen, co-authors of the bestselling Difficult Conversations and Thanks for the Feedback
A powerful toolkit to improve both work and well-being. From email and meetings to making the most out of every day, Webb shows us not just how to be more productive, but how to be more fulfilled along the way. -- Jonah Berger, Wharton professor and bestselling author of Contagious and Invisible Influence
The quest for self-improvement usually takes place on a well-trodden path, with many different gurus offering guidance. But the advice, in addition to being contradictory, often lacks solid foundations. Fortunately, How to Have a Good Day is the breakout exception to this category. The evidence and examples packed inside its pages leave the reader in no doubt that Webb's advice will make a real difference. Better days lead to better lives, and this extraordinary book will lead to both. -- Chris Guillebeau, New York Times bestselling author of The $100 Startup and The Happiness of Pursuit
This is a brilliantly useful book. Caroline Webb has a quite exceptional range of organisational experience. She uses it to review a vast span of the latest academic 'thinking about thinking' in the clearest possible way. And then she applies this wisdom to help us all sort out the frazzle of our own working day. Her approach is utterly straightforward but based in deep insights into how human beings really behave. -- Peter Day, BBC Business Correspondent, Presenter of In Business and Global Business
Years ago I was a rower, and in sport everyone knows you need to pay attention to yourself, your intent and your mindset, to be at your best. This book reminded me of all I learned from those days about the importance of having the right attitude. I found it a great, practical guide to applying these and other helpful psychological insights in business - something we do all too infrequently. Built solidly on the latest research, brought to life with storytelling, it offers many simple ways to boost your performance and give you a better day at work - and if you're a leader, it will show you how to make sure that your colleagues are on top form, too. -- Matt Brittin, President of Google Europe, Middle East & Africa, former rowing World Championship medalist and British Olympic team member
How to Have a Good Day speaks to every area of your workday and shows how making a few critical adjustments to your everyday behavior will leave you amazed by the results. By applying the lessons in Webb's book, all based on science, you'll maximize your performance and be more energized than ever. -- Marshall Goldsmith, bestselling author of Triggers, MOJO and What Got You Here Won't Get You There
An absolute must read for the millions of people struggling to overcome the challenges and stresses of work and family life. Caroline Webb's deep dive into ground-breaking new behavioral and neuroscience research gives us the tools to empower everyone to have a better, more fulfilling day, every day. Finally, we can say, 'Good morning,' and mean it! -- Linda Kaplan Thaler, author of Grit to Great
In How to Have a Good Day, Caroline Webb offers practical advice rooted in the latest science and psychology for anyone who wants to take a more intentional approach to life and enjoy the greater productivity and success that comes from doing so. If you want to stop reacting to your life and start living it, this book will get you moving in the right direction. -- Bryce G. Hoffman, author of American Icon
You may also be interested in...
×
Download the Waterstones App
Would you like to proceed to the App store to download the Waterstones App?
Reserve online, pay on collection


Thank you for your reservation
Your order is now being processed and we have sent a confirmation email to you at
When will my order be ready to collect?
Following the initial email, you will be contacted by the shop to confirm that your item is available for collection.
Call us on or send us an email at
Unfortunately there has been a problem with your order
Please try again or alternatively you can contact your chosen shop on or send us an email at