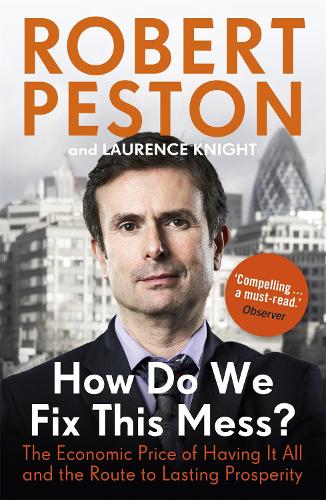 How Do We Fix This Mess? The Economic Price of Having it all, and the Route to Lasting Prosperity (Paperback)
Robert Peston
(author)
Paperback
480

Pages
Published: 11/04/2013
'Robert Peston's compelling account of global financial meltdown is a must-read.' Observer

What can we learn from the 2008 recession? ITV's political editor explains the global economic mess and how to escape it - in his characteristically straightforward way.

'How do we fix this mess? I don't know. But don't stop reading now. Perhaps if we have a clearer understanding of what went wrong, we'll have a better idea of what needs to be done. This book is a map of what needs to be fixed.'

The record-breaking unbroken growth between 1992 and 2008 wasn't the economic miracle that it seemed. It was based on a number of dangerous illusions - most notably that it didn't matter that the UK and US year after year consumed more than they earned.

But we couldn't go on increasing our indebtedness forever. The financial crash of 2007/8 and the subsequent economic slump in much of the west was the moment when we realised we had borrowed more than we could afford to repay.

So who got it wrong? Bankers, investors and regulators? And were they greedy, stupid or asleep? What was the role of government? And what part did we, as consumers, play in all this? How do we get through this difficult period of transition to a more sustainable economy, one based on investment and exports, rather than on borrowing and consumption?

With the same probing lucidity he brought to Who Runs Britain? and WTF?, Robert Peston takes us step-by-step towards a common sense way to fix this mess.
Publisher: Hodder & Stoughton
ISBN: 9781444757125
Number of pages: 480
Weight: 380 g
Dimensions: 196 x 130 x 34 mm
---
MEDIA REVIEWS
Robert Peston's compelling account of global financial meltdown is a must-read... His discursive, conversational but entrancingly fact-studded trip around the disaster zone ought to be mandatory reading for anyone who wants to have a voice in where we go from here. * Observer *
HOW DO WE FIX THIS MESS? is the book of the film and more... brought to life by war stories from the BBC, simple analogies and colourful language... he does know how to elucidate apparently impenetrable issues, and he guides us intelligently and entertainingly... readable and thought-provoking. * Financial Times *
Robert Peston is not so much a journalist as a phenomenon... And now he has managed to fit in a book... that displays his gargantuan appetite for facts, numbers and economic and financial history... Peston's range is dazzling.... Peston is a BBC treasure - one of the journalists who justify the licence fee. If, every few years, he needs to breathe out and write a long book, we should encourage it. As they used to say in the pre-Twitter age, he knows his stuff. * New Statesman *
'compelling reading'. -- Chris Mullin * The Observer *
Reads like a wildly implausible financial thriller. * Independent *
Lucid explanations... stark analysis of what the financial meltdown means for us... Peston's book is actually scarier than most descriptions I've read of the crisis. It goes way beyond Wall Street and City greed in its scope. * Evening Standard *
He is good on the follies of the bankers... He is also good on the detail. Anybody who wants to know what a collateralised debt obligation or a credit default swap is will find it here. * Sunday Times *
Essential reading... an excellent expose of the financial crisis. * Sunday Telegraph *
Brilliant. I now understand everything. * Giles Coren *
Robert Peston was the voice of the financial crisis, just as Terry Wogan will forever be the voice of the Eurovision Song Contest. Vocal tics and all, he's now an official national treasure. * Spectator *
Mr Peston, an award-winning print journalist before he became the Business Editor of the BBC, has many strengths. Chief among these are his sources and a terrier-like determination to get the story. Mr Peston passionately articulates why everyone should be frustrated with the banking sector--and financial globalisation more generally. For a tale of how the British banks blew up, readers will find juicy details. * Economist *
Robert Peston's great book on the world financial crash... 400 information-packed pages... If Mr Peston has a lesson for us, it is that until we fix the banking system, we will have achieved nothing. * Irish Independent *
'The author charts the past 20 years of steady economic growth and consequent bust, lucidly explaining the shortcomings of the banking system and the effects of globalisation, before returning to the present state of the UK, all invitingly.' * Sunday Telegraph *
Praise for WHO RUNS BRITAIN? * . *
A compelling portrait of early 21st century casino capitalism...essential reading. * Howard Davies The Times *
This lucid and timely guide to the world of turbo-capitalism...absorbing book, essential reading for anyone who wants to know how the British economy now operates. * Peter Wilby, Guardian *
A devastating account of Blair's producer capture by high finance...Peston navigates with ease the shark-infested waters of hedge funds, sub-prime borrowing, defined-benefit pensions and loans for honours. * Simon Jenkins, The Sunday Times *
Fluent, incredibly up to the minute look at Britain...Peston, in relaxed, conversational; style is a great travelling companion along the highways of finance. * Observer *
starkly lucid...Reading Peston's book, you can only be flabbergasted all over again at how Labour kowtowed to wealth, glorified the City and put the nations economic eggs into one dangerous basket of fizzy finance. * Polly Toynbee Guardian *
'Peston catches the zeitgeist of Britain and the paradox that is Gordon Brown' * Financial Times *
'engaging' * Harry Mount Telegraph *
Robert Peston is very lucid on some of the biggest issues of the day. I thoroughly recommend it. * Scotland on Sunday *
We are unfortunately still in the middle of this crisis. But at least we will have Robert Peston to give us that famous 'first draft of history' provided by excellent reporting. * Business Economist *
One of the best accounts of the financial crisis, recession and how we get out of it. * Scotland on Sunday *
You may also be interested in...
"I learnt so much!"
Robert writes in such a simple style about an unsimple subject. My understanding of the global financial markets has increased 1,000 fold. More please.
"Great book... Would recommend!"
Goes into a good amount of depth yet very easy to understand (for an amateur) and still interesting. More please Mr Peston!
×
Download the Waterstones App
Would you like to proceed to the App store to download the Waterstones App?
Reserve online, pay on collection


Thank you for your reservation
Your order is now being processed and we have sent a confirmation email to you at
When will my order be ready to collect?
Following the initial email, you will be contacted by the shop to confirm that your item is available for collection.
Call us on or send us an email at
Unfortunately there has been a problem with your order
Please try again or alternatively you can contact your chosen shop on or send us an email at