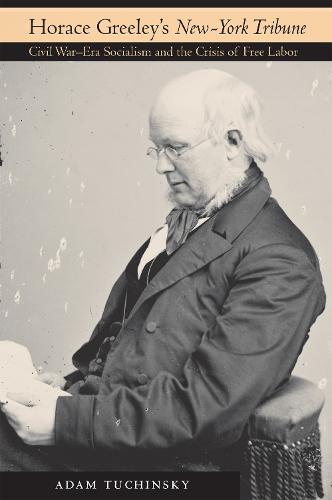 Horace Greeley's "New-York Tribune": Civil War-Era Socialism and the Crisis of Free Labor (Hardback)
Adam Tuchinsky
(author)
Hardback
336

Pages / Published: 19/11/2009
In the mid-nineteenth century, Horace Greeley's New-York Tribune had the largest national circulation of any newspaper in the United States. Its contributors included many of the leading minds of the period-Margaret Fuller, Henry James Sr., Charles Dana, and Karl Marx. The Tribune was also a locus of social democratic thought that closely matched the ideology of Greeley, its founder and editor, who was a noted figure in politics and reform movements.
Adam Tuchinsky's book recalls an earlier style of opinion media, with "participant editors" acting not unlike today's Internet journalists-professionals and amateurs alike-who digest the news and also shape it. It will appeal to all readers interested in the history of the media and its relationship to partisan politics. During its Greeley era, the Tribune was simultaneously an influential voice in the Whig and Republican parties and a vigorous advocate of socialism. Historians and biographers have struggled to reconcile these seemingly contradictory tendencies.
Tuchinsky's history of the Tribune, by placing the newspaper and its ideology squarely within the political, economic, and intellectual climate of Civil War-era America, illustrates the connection between socialist reform and mainstream political thought. It was democratic socialism-favoring free labor, and bridging the divide between individualism and collectivism-that allowed Greeley's Tribune to forge a coalition of such disparate elements as the old Whigs, new Free Soil men, labor, and staunch abolitionists. This progressive coalition helped ensure the political success of the Republican Party. Indeed, even in 1860, proslavery ideologue George Fitzhugh referred to socialism as Greeley's "lost book"-the overlooked but crucial source of the Tribune's and, by extension, the Republican Party's antagonism toward slavery and its more general free labor ideology.
Tuchinsky brings forth this lost history and demonstrates that, amid the sectional crisis and the battle over slavery, Greeley and the Tribune promoted a viable form of democratic socialism that formed one foundation of modern liberalism in America.
Publisher: Cornell University Press
ISBN: 9780801446672
Number of pages: 336
Weight: 680 g
Dimensions: 229 x 152 x 33 mm
---
MEDIA REVIEWS
"Tuchinsky's history of Greeley's New-York Tribune opens windows into the intellectual and political worlds of the mid-nineteenth-century United States. . . . Tuchinsky stands in the company of Daniel Walker Howe and other historians who seek to redeem the humanity within the Whig tradition. He has also stepped into perilous old controversies about the limits and meanings of the concept of socialism. But the risks are worth it, as Tuchinsky has written an original and provocative book that brings new insights to the understanding of American intellectual and political history."-American Historical Review
"This is an intriguing and ambitious intellectual history. From the outset, Tuchinsky explains that his mission is to rescue the idea of 'socialism' from its later, rigid connotations, and to place it in the context of an early nineteenth-century reform tradition which passed from progressive Whigs to radical Republicans. . . . Moving beyond attempts at basic labeling of the Democratic and Whig parties, Tuchinsky places them both within different strands of that most elusive of creeds. The former drew more on economics to check the abuses of the privileged, he argues, while the progressive wing of the latter school echoed continental thinkers in decrying the social effects of unchecked competition and individualism. . . . This work thoroughly deserves a place on any university's bookshelves."-American Nineteenth Century History
"Adam Tuchinsky's fine survey of the New-York Tribune in the Civil War period operates on many levels. It is at once a biography of Horace Greeley, an introduction to party politics in mid-nineteenth-century America, and an in-depth look at the cultural and intellectual currents of that era. Most important for labor historians of the left, however, is Tuchinsky's consideration of what he rightly deems a central question of liberalism, both in the Civil War era and beyond. Put succinctly, debate over political economy boiled down to a simple inquiry: 'How should labor be organized?' The author, of course, means this question in the broad sense of how the world's work gets done. In tracing this question through four decades of Greeley's newspaper, Tuchinsky recovers a nineteenth-century political and intellectual tradition that he describes using various appellations, most often 'social democratic liberalism.' Greeley, the premier liberal, it turns out, was a socialist. . . . By providing insight into how these debates played out during the founding eras of liberalism and socialism, Tuchinsky gives us more than a simple survey of nineteenth-century politics and ideology valuable only to specialists. Instead, he offers food for thought to anyone interested in how the good society should be organized."-Labor
"Although numerous historians have discussed Greeley and his Tribune, Tuchinsky distinguishes his work by taking seriously what prior researchers have written off: Greeley's socialism and its roots in French theory, focusing specifically on how Greeley's political views affected the Tribune's stance on free labor. Not only does Horace Greeley's New-York Tribune explain the complexities of that newspaper's socialist reform ideology, but it also illuminates the transformation of the American media that took place from the antebellum era through Reconstruction. Furthermore, the meticulously researched and beautifully written piece demonstrates how the partisan press in its prime transmitted new ideas to the masses and influenced American politics."-American Journalism
"After reading this book no conscientious professor will be able to casually hold forth as usual about staple like free labor, liberalism, and the ideological thrust of the Republican Party. To these this book does something akin to what Daniel Rodgers did nearly two decades ago for the concept of republicanism: Tuchinsky pushes historians to reckon with the wooden categories these use to meet interpretative needs in their own work. . . . Tuchinsky uses Greeley and the Tribune to illuminate the central question on Americans' minds during the Civil War era: in a world rapidly changing in response to a market revolution and rising industrialism, 'how should labor be organized?' (p. 1). . . . This is a complex book, rich with nuance and analysis."-Michael DeGruccio, H-Civwar (H-Net Reviews)
"This is an important book, distinguished in quality and broad in significance. Its conception is highly original. Adam Tuchinsky is the first modern biographer to take Horace Greeley's socialism seriously, instead of treating it as a mere eccentricity. As Tuchinsky reassesses socialism in American history, he presents a sophisticated and complex interpretation of America in Greeley's lifetime. One of the book's merits is the way it integrates political history, economic history, the history of the printed media, labor history, and, most of all, intellectual history."-Daniel Walker Howe, Pulitzer Prize-winning author of What Hath God Wrought: The Transformation of America, 1815 to 1848
"During the middle third of the nineteenth century, Horace Greeley and his New-York Tribune existed at the epicenter of American social, intellectual, and political debate. Adam Tuchinsky's new book masterfully rehabilitates Greeley from the assaults of several generations of historians, caricaturizing him as a journalistic gadfly who championed a huge assemblage on contradictory causes and finally sold out his antislavery principles to run for president as an opponent of Reconstruction in 1872. Through intensive research in primary documents and modern scholarship, Tuchinsky presents modern readers with a Greeley and an intellectual circle surrounding his Tribune whose published commentary, if not always consistent in the fine details, successfully linked labor and land reform, communitarianism and Transcendentalism, abolitionism and individualism, and that planted the seeds for the social democratic liberalism of the next century."-John R. McKivigan, Mary O'Brien Gibson Professor of History, Indiana University-Purdue University, Indianapolis, author of Forgotten Firebrand: James Redpath and the Making of Nineteenth-Century America
You may also be interested in...
Simply reserve online and pay at the counter when you collect. Available in shop from just two hours, subject to availability.
Thank you for your reservation
Your order is now being processed and we have sent a confirmation email to you at
When will my order be ready to collect?
Following the initial email, you will be contacted by the shop to confirm that your item is available for collection.
Call us on or send us an email at
Unfortunately there has been a problem with your order
Please try again or alternatively you can contact your chosen shop on or send us an email at