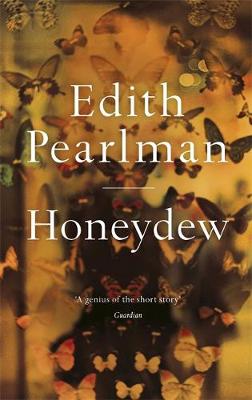 Hardback
288

Pages / Published: 15/01/2015
'The best short story writer in the world' Susan Hill, The Times
Honeydew is the first collection from Edith Pearlman since Binocular Vision, winner of the National Book Critics Circle Award and a 'spectacular literary revelation' (Sunday Times).
Over the last few decades, Edith Pearlman has staked her claim as one of the great practitioners of the short story. Her understanding and skill have earned her comparisons to Anton Chekhov, John Updike and Alice Munro. Her latest work, gathered in this stunning collection of twenty new stories, is an occasion for celebration.
The stories in Honeydew are unmistakably by Pearlman; whole lives in ten pages. They are minutely observant of people, of their foibles and failings, but also of their moments of kindness and truth. Whether the characters are Somalian women who've suffered circumcision, a special child with pentachromatic vision or a staid professor of Latin unsettled by a random invitation to lecture on the mystery of life and death, Pearlman knows each of them intimately and reveals them with generosity.
Publisher: Hodder & Stoughton General Division
ISBN: 9781444797015
Number of pages: 288
Weight: 422 g
Dimensions: 224 x 134 x 26 mm
---
MEDIA REVIEWS
Prepare to be dazzled. Edith Pearlman's latest, elating work confirms her place as one of the great modern short-story writers . . . Vivacity and zest enliven every page. Body language is wittily caught . . . Personalities are keenly explored. Honeydew elatingly continues the celebration of life's diversity to which Binocular Vision so excitingly introduced us * Sunday Times *
The world's best short story writer thrills us again. Her stories are often likened to those of Alice Munro, but the resemblance is superficial and Pearlman is the finer writer. She is sharper, harder-hitting, odder, her prose and above all her imagery more vivid and memorable . . . These stories do not give up their treasures all at once. You read them many times over and still do not exhaust their depths and subtleties, still hit upon some magnificent phrase that passed you by earlier . . . Edith Pearlman is the best short story writer in the world * Susan Hill, The Times *
Honeydew will afford an international audience another opportunity to enjoy Pearlman's distinctive and memorable fictions . . . Pearlman has been compared with, among others, John Updike and Alice Munro, but this is misleading. Pearlman's stories - slightly old-fashioned in their use of conceit; refreshingly loose in their capacity for digression or tangent; occasionally Whartonian in the bemused and acidic clarity of their narrative eye - are sui generis . . . her fiction [is] a fortifying pleasure to read * The Financial Times *
One of the most essential short story visionaries of our time * New York Times Book Review *
Edith Pearlman's astonishing stories have won numerous awards in America and prompted accolades here, comparing her to Chekhov, Munro and Updike. Such comparisons are not helpful, for her voice is unique; however, her literary status is indeed of the highest order, as this, her fifth collection, most joyfully demonstrates * Literary Review *
Depicting her deceptively artless way of writing that places you right by the side of her characters without you knowing how you got there . . . beautifully displays Pearlman's knack for summoning entire lives in a few simple strokes * Metro *
[Edith Pearlman's] elegant new collection of shrewdly observed stories dealing with love, friendship, ageing and much more delivers in every way * Woman & Home *
Honeydew is [Edith Pearlman's] best collection yet * Boston Globe *
Honeydew seems likely to solidify [Pearlman's] place in the literary firmament * New York Times *
Smart and deeply rendered, full of striking observations and some of the best sentences you'll ever want to read * Los Angeles Times *
There remain a few dedicated practitioners of the short story, and Edith Pearlman is one to be cherished . . . the twenty stories [in Honeydew] are vinegary, rueful, droll, humane and endlessly inquisitive. Though intricately constructed, they are slight in drama and emphasis, set down like a light footprint that nevertheless fixes itself in one's memory as though pressed in wet cement * Wall Street Journal *
What a pleasure to encounter a writer who can speak volumes in a few short sentences * Seattle Times *
Pearlman's prose shimmers, and the stories are filled with beguiling details * Bookpage *
[Pearlman's] virtues are comparable to the great Alice Munro * The Spectator *
A short story collection that confirms [Pearlman's] reputation as a great writer * Sunday Times *
Pearlman strikes mercilessly at the pressure points of her subjects' lives in a manner reminiscent of Muriel Spark, not least because of the lightness of her touch . . . Her crowning glory, however, is her ability to distil the essence of her stories with the precise grace of a master chemist . . . a perfume of the purest emotion hangs in the air, delicately coating but never drowning Pearlman's prose . . . I'd put money on this being one of the best short story collections of the year * Independent *
Will stay in the memory for a long time to come * Bookbag *
Her characters are so real that reading the book can feel voyeuristic. America already loves Edith Pearlman. We should get in on the act * Emerald Street *
Pearlman strikes swiftly and mercilessly at the pressure points of her subjects' lives in a manner reminiscent of Muriel Spark, not least because of the lightness of her touch * i *
I'll never understand why short stories remain an underrated form of fiction compared to novels . . . yet the conventional publishing industry still regards short stories as a risk. Thank goodness some of them think it's a risk worth taking or we might not get little nuggets of gold like Edith Pearlman's Honeydew . . . delicate, superbly crafted stories . . . They say still waters run deep, and so it is with these thoughtful and moving tales that reflect the profound truths of our ordinary lives back at us * Big Issue *
Edith Pearlman's meticulously observed new collection . . . Such is the life-affirming power of multi prize-winning Pearlman's storytelling that there is a crumb of comfort to be derived from each resolution, however apparently desolate. She has a remarkable eye for both the ordinary and extraordinary and there is more than a faint hint of melodrama in even the most down-to-earth of domestic situations . . . Pearlman's prose is subtle, ironic and mostly unadorned so the odd metaphor has all the more effect . . . Each story is a masterpiece of economy and the collection as a whole is the perfect bedside book * Daily Express *
There is a whole lot of life in Honeydew, Pearlman's masterful and necessary new collection of short stories. Many of the stories in Honeydew feel almost like pocket novels. More than that: they feel like pocket Russian novels. There are so many people in this book that you're left with the impression that Pearlman hasn't written a collection of stories so much as she's written a community of them * National *
These twenty tales by the newly crowned doyenne of the American short story are again in a class of their own. Pearlman's exquisitely precise prose brings to life whole lives and whole intricate, convincing worlds. With a profound understanding of her characters' inner life, elegant style and painterly visual imagery . . . these moving, multi-layered tales condense a novel's scope and insight into just a few pages * Lady *
Once immersed in the precision-tooled, intricate tales that make up Pearlman's latest collection, Honeydew it is hard to accede to the view that short stories somehow short-change the reader . . . each of the 20 stories here offers a distillation of a lifetime's experience. Belated realisation of what the heart desires is a recurring motif, as is a fascination with the other - other cultures, other people, other ways of being . . . she has the gravity and erudition of Tessa Hadley or Margaret Drabble * Daily Telegraph *
Her mastery of the short story form continues to deepen * Observer *
[Edith Pearlman's] majestic new collection is further cause for celebration. Pearlman excels at capturing the complex and surprising turns in seemingly ordinary lives . . . a collection abundant with stories that have an uncanny power to charm and devastate . . . Honeydew should cement her reputation as one of the most essential short story visionaries of our time * Scotsman *
A book to dip into and savour * Choice *
A moreish treat from a master of the form * New Statesman *
Honeydew . . . retains the 78-year-old author's ferociously individual style, characterised by prose that is bolshie yet nuanced, elegant but not fussy, stylish without being vain . . . the dialogue is clear as water yet punches like gin, with characters memorably frothed with metaphor * The Economist *
Edith Pearlman is a true master of the short story . . . Each short story is beautifully written. Pearlman has an enviable way with words . . . In every story her brilliant use of imagery, characterisation and moral, quite simply, cannot be faulted * Journal *
An intricate and ingenious writer * TLS *
Edith Pearlman is the best short story writer in the world, wrote The Times of the American author's latest work. If you don't already know that, you have a very pleasurable task ahead of you . . . Frequently compared to Alice Munro and Raymond Carver, Pearlman is the sharper, more idiosyncratic and empathetic writer * The Times *
What I noticed first about these stories was their self-evident skill and polish, their energy, their arresting situations and images, their undeniable originality . . . no doubt there are readers who will find this collection irresistible * Guardian *
She is compared with Nobel laureate Alice Munro and Raymond Carver, although she is the sharper, more idiosyncratic and empathetic writer * The Times, Books of the Year *
Mainly set in her native New England the stories shimmer with variety . . . Vividness enriches every page * Sunday Times *
In a class of their own * Lady *
Set in small-town Massachusetts, Pearlman's tales are subtly observed stories of suburban existence, loss, misunderstanding and frustration * Daily Express *
You may also be interested in...
Simply reserve online and pay at the counter when you collect. Available in shop from just two hours, subject to availability.
Thank you for your reservation
Your order is now being processed and we have sent a confirmation email to you at
When will my order be ready to collect?
Following the initial email, you will be contacted by the shop to confirm that your item is available for collection.
Call us on or send us an email at
Unfortunately there has been a problem with your order
Please try again or alternatively you can contact your chosen shop on or send us an email at