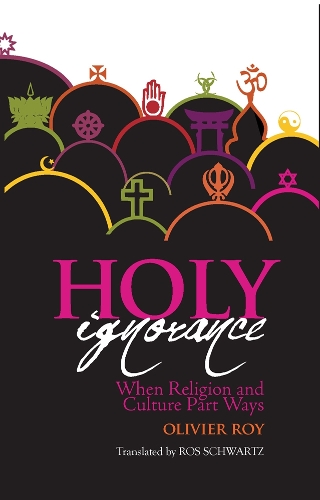 Paperback
288

Pages / Published: 27/04/2017
Olivier Roy, world-renowned authority on Islam and politics, finds in the modern disconnection between faith communities and socio-cultural identities a fertile space for fundamentalism to grow. Instead of freeing the world from religion, secularization has encouraged a kind of holy ignorance to take root, an anti-intellectualism that promises immediate, emotional access to the sacred and positions itself in direct opposition to contemporary pagan culture. The secularization of society was supposed to free people from religion, yet individuals are converting en masse to fundamentalist faiths, such as Protestant evangelicalism, Islamic Salafism, and Haredi Judaism. These religions either reconnect adherents to their culture through casual referents, like halal fast food, or maintain their momentum through purification rituals, such as speaking in tongues, a practice that allows believers to utter a language that is entirely their own. Instead of a return to traditional religious worship, we are now witnessing the individualization of faith and the disassociation of faith communities from ethnic and national identities. Roy explores the options now available to powers that hope to integrate or control these groups; and whether marginalization or homogenization will further divide believers from their culture.
Publisher: C Hurst & Co Publishers Ltd
ISBN: 9781849044479
Number of pages: 288
Dimensions: 216 x 138 mm
---
MEDIA REVIEWS
Olivier Roy, the outstanding scholar of contemporary religions, has written a book of startling clarity and wisdom. Illuminating trends, issues and movements that had before appeared bizarre or simply antipathetic, he provides us with tools for the comprehension of matters as diverse as coverage of the war on terror to the common individual confusion over one's own beliefs and scepticisms. * Financial Times *
'Holy Ignorance' is in a way a synthesis of all Roy's previous work on the sociology of religion. It formulates forcefully the thesis that has been taking shape throughout his previous works: in a globalised world, religion thrives to the extent that it has severed its ties with culture. This de-culturation . . . of religions explains their revival, and much of our difficulties in understanding them. . . . It is certainly an important book that is written in an easy, accessible language fit for a wide audience . . . Roy's erudition is simply flabbergasting, and it has the merit of making his book very concrete, very vivid. -- Nicholas Guilhot, New York University
Roy's central theses about the way religion is going in today's world (a breathtakingly ambitious exercise to be sure) could, and deserve to, reset . . . debates about secularization and secularism, and give birth to creative new departures in theory and research. -- David Lehmann, Cambridge University
Over the past few years, a number of theories have been offered about the rise of fundamentalism. The brilliant French social scientist Roy proposes the most original - and the most persuasive. Fundamentalism, in his view, is a symptom of, rather than a reaction against, the increasing secularization of society. Whether it takes the form of the Christian right in the United States or Salafist purity in the Muslim world, fundamentalism is not about restoring a more authentic and deeply spiritual religious experience. It is instead a manifestation of holy ignorance, Roy's biting term meant to characterize the worldview of those who, having lost both their theology and their roots, subscribe to ideas as incoherent as they are ultimately futile. The most important thing to know about those urging the restoration of a lost religious authenticity is that they are sustained by the very forces they denounce. * The New York Times *
Above all else, Mr. Roy is able to show us vividly how much has changed with the secularization that Weber predicted . . . how formerly Christian societies have lost a sense of their own religious foundation... By transforming itself into another instrument of therapeutic . . . satisfaction, Mr. Roy observes, religion risks losing its soul. * Wall Street Journal *
an erudite account of intricate relationships between religion and other markers of identity, including nationality, socially defined race, language, class, political ideology, generation, gender and sexual orientation. * Times Literary Supplement *
A highly complex book that critically examines the relationship between religion, culture and globalization, 'Holy Ignorance' provides theoretical keys to unlocking the riddle of the religious imagination and the 'deculturation' of religious movements in the modern world. Few scholars of religion are as qualified as Olivier Roy to write such an erudite work on religious and cultural trends, to contextualize them and to make sense of them. -- Fawaz A. Gerges, Professor and Chair of Middle Eastern Politics and International Relations, London School of Economics
With 'Holy Ignorance' Olivier Roy moves beyond his established perch as one of contemporary Islam's foremost scholars to train his formidable analytical skills on the question of globalization's broader impact on religion. The result is a tour de force of comparative religious sociology, and represents required reading for anyone seeking to understand the relationship between faith, culture, and the market. -- Peter Mandaville, George Mason University and author of 'Global Political Islam'
Firmly rooted in the uncompromisingly laique tradition of French sociology, Roy serves his sweet and sour soup of secularism, a peculiar melange of empirical history and normative history, in the chalice of postmodernity, proclaiming globalization as the only universal faith of our times. * The Muslim World Book Review *
'Holy Ignorance' offers an impressive insight and a significant contribution to the field of religious sociology by addressing the second scheme of secularization that will have an enduring influence on the global discourse regarding the issue of the role of religion in our modern world. -- Abdullahi A. Gallab, Sociology of Religion
An intriguing thesis slithers through this impressively profuse and promiscuous garden of sociohistorical erudition. Religion is not experiencing a comeback, the renowned scholar of political Islam argues, but a significant transformation brought about by the secularization intended to marginalize and diminish it. -- Michael P. Kramer, Common Knowledge
You may also be interested in...
Simply reserve online and pay at the counter when you collect. Available in shop from just two hours, subject to availability.
Thank you for your reservation
Your order is now being processed and we have sent a confirmation email to you at
When will my order be ready to collect?
Following the initial email, you will be contacted by the shop to confirm that your item is available for collection.
Call us on or send us an email at
Unfortunately there has been a problem with your order
Please try again or alternatively you can contact your chosen shop on or send us an email at