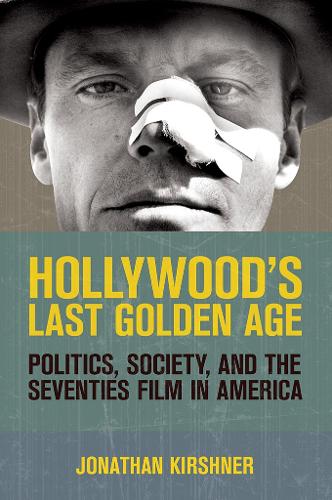 Hollywood's Last Golden Age: Politics, Society, and the Seventies Film in America (Hardback)
Jonathan Kirshner
(author)
Hardback
280

Pages / Published: 20/11/2012
Between 1967 and 1976 a number of extraordinary factors converged to produce an uncommonly adventurous era in the history of American film. The end of censorship, the decline of the studio system, economic changes in the industry, and demographic shifts among audiences, filmmakers, and critics created an unprecedented opportunity for a new type of Hollywood movie, one that Jonathan Kirshner identifies as the "seventies film." In Hollywood's Last Golden Age, Kirshner shows the ways in which key films from this period-including Chinatown, Five Easy Pieces, The Graduate, and Nashville, as well as underappreciated films such as The Friends of Eddie Coyle, Klute, and Night Moves-were important works of art in continuous dialogue with the political, social, personal, and philosophical issues of their times.
These "seventies films" reflected the era's social and political upheavals: the civil rights movement, the domestic consequences of the Vietnam war, the sexual revolution, women's liberation, the end of the long postwar economic boom, the Shakespearean saga of the Nixon Administration and Watergate. Hollywood films, in this brief, exceptional moment, embraced a new aesthetic and a new approach to storytelling, creating self-consciously gritty, character-driven explorations of moral and narrative ambiguity. Although the rise of the blockbuster in the second half of the 1970s largely ended Hollywood's embrace of more challenging films, Kirshner argues that seventies filmmakers showed that it was possible to combine commercial entertainment with serious explorations of politics, society, and characters' interior lives.
Publisher: Cornell University Press
ISBN: 9780801451348
Number of pages: 280
Weight: 510 g
Dimensions: 235 x 156 x 25 mm
---
MEDIA REVIEWS
Jonathan Kirshner, a Cornell University political scientist with a compelling interest in film, argues that this decade (1967-1976) was Hollywood's last golden age. . . . [S]uch classics as The Graduate (1967), Bonnie and Clyde (1967), Klute (1971), Midnight Cowboy (1969), Chinatown (1974), and Shampoo (1975) are subjected to intensive examination. These "close readings" are both the core and the strength of Kirshner's book (p. 2). They afford readers new ways of looking at these films, new insights into the conscious and unconscious motives of the filmmakers, and new frameworks for grasping the meanings and actions of the characters. . . . I found his book a joy to read and a refreshing reintroduction to the motion pictures of my youth."-Jerold Simmons, Journal of American History (December 2013)
"Renewed interest in Hollywood film of the 1970s, evident in documentaries, popular books, and a burgeoning reissue market, has generated myth and hagiography, and Hollywood's Last Golden Age supplies an important corrective to this tendency by substantiating the contexts for key films of the period. Readers of Hollywood's Last Golden Age will likewise be awakened to the ways that the political rhythms and feeling of this time reverberated through American screens, the way that cinema both announced and brought audiences into the 1970s."-Nathan Holmes,Journal of American Studies
"Kirshner's writing is lively and informative, and the book excels when he discusses long forgotten seventies films (such as, The Friends of Eddie Coyle, Mickey and Nicky, and The Yakuza), suggest new ways to view popular films (although Michael Carelone as a Nixonian character in The Godfather, Part II could have been taken further), or focuses on topics often ignored in surveys of New Hollywood (the rising skepticism many felt towards capitalism, as discussed in relation to Nashville, Network, and Shampoo). . . . Kirshner's book expands on many themes discussed elsewhere, but his skillful analysis and solid research, especially pertaining to the cultural politics of the era, serves as a great introduction to this rich era of filmmaking."-Julie Lobalzo Wright, The Journal of Popular Culture (October 2013)
"Kirshner . . . offers insightful, well-written interpretations of some two dozen films-with briefer references to others-that date from 1967 to 1976. . . . For Kirshner, the primary characteristics of this golden age include a 'moral ambiguity' that portrays the world in shades of gray rather than in black and white; plots driven by imperfect protagonists rather than by frenetic action; a concern for social and political implications; visual styles that were 'often shaky, darker, filtered, or grainy'; and a desire among filmmakers to create serious, meaningful works of art. A useful appendix lists 100 top films from this period, including 20 deemed canonical."-Choice (May 2013)
"Kirshner's commentary on these and other films is stimulating. He also provides a useful appendix of one hundred Seventies films. Kirshner's book provides intriguing insights for anyone interested in the relation between film and wider culture."-The Journal of American Culture (September 2013)
"Thoughtful, interesting and engaging. . . . Kirshner succeeds at a difficult task. . . . [A}n excellent book, well argued, clearly written, and free of the theoretical jargon that plagues so much film scholarship."-Robert T. Schultz, History: Reviews of New Books (42:1, 2014)
"The author, a professor of government at Cornell, draws a clear correlation between the rather startling shift in American filmmaking (increased violence and sexual themes, more overt establishment motifs, the rise of the antihero) and political and social events of the 1950s and early '60s (such as the sexual revolution, the war in Vietnam, the assassinations of key political figures, the Communist witch hunts). Libraries with active film-history collections will want to add this one."-David Pitt, Booklist (1 November 2012)
"Hollywood's Last Golden Age is an absorbing, well-structured look at the decade of American films that many consider the last great era of thoughtful, politically motivated filmmaking before the rise of the blockbuster. . . . For those who are already well versed in the period it functions as a great refresher which will likely fill in gaps in one's knowledge, and make one reach towards the DVD shelf for a viewing of one of the many remarkable and still-resonant films of the '70s."-Ian Gilchrist, Reel Ink (March 2013)
"Jonathan Kirshner argues forcefully and astutely that questing, questioning films from the late '60s into the '70s pushed their audience into consequential dialogue and debate. In like fashion, Kirshner's book does the same to powerful ends: Hollywood's Last Golden Age impels its readers to engage actively with the films and their times, and it opens a conversation that is fruitful and far reaching. It is a sharp, intelligent book about a moment when cinema really mattered aesthetically and politically."-Dana Polan, New York University, author of Scenes of Instruction
"Jonathan Kirshner writes fluidly on the political developments of the seventies and the history of the film industry in a way that will appeal to a wide range of readers who lived through the decade and experienced such films as Chinatown and The Godfather in a visceral way. This is the rare book that can be read with interest and profit by scholars and the general public alike-a valuable addition to the growing literature on the seventies and an interesting take on the films of that decade."-Edward D. Berkowitz, The George Washington University, author of Mass Appeal: The Formative Age of Movies, Radio, and TV
"In Hollywood's Last Golden Age, Jonathan Kirshner does a very good job of placing many now-classic movies in relation to the cultural ferment underway in the 1970s. Kirshner draws expertly on a huge range of sources to construct an elegant sociopolitical and cinematic history of the era."-Stephen Prince, Virginia Tech, author of Firestorm: American Film in the Age of Terrorism
"Neophytes and scholars alike will learn a great deal from Jonathan Kirshner's engaging story of the last great period of American filmmaking. Younger readers may benefit most of all from this clear-eyed analysis of the terrifically interesting cultural politics of the predigital visual world."-Thomas Borstelmann, E. N. and Katherine Thompson Professor of Modern World History, University of Nebraska-Lincoln, author of The 1970s
You may also be interested in...
Simply reserve online and pay at the counter when you collect. Available in shop from just two hours, subject to availability.
Thank you for your reservation
Your order is now being processed and we have sent a confirmation email to you at
When will my order be ready to collect?
Following the initial email, you will be contacted by the shop to confirm that your item is available for collection.
Call us on or send us an email at
Unfortunately there has been a problem with your order
Please try again or alternatively you can contact your chosen shop on or send us an email at