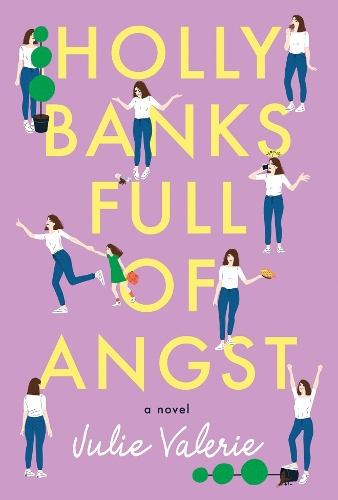 Holly Banks Full of Angst - Village of Primm 1 (Paperback)
Julie Valerie
(author)
Paperback
Published: 01/12/2019
A laugh-out-loud debut novel for anyone who's tried to live the perfect life—and learned the hard way there's no such thing.

Holly Banks could not have made a worse first impression on the seemingly perfect moms in her new affluent community, the Village of Primm. Turns out wearing pink piggy pajama bottoms while dropping off her kindergartener late to the first day of school wasn't her best look.

Not to mention Holly's worried her husband may be having an affair, she can't get her daughter to stop sucking her thumb, her hard-won film degree is collecting dust, and to top it all off, the power-hungry PTA president clearly has it in for her…

To make matters even worse, Holly's natural eye for drama lands her smack-dab in the middle of a neighborhood mystery—right as her own crazy mother shows up in Primm "to help." Through it all, Holly begins to realize her neighbors may be just as flawed as—and even wackier than—she is, leaving her to wonder: Is there such a thing as a perfect mom?
Publisher: Amazon Publishing
ISBN: 9781542014069
---
MEDIA REVIEWS
"There are many novels about women struggling to fit into upper-class communities, but debut author Valerie manages to create a story that feels fresh, with sparkling dialogue…A unique and over-the-top look at modern motherhood, full of funny and cringeworthy moments." —Kirkus Reviews "Valerie's witty, rollicking novel is an ode to modern motherhood…A charmingly cautionary tale of the pursuit for domestic perfection." —Booklist "Debut author Valerie's excellent take on modern motherhood illustrates a mother's attempts to keep up with the Joneses. Full of humor, including a bout with one too many detox cookies, an online psychic, and a cat doula, Valerie plays out the drama of being a wife and a mother. Perfect for fans of Laurie Gelman's Class Mom series and the TV show Desperate Housewives." —Library Journal "Julie Valerie does a great job relaying the anxiety that comes with starting your daughter in kindergarten in a new school and a new town. And she does it with the perfect mix of humor and humility." —Laurie Gelman, author of Class Mom and You've Been Volunteered "Seemingly perfect lives are usually anything but, as the eponymous protagonist of Holly Banks Full of Angst quickly learns. A sharp, witty, and altogether unexpected story about how striving can lead you straight to the end of your rope, Julie Valerie's debut is not to be missed." —Camille Pagán, bestselling author of I'm Fine and Neither Are You "Holly Banks Full of Angst is a must-read for any mother who sometimes feels inadequate—and what mother doesn't? With themes of new beginnings, the quest for perfection, motherhood, and marriage, Valerie delivers lessons in hospitality, humanity, and hope, gently reminding us that we're all works in progress. If you're looking for a fun escape filled with humor and heart, look no further than Holly Banks Full of Angst." —Lori Nelson Spielman, New York Times bestselling author of The Life List "You will love the time you spend with Holly Banks in the Stars Hollow–esque Village of Primm. Holly is the perfect heroine: flawed, impulsive, and self-deprecating but also deeply relatable, lovable, and hilarious. This book is pure fun (but be prepared to cry a little). Holly Banks Full of Angst is the perfect read for anyone who has ever wanted to stick it to the Pinterest Mom." —Suzy Krause, author of Valencia and Valentine "With wit, whimsy, and an artful sleight of hand turn of more than a few phrases, Julie Valerie's frothy cautionary tale of suburbia on steroids is like a finely crafted cocktail: effervescent but complex, sweet but with just a hint of bitter, and packing a potent punch. I'll have what she's having." —Josie Brown, author of Secret Lives of Husbands and Wives and the Totlandia series "With astonishing wit, razor-sharp dialogue, and pitch-perfect pacing, Julie Valerie has created a masterpiece about motherhood. Holly Banks Full of Angst is absolutely hilarious yet also deeply poignant, with some of the best lines I've ever read. Both satire and upmarket women's fiction, this novel will be beloved by readers everywhere." —Samantha M. Bailey, author of Woman on the Edge "Our plucky heroine, full of quippy asides and enough anxiety to keep us all up ruminating at 3:00 a.m., imagines herself the star of her own movie (because of course she dreams of ditching her SAHM life and fulfilling her long-lost film student aspirations). Personally, I would title her movie Mean Girls for Moms, and you'd find me at the premiere, front row center!" —Lindsey J. Palmer, author of Otherwise Engaged, If We Lived Here, and Pretty in Ink "Ever wonder what would happen if Liane Moriarty could channel the late Robin Williams? Me, neither—until I read this astonishing debut, a modern allegorical marvel. Valerie absolutely skewers Parenting While Privileged, and pulls it off without preaching or condescending, thanks to the irresistible, inimitable heroine, Holly, the (questionably) sane person in the insane (but wholly recognizable) world of Primm. I tore through this inventive, compulsive read, pausing only to catch my breath and wipe my eyes at passages so outrageously hilarious, I could not believe what I was reading. So come for the humor, but stay for the honesty. Valerie imbues the narrative with sincerity, and with truths so bald that, at times, the world fell away around me. I'm on my feet and clapping: Brava!" —Sonja Yoerg, Washington Post bestselling author of True Places "A fresh voice in fiction, Julie Valerie hits it out of the park with her debut novel, Holly Banks Full of Angst. Wise and witty, it's filled with humor that takes some wildly comical turns at times. Lead character Holly Banks, a newcomer to the idyllic village of Primm, is every mom who feels inadequate because her home isn't Pinterest-worthy and she's a less-than-perfect parent—totally relatable, in other words. Her good heart, which shines through even when she's screwing up, ultimately triumphs over her good-intentions-gone-awry. Love, love, love this novel and can't wait to read the next one by Julie Valerie." —Eileen Goudge, New York Times bestselling author
You may also be interested in...
"Can't wait to see this on Netflix or Hulu!!!!"
When I was reading this book, I was imagining it as a movie! Holly is a film person in the book too. Any mom will relate and laugh during this read. I'm buying it for my friends and my book club is going to read it.... More
"Primm and Proper?"
Basically this is supposed to be the tale of one woman's attempts to get her life on track. Things are stressful right ow - just moved house to a completely new area, daughter is about to start school for the... More
×
Download the Waterstones App
Would you like to proceed to the App store to download the Waterstones App?
Reserve online, pay on collection


Thank you for your reservation
Your order is now being processed and we have sent a confirmation email to you at
When will my order be ready to collect?
Following the initial email, you will be contacted by the shop to confirm that your item is available for collection.
Call us on or send us an email at
Unfortunately there has been a problem with your order
Please try again or alternatively you can contact your chosen shop on or send us an email at